Supplementary tapes for spraying
Its not all about masking when you spray, here we show you other products to consider before you press the spray trigger
Precision Masking tapes or General purpose masking tapes are not the ony tapes to consider when starting your spray job, tapes to hold dust sheets or films in place, floor and window coverings and what if you are asked to spray on concrete or a sports court?
Masking Whilst Spraying Concrete or Rough Surfaces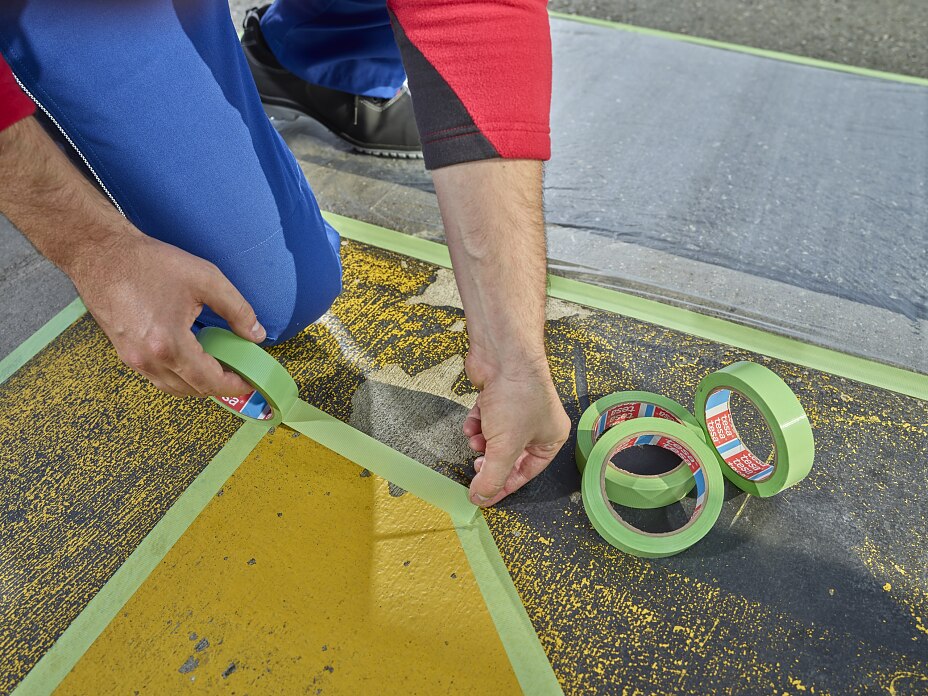 tesa® 4621 is a cloth tape that is UV resistant and water repellant for months. It is ideal for multiple outdoor applications like masking on brick or concrete, surface protection on rough surfaces, and lightweight bundling. Due to its reinforced backing and bright green colour, it is very robust and easy to spot. The outdoor tape can be used for both short-term and permanent applications. During the first eight weeks of outdoor use, it can be removed without leaving residues. If the tape is left in place permanently, the adhesion remains strong for several more months
tesa® 4621 is very easy to use. The outdoor cloth tape is easy to unwind and can be torn easily by hand in straight lines in both vertical and horizontal directions. No cutting neccessary, which is convenient and efficient, especially in outdoor situations. The tape is thin and highly conformable and has a good initial adhesion even on rough surfaces. As the tape is slightly transparent, it is easy to position it on marks. If necessary, it can also be repositioned without much effort.
Double Sided Masking Tape

tesa 4836® double sided masking tape is easy to use and holds protective masking material like fibrous dust sheets, film drop sheets and masking papers firmly in place. Adhesive on both sides of the masking tape allows you to make individual protective masks and to use it for large areas outdoors in particular.
Used on uPVC door or window frames it provides a tight seal of protection whilst spraying preventing over spray. UV resistant and weatherproof for up to 6 weeks

A large plastic non-adhesive drop cloth, that offers efficient covering of flooring, furniture or kitchen units whilst spray painting. Use with the tesa 4836® double sided masking tape to quickly mask off doors and windows or use as a floor protection when spraying kitchen units.