tesa

® 66792:
Our Hercules
We all have our own favorite stories of personal heroes.
We at
tesa

also have heroes whom we love and celebrate – our

tesa

tape heroes:
ten select products with unique capabilities.

tesa® PRO 66792 Mounting Ultra Strong is our Hercules. A double-sided adhesive powerhouse that no toolbox should be without.
No mess, no noise, no drilling, no holes. For some, this may sound like getting off easy at the dentist's office. For us, it sounds like "double-sided bonding without screws, dowels or nails." And there's a tape that can do this where many would consider it impossible: our strongest mounting tape, tesa® PRO 66792 Mounting Ultra Strong. It provides a long-lasting and secure grip for objects weighing up to 10 kg per 10 cm and is the first choice for holding heavy objects in place.
Strong, stronger, ultra-strong
Whether you're a professional crafter with demanding customers or a DIY enthusiast, anyone who wants to be on the safe side when it comes to a firm grip cannot do without the Hercules. Its ultra-strong adhesive is designed for indoors and outdoors, sticking to tiles, stone, finished wood and most plastics, and even compensates slight unevenness on surfaces in the meantime. Cutting the double-sided adhesive mounting tape to size is simple, fast and precise – with just a flick of the wrist. 
To demonstrate the enormous strength of our mounting tape, someone once even had the idea of using it to pull a car weighing many tons over several meters. It was a complete success. But the routine daily work of skilled craftsmen is the main area where tesa® PRO 66792 Mounting Ultra Strong proves day in, day out that it can be used to achieve ultra-strong results. And all this without tools! 
For heavy duty and light weights
The extremely heavy-duty and durable adhesive bond replaces screws and dowels – not just for heavy objects, of course, but also for holding lighter items, such as signs and key boxes, strips and fluorescent tubes. Professional craftsmen, DIY enthusiasts and fitters appreciate the clean work area as much as the adhesive bond's resilience, durability and aesthetics. After one clean bond, you don't ever want to go back to screwdrivers, power sockets and dust. 
Our strongest mounting tape is an all-rounder for all-rounders. It guarantees perfect results on a wide range of surfaces. There's no doubt about it:

tesa

® PRO 66792 Mounting Ultra Strong belongs in every toolbox.
Dima Gavrilyuk
International Marketing Manager, Work Applications
Up to 10 kg in weight per 10 cm
is held securely and durably by the tesa® PRO 66792 Mounting Ultra Strong double-sided adhesive tape (objects up to 10 mm thick).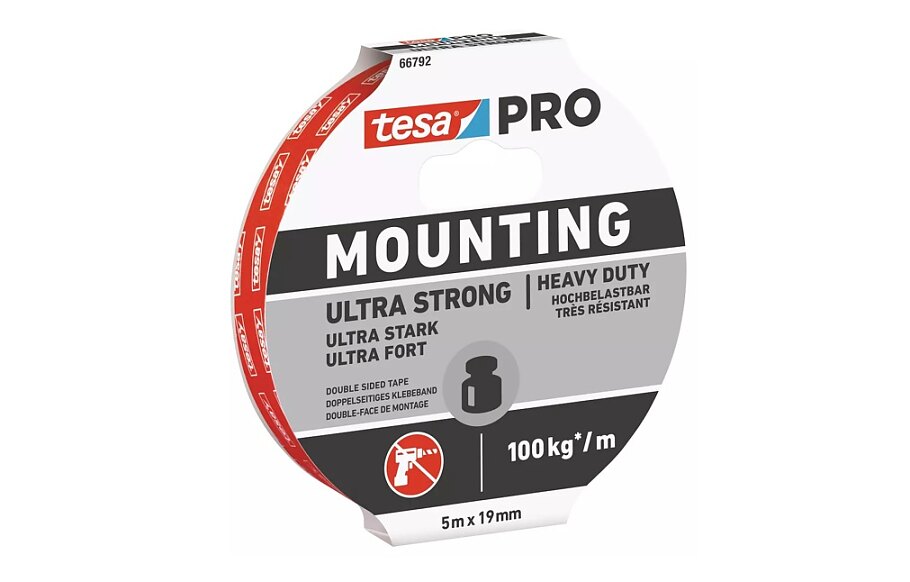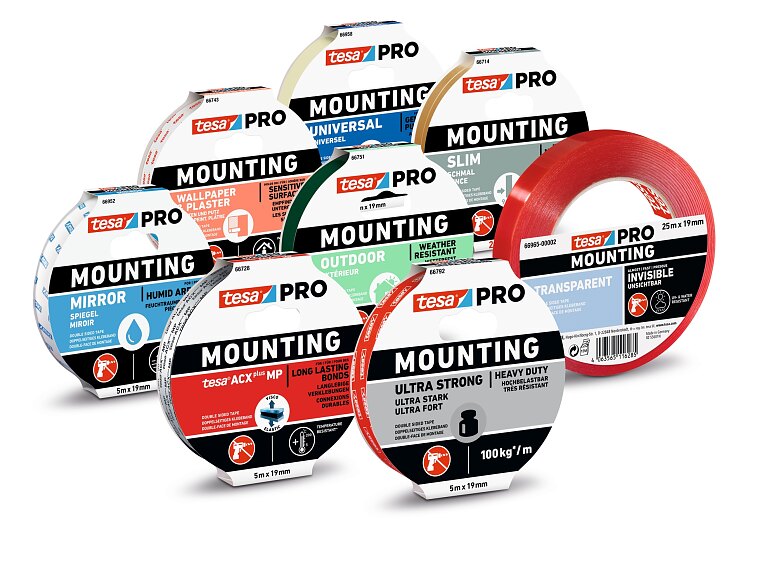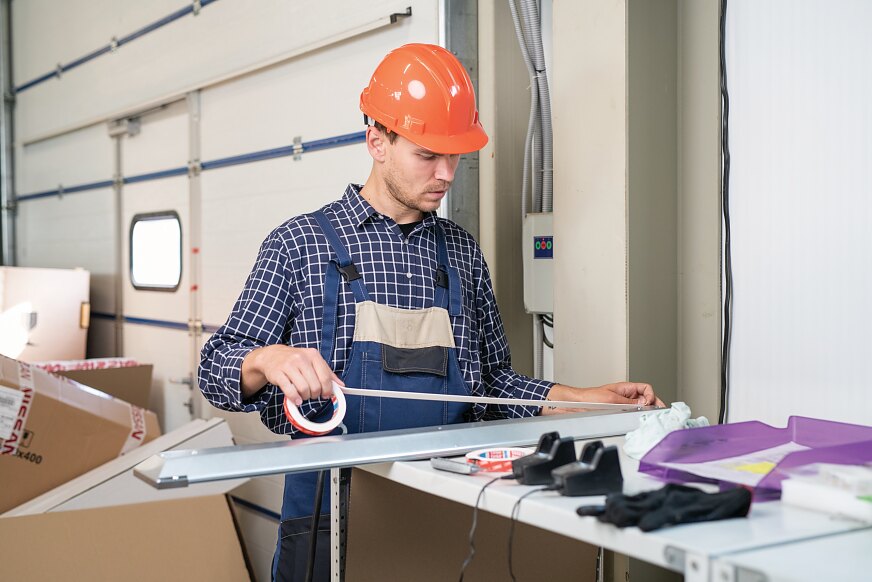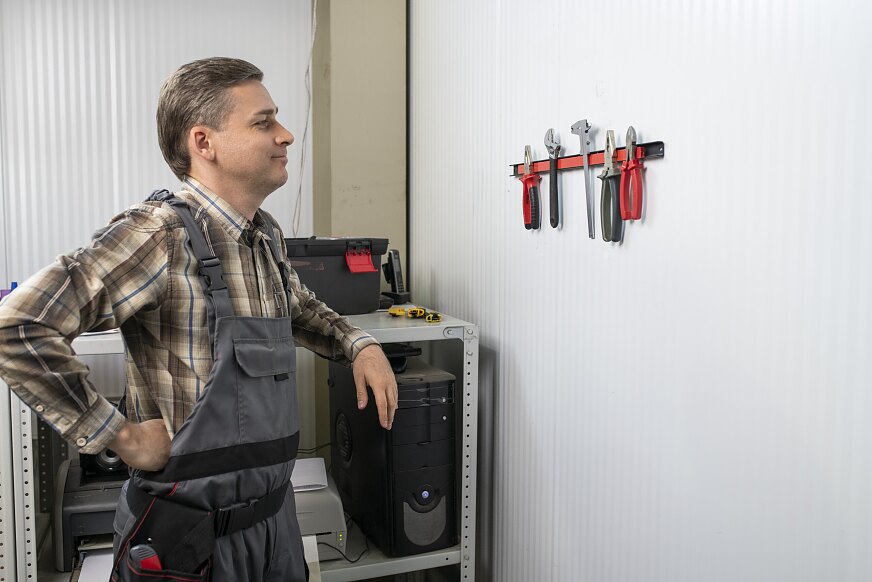 Fact sheet: Our Hercules
A double-sided adhesive superlative: Our strongest mounting tape, tesa® PRO 66792 Mounting Ultra Strong, is heavy-duty, flexible and reliable, giving the term "adhesive strength" it's own special meaning.
For indoors and outdoors, on tiles, wood, stone and most plastics 
First choice for holding heavy objects in place
Easy to use 
Durable and secure bonds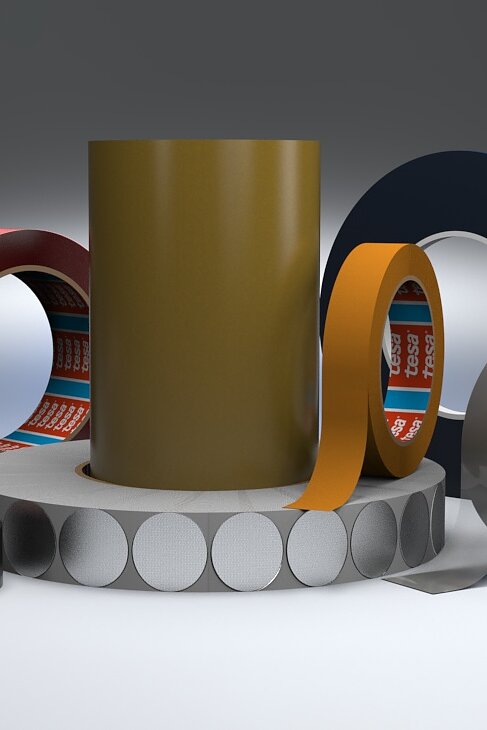 A league of its own –  tesa tape heroes
Read more