tesa

® 4965 Original:
The Connector
We all have our own favorite stories of personal heroes.
We at
tesa

also have heroes whom we love and celebrate – our

tesa

tape heroes:
ten select products with unique capabilities. 

The "red roll" tesa® 4965 Original is one of them – our legendary double-sided adhesive tape with a long history of success and a wide variety of possible applications.
A multi-tasker that grows with its tasks: The trickier and more demanding the challenge, the more impressively tesa® 4965 Original adapts its properties. It's as reliable as a snap hook, holds like an anchor, as versatile as a pocket knife. Its coloring is its unique identifying feature.
The striking red foil is based on tesa's own formulation. Bright red on the roll, tesa® 4965 becomes completely transparent as soon as it bonds to a surface. Invisibly, it holds together what belongs together. Its intense adhesive power works covertly. And has done so for more than 40 years.  
On water, on land, in the air
On cruise ships, in medical technology, in airplanes, cars and smartphones: For over four decades, tesa® 4965 has been used in ever more new ways. For a long time now, the "red tape" has enjoyed a reputation for constantly surpassing itself. "Although it is recognized mostly for its colored liner, its unique patented adhesive technology is its outstanding property," says International Product Manager Georg Schmiedel. This technology makes tesa® 4965 Original the top tool of choice for a wide range of applications – even then and especially when critical requirements have to be met. 
Take LED lighting in aviation, for example. The interior of an aircraft has to withstand a lot of strain. The long light strips on the floors, ceilings and side walls are important for comfort and, at the same time, relevant for safety. That's why tesa® 4965 Original flies along in many kinds of aircraft around the world, making not only the LEDs but also the electrical insulation resistant to foot traffic, spilled liquids and falling luggage. 
Family ties:

tesa

® 4965 and its descendants
There's no doubt about it: tesa® 4965 Original is one of the most trusted double-sided adhesive tapes for industrial solutions. Whenever new questions about applications arise, this multi-talent is the first answer – since then, descendants have been brought into the world to meet ever more specific customer requirements. The "red roll" has therefore become the center of a whole family of double-sided adhesive tapes with similar but adapted features. Based on the DNA of their ancestor, they have been tailored to meet specific needs. From maximized transparency, such as for glass bonding, to variants with reduced or increased adhesive mass application for very smooth or rough surfaces there are exact solutions for multiple requirements.
The

tesa

® 4965 Original is a true classic. Adapted and advanced again and again over decades, it is still the ultimate reference product when it comes to double-sided bonding.
Alexander Weis
Group Product Manager Industrial Trade and Converting
Every 25 seconds
tesa® 4965 is used somewhere in the world.
3 x to the moon and back
is how many meters of our "red roll" have been sold so far.
Fact sheet: The Connector
tesa® 4965 Original is multi-purpose adhesive tape. Legendary for how strongly it adheres on both sides, even though it is thin and translucent. 
Ready for immediate use directly after assemby
Suitable for high loads, high temperatures and demanding surfaces 
Able to withstand challenging environmental conditions  
Areas of application: e.g. medical technology, cars, smartphones, aircraft, cruise ships 
Color: transparent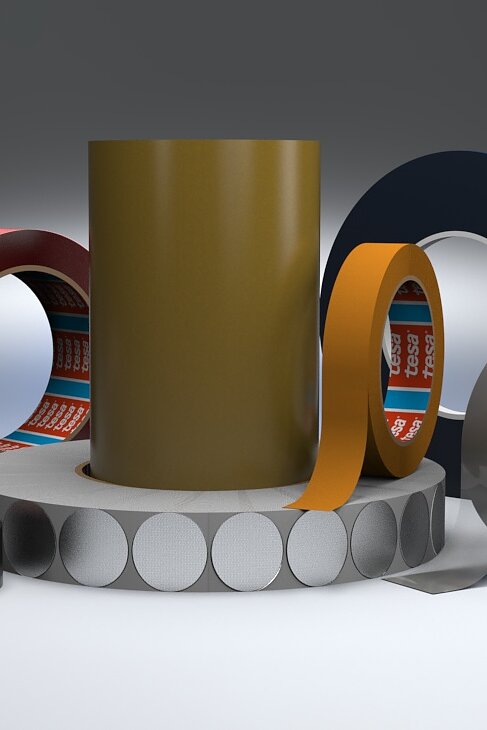 A league of its own – tesa tape heroes
Read more