A league of its own –
our
tesa

tape heroes
Trends
Celebrating our heroes. Ten amazing all-rounders and masters of metamorphosis:
tesa

tape heroes
Childhood heroes, everyday heroes ... We all have them. We all love them. And we all have our own personal favorite heroic tales. Here at tesa, we too love our heroes: ten select products with one-of-a-kind capabilities – all-rounders, masters of metamorphosis, aides, rescuers, movers and shakers. 
Heroes stand the test of time. They are not short-lived, they endure. Heroes are never imposters. They keep their word. Heroes accomplish amazing things. Unimaginable feats. New exploits. Like all heroes, our tesa tape heroes also have wonderful and special traits. 
Heat resistant, electrically conductive, removable without a trace, easy to tear by hand, UV resistant, cold resistant: These are traits – to name just a few – that you don't expect from tape at first glance, but which constantly provide new, improved and precise solutions for our customers, thanks to sophisticated technical processes.  
Approximately 500 engineers and designers work at tesa to continuously develop tapes in step with the times and tailor them to the needs of customers across all areas, from the automotive industry, over the electronics and construction industries, to the paper and printing trade, and many other economic sectors. We also respond accordingly to the wishes of our end customers.
I believe in the unlimited possibilities of self-adhesive tape technology.
Dr. Hugo Kirchberg
Adhesive tape pioneer
"I believe in the unlimited possibilities of self-adhesive tape technology." This was the vision that drove Dr. Hugo Kirchberg, a pioneer in the commercialization of technical tapes, and made him a hero of tape design. Today, there are around 7,000 different tesa tapes. Some have achieved special distinction: through their extraordinary and long-lasting commercial success, with regard to their sensational popularity, due to their uniqueness, innovation and associated versatility. They are our tesa tape heroes. 
In the coming weeks, we will gradually be introducing our heroes: What sets them apart. Their story of origin. Their special features. How they surprise us. What all they can withstand. Why they are irreplaceable. Where they are used. From their unmatched adaptability to the widest variety of surfaces, over their true enduring nature demonstrated by their extreme heat tolerance, to an adhesive strength that laughs in the face of all kinds of weather stressors, including maximum humidity, they make everything possible, even the impossible. Let them surprise you...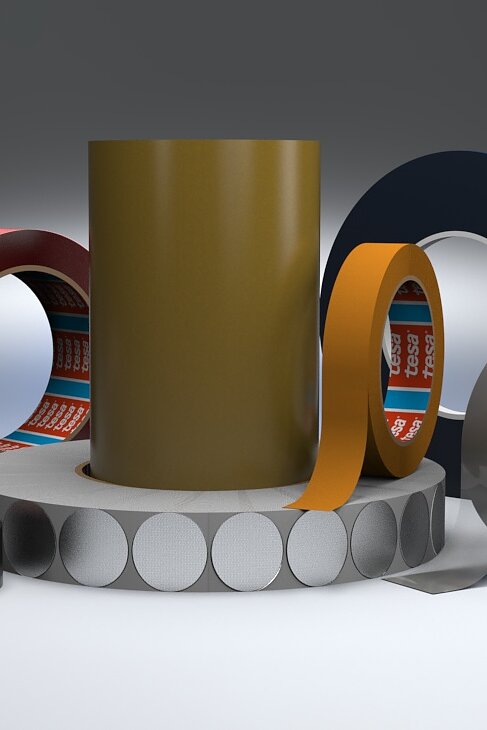 A league of its own – tesa tape heroes
Read more