tesa

® 51948:
The Flying Acrobat
We all have our own favorite stories of personal heroes.
We at 
tesa

 also have heroes whom we love and celebrate – our 

tesa

 tape heroes:
ten select products with unique capabilities.

Our tesa® 51948 EasySplice FilmLine Black X is one of these heroes. It's a hero who has won the printing industry's hearts literally on-the-fly, thanks to its high initial tack and very precisely adjusted split backing strip.
Many are probably familiar with changing reels on the fly because of movie theaters. However, this process also occurs in the printing industry, where this it is given a very significant "roll." This is because changing from one reel of paper or film to the next should be smooth and take as little time as possible to ensure that the printing process is fast and efficient. On the one hand, the focus is on how quickly the reel can be changed. On the other, it is essential that there are absolutely no web breaks that interrupt the continuous production process. And that's exactly what the tesa® EasySplice products ensure due to their excellent splice ratios.
The introduction of the tesa® EasySplice series more than two decades ago revolutionized processes – first in the paper industry, then in the paper printing industry and later in the booming flexographic printing industry. After all, tesa® EasySplice has perfected the art of changing reels on the fly. 
In the paper printing industry, tesa® EasySplice quickly became the favorite splicing tape of printers. In recent years, the range has been tailored ever more closely to the changing needs of the printing industry and, with tesa® 51948 EasySplice FilmLine Black X, this range has also made it possible to meet the high demands of the flexographic printing industry for splicing non-polar surfaces, making it the non plus ultra on the market today.
Reel change in flight – with  
tesa

® EasySplice
To launch tesa® 51948 EasySplice FilmLine Black X on the market, internal laboratory tests were conducted at machine speeds of up to 1000 m/min – not a single web break resulted. "This is significantly faster than the speed at which the vast majority of printing machines are operated in everyday use. This exceptional performance is made possible by the tesa® EasySplice's unique design and specially adapted adhesive compound for critical, high-lubricant foils used in the flexible packaging industry," explains Steffen Ebenau, Product Manager for Splicing Tapes. "These non-polar films are extremely challenging when changing reels on the fly."
Time savings, speed and reduced waste is exactly what
tesa

® EasySplice stands for
The name "EasySplice" says it all: These splicing tapes make the task of preparing a reel for splicing very easy and fast. Just one straight line – no extra tape, no additional butterfly labels necessary. That saves time.
Even difficult-to-splice substrates, such as high-slip films or recycled films, can be spliced at a high machine speed without web breaks! So, it's just like flying. Speed and reliability are important criteria to achieve high efficiency in the process and avoid waste.
With these properties, tesa® EasySplice has won the hearts of the paper and flexographic printing industries, ranking high on the list of the world's most popular splicing tapes.
By introducing

tesa

® 51948 EasySplice FilmLine Black X, we have extended our range to meet the ever-growing market demands for higher splice performance at high speeds on critical films, and we are pleased with the very positive response from the market.
Steffen Ebenau
International Product Manager, Flexo Print & Paper
Changing on the fly at a speed of up to 1000 meters per minute
on-the-fly reel changes were run with tesa® 51948 EasySplice FilmLine Black X in internal laboratory tests – not a single web break resulted.
Fact sheet: The Flying Acrobat
Reliable splice performance for critical high-lubricant films at high speeds
Quick and easy splice preparation
Optical detection feature for easy waste detection
Very high initial tack, even on difficult-to-splice films
Excellent adhesion
Excellent shear strength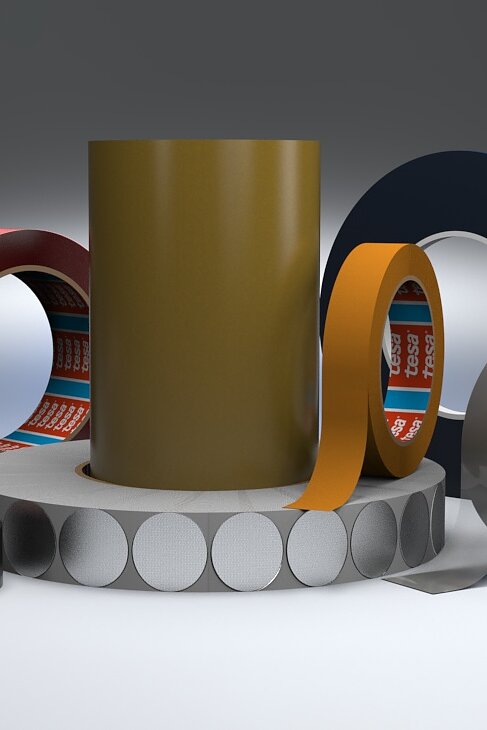 A league of its own – tesa tape heroes
Read more