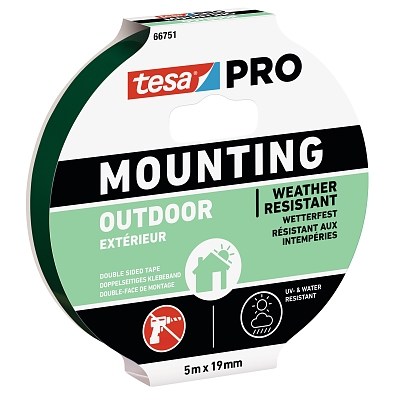 ---
---
Product description
tesa
PRO Mounting Outdoor
tesa
PRO Mounting Outdoor makes outdoor application jobs of professional craftsmen and -women quicker and easier. The tape adheres to particularly complicated surfaces like tiles, bricks, metal and hard plastics with its strong and reliable bonding power. Achieve long-lasting adhesions and secure essential outdoor items for your customers, such as letter boxes or house numbers with this UV-, water- and temperature resistant tape. Easy to use: Apply in vertical strips along the full length of the object or surface. Press down firmly for at least five seconds.
Main features
1
Strong and durable:
tesa
PRO Mounting Outdoor tape is the primary choice of fastening solutions for easy and stable wall mounting of objects outdoors - UV-, water-, temperature-resistant
1
The outdoor tape holds up to 1 kg per 10 cm tape - for flat objects up to 10 mm thick - suitable for most smooth, sufficiently firm surfaces - adheres to tiles, metal and most plastics
1
Ideal for exterior use: Strong double-sided adhesive tape for secure exterior fixing, e.g. house numbers, letter boxes and more
1
Easy to use: The mounting tape can be cut into individual small or large pieces for an adhesive strip in the optimized size
1
Scope of delivery: 1 x
tesa
PRO Mounting Outdoor - Holds up to 1 kg per 10 cm tape - Material: Acrylic
Application
Easy to apply:
In order for the mounting tape to develop its full holding power, the object and surface must be free of dust, dirt and grease.
Attach the tape to the rougher surface first. Apply in vertical strips and along the full length of the object or surface.
Press down firmly for at least five seconds. Remove the protective foil and without touching the exposed adhesive area, place the object and hold it firmly for at least five seconds.
As the mounting tapes are intended for permanent use, material residues may remain on the object. Try to remove with

tesa

adhesive remover.
Technical properties
Colour
transparent with UV-particles
Adhesion properties
Adhesion to Steel (after 3 days)
Rating properties
Removability after 14 days (23°C)
tesa® products prove their impressive quality day in, day out in demanding conditions and are regularly subjected to strict controls. All technical information and data above mentioned are provided to the best of our knowledge on the basis of our practical experience. They shall be considered as average values and are not appropriate for a specification. Therefore tesa SE can make no warranties, expressed or implied, including, but not limited to any implied warranty of merchantability or fitness for a particular purpose. The user is responsible for determining whether the tesa® product is fit for a particular purpose and suitable for the user's method of application. If you are in any doubt, our technical staff will be glad to support you.