tesa

Precision Mask

tesa Precision Mask adhesive tapes offer professional results and razor sharp finishes whether masking indoor, outdoor or on delicate surfaces.
tesa

® Precision Mask Indoor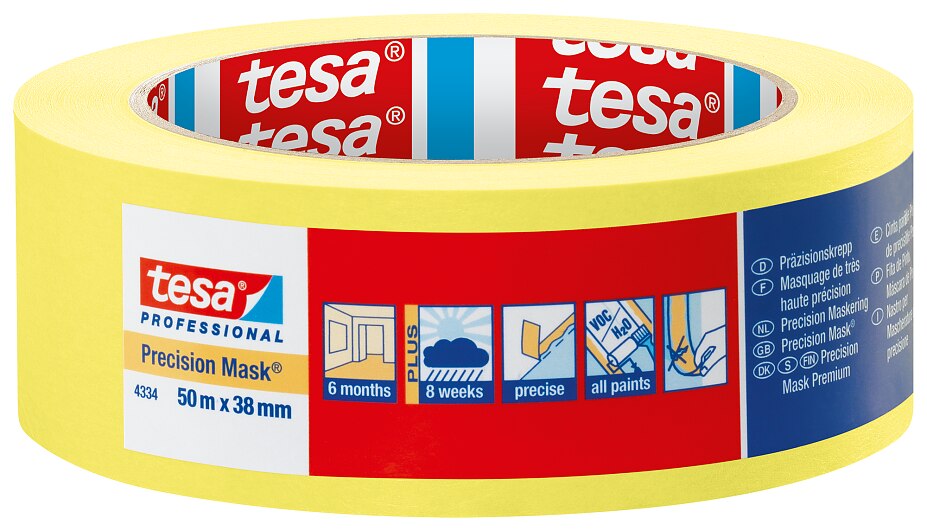 tesa® 4334 Precision Mask masking tape consists of an extra-thin and strong Japanese rice paper (Washi) backing and is recommended for use on a range of surfaces, including glass, aluminium, PVC and wood.

The combination of the highly equipped backing material and the special adhesive formulation allows easy removability has now been increased from 5 months to 6 months. The translucent backing allows for easy positioning it is also easy to tear by hand.

tesa® 4334 Precision Mask masking tape has the added benefit that it can be used outdoors. Suitable for almost all outdoor paint jobs, it can be used with all common kinds of paint and lacquers.

tesa® 4334 Precision Mask masking tape is easily removable up to 8 weeks outdoors in direct sunlight, without leaving residues and offers the precise razor sharp paint edge and no paint bleed for which it's renowned
tesa

® Precision Mask Sensitive

Expensive wallpapers, fresh plaster or freshly and high quality painted surfaces need proper protection.This is where tesa Precision Mask Sensitive - low tack masking tape for delicate surfaces delivers great results on delicate surfaces.

 

Even though this is a low tack adhesive tape, tesa Indoor Precision Sensitive masking tape can now be removed up to 14 days - an improvement from 7 days due to upgrading of adhesive, after application without leaving any residue and all in one piece – without tearing or damaging the surface on removal, providing correct surface preparation procedures have been carried out.


tesa Precision Masking Sensitive low tack masking tape can be precisely and reliably applied for an improved 14 days without damaging the surface on removal. For the professional this means the guarantee of a finish to take pride in, without the cost and time of removing adhesive residue or having to cope with paint bleed

 

tesa Precision Sensitive features and benefits:
Suitable for use on sensitive surfaces such as wallpaper, fresh plaster or freshly painted surfaces
Precise razor sharp paint edges - No paint bleed
Can be torn by hand
Easy removability up to 14 days after application
For use on smooth and slightly textured surfaces
tesa

® Precision Mask Outdoor
Masking tapes which are to be used outdoors have different demands placed on them both from the weather and sunlight (UV light), and it is critical they have a degree of resistance to both depending on the circumstances of use.
During renovation work on façades, high-value surfaces such as window frames and metal exterior coverings are at particular risk. The tesa® Outdoor Masking Assortment is specifically tailored to these uses and provides dependable weather resistant protection and a razor sharp paint edge for problem areas during exterior work on buildings.
The new tesa Outdoor Masking tape, tesa 4440 is a slightly thicker paper masking tape than the previous tesa 4439, but is still ideal for extremely flat paint edges and has an improved from 8 weeks to 26 weeks residue free removal makes it suitable for long-term outdoor painting purposes.
 
Precise paint edges - no plaint bleed
For slightly uneven surfaces
Residue-free removal for up to 26 weeks outdoors
Weather and UV resistant
For painting jobs which have to be exact and require a razor sharp paint edge
Suitable for all paints