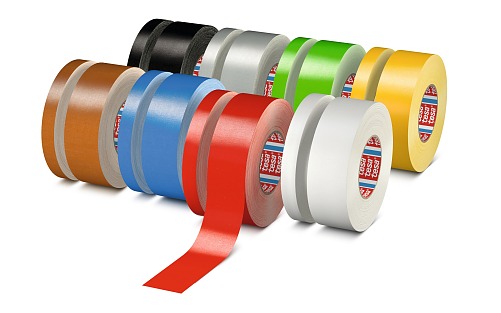 ---
---
Product description
tesa
®
4651 is a robust, high-quality, acrylic coated cloth tape. It is based on a 145 mesh woven rayon fabric backing and a natural rubber adhesive. The cloth tape is conformable and features excellent abrasion resistance, high tensile strength, as well as a very high adhesiveness to multiple, even rough surfaces. The tape's high tack and short dwell time ensure a fast application and reliable adhesion only shortly after having been applied. The tape is hand-tearable and can be torn with precise and straight edges longitudinally and horizontally.
tesa
®
4651 offers exceptionally high abrasion resistance, water resistance, and can withstand temperatures of up to 130°C for short term after which it can be removed without residues. Strong cloth tape
tesa
®
4651 is usable for a wide range of applications in various industries. Black and blue is also available with paper liner as jumbo roll (
tesa
®
4651 PV9).
Main applications
Masking while sandblasting, coating, paint spraying, etc
Bundling and reinforcing of freight, such as pipes or profiles
Labeling, color coding or marking of wires, cables, etc
Permanent sealing of pipe joints, tins and tubes
Securing of sharp edges
Fixing and insulating of wires
Technical properties
Temperature resistance (30 min)
Mesh
145 count per square inch
Additional Info
Complies with LV 312-1 Dialectric strength

tesa® products prove their impressive quality day in, day out in demanding conditions and are regularly subjected to strict controls. All technical information and data above mentioned are provided to the best of our knowledge on the basis of our practical experience. They shall be considered as average values and are not appropriate for a specification. Therefore tesa SE can make no warranties, expressed or implied, including, but not limited to any implied warranty of merchantability or fitness for a particular purpose. The user is responsible for determining whether the tesa® product is fit for a particular purpose and suitable for the user's method of application. If you are in any doubt, our technical staff will be glad to support you.