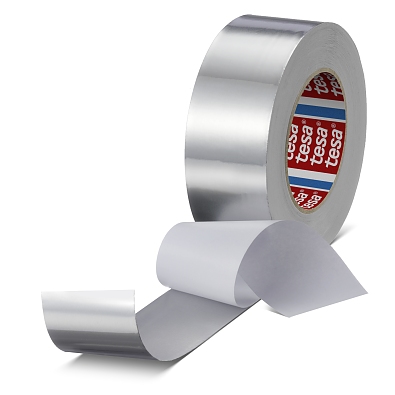 ---
---
Product description
tesa
®
60652 is an aluminum tape based on a 50 µm (2 mil) aluminum foil, a transparent acrylic adhesive and a white, single-sided siliconized, 85µm thick  paper liner
Features:
Mechanical stable and conformable
Easily removable liner
Suitable for permanent applications
Barrier against moisture, gases and vapors
Electrically and thermally conductive
Aging resistant
Heat and light refletive
Flame retardant according to DIN 4102, clas B1
Flame retardant according to the requirements in UL510A
Meets requirements of UL723
Main applications
Mounting of refrigerator coils in appliance industry
Joining and sealing of thermal insulation, ducts and pipes
To make substrates electrically and thermally conductive
To reflect heat radiation
Technical properties
Temperature resistance min.
Temperature resistance max.
Adhesion properties
Adhesion to PVC (initial)
Adhesion to Glass (initial)
Additional Info
The total thickness given in the section "Technical Data" describes the thickness of the tape without liner. The thickness with liner is 175 µm (6.9 mil).
tesa® products prove their impressive quality day in, day out in demanding conditions and are regularly subjected to strict controls. All technical information and data above mentioned are provided to the best of our knowledge on the basis of our practical experience. They shall be considered as average values and are not appropriate for a specification. Therefore tesa SE can make no warranties, expressed or implied, including, but not limited to any implied warranty of merchantability or fitness for a particular purpose. The user is responsible for determining whether the tesa® product is fit for a particular purpose and suitable for the user's method of application. If you are in any doubt, our technical staff will be glad to support you.