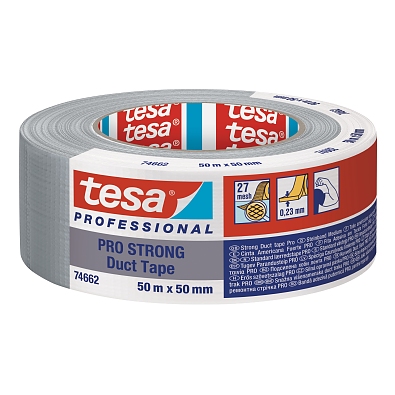 ---
---
Product description
Professional craftsmen need PRO-tools - the
tesa
PRO STRONG Duct Tape 74662 is a versatile, reliable and high performing repairing tape with extra strong bonding power. Due to its easy tearability and flexibility, this duct tape offers the best allround support for quick solutions during your busy work day. It even repells water and shortly resists high temperatures, suiting it for indoor and outdoor usage. The tape consists of a polyethylene film and a woven polyester fabric backing coated with a synthetic rubber adhesive. Available in various dimensions to fit your individual purpose.
Main features
tesa

PRO STRONG Duct Tape for professionals of every craft, your general purpose tape that is easy to apply and works even on slightly rough surfaces.
PRO STRONG Duct Tape is truly reliable for various applications like sealing, repairing, fastening or packaging.
Based on synthetic rubber, this new PRO STRONG Duct Tape has never been stronger while still being easy to unwind and convenient to tear. Use indoors or outdoors.
A must-have for every craftsmen toolbox: This Duct Tape is for temporary and permanent applications, the perfect allround support with superior

tesa

quality.
Application
This Duct Tape works best on clean, smooth surfaces
Apply the tape and press firmly onto the surface.
Technical properties
Adhesion to rough surfaces
Temperature resistance max.
Backing material
PE-film with PET-filament
tesa® products prove their impressive quality day in, day out in demanding conditions and are regularly subjected to strict controls. All technical information and data above mentioned are provided to the best of our knowledge on the basis of our practical experience. They shall be considered as average values and are not appropriate for a specification. Therefore tesa SE can make no warranties, expressed or implied, including, but not limited to any implied warranty of merchantability or fitness for a particular purpose. The user is responsible for determining whether the tesa® product is fit for a particular purpose and suitable for the user's method of application. If you are in any doubt, our technical staff will be glad to support you.