Masking on Plastics and Anti-Adhesive Surfaces
When you have the right masking product, even dealing with a tricky surface can be a simple, pain-free process.
They Don't Make Them Like They Used To!
A lot of the time there are good reasons for this, like when it comes to PVC windows. They're cheaper than wood and aluminium, they're easy to maintain, they're recyclable and they last a fairly long time, too. But when it comes to masking them, you still need to be careful.
That's because old frames – particularly south-facing ones that take the full force of the sun – can age, developing a matt, dirty, or chalky surface that's easily marked or damaged.
Potential PVC Pitfalls and What to Do About Them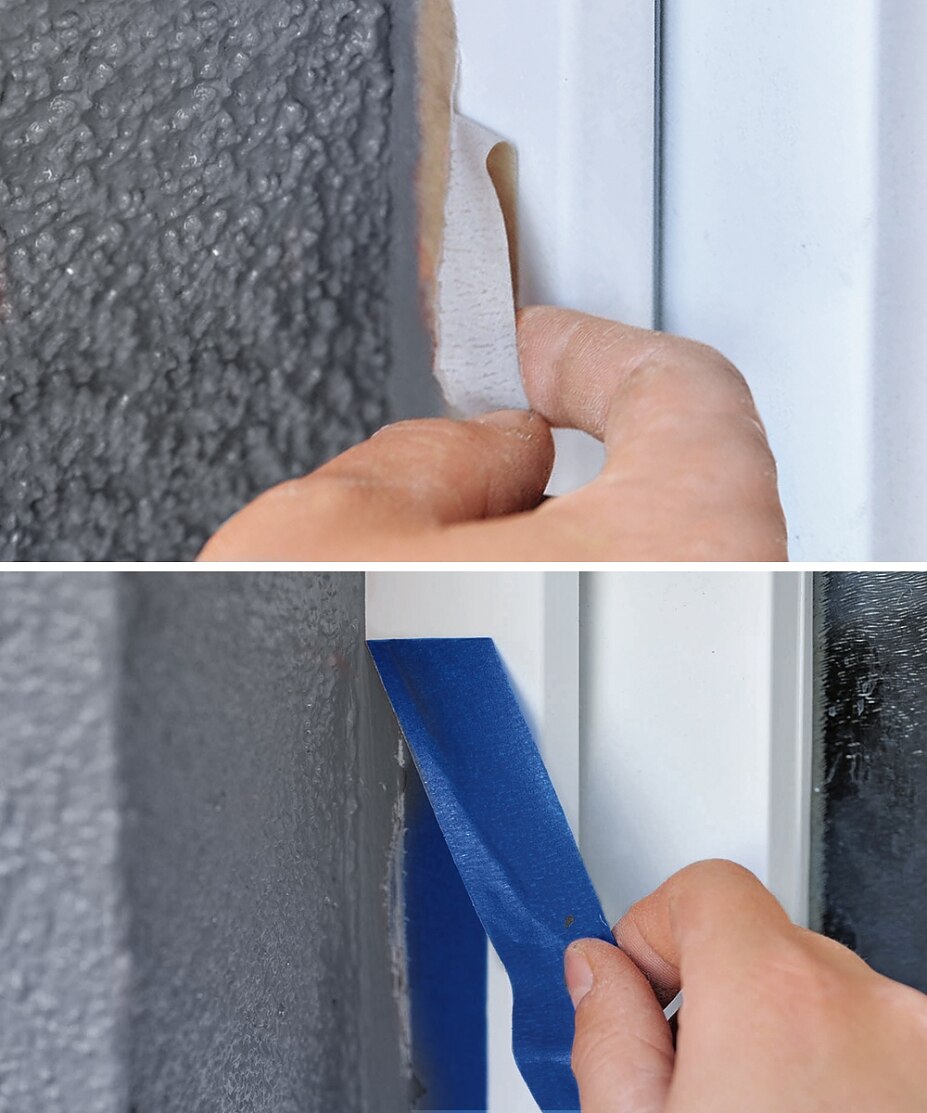 As always, if you're worried about marking or damaging a client's delicate surfaces, make sure you carry out a tape test (in the client's presence if possible) and that they're aware of your concerns and what the risks are before you begin. Here are the three most common risks with PVC windows:
If the adhesive tape is difficult to remove and keeps tearing, it may be because the PVC has become porous as it has aged, and is therefore more susceptible to the tape's adhesive. To limit the risk of damage or discolouration, make sure you give the surface a clean beforehand and use a moderate-tack adhesive tape like

tesa

® 4440 Precision Mask® Outdoor
You may find that, on removal, the adhesive tape leaves a variegated surface discolouration. This is because it has removed some of the accumulated dirt and dust from the weathered surface. That's another good reason to clean the surfaces before applying the tape and also to mask across the full width of the frames.
It's possible that, a little while after you've removed the tape, the PVC surface will turn slightly yellow or brown. That's due to anti-aging agents in the tape's adhesive being left behind on the PVC. Although exposure to sunlight will bleach these discolourations to some extent, prevention is better than cure so, again, clean your surfaces before applying the tape. If you're still finding that the discolouration is a problem, it's not the end of the world – that's why they make paints specifically for PVC.
Sticking Stuff to Non-Stick
Many modern materials contain a variety of non-stick compounds – materials such as:
Teflon, polyethylene (PE) and polypropylene (PP) 
Certain silicone resin paints and silicone resin-based plasters 
Exterior sealing tapes and sealants 
Certain powder-coated structural elements (usually with textured paint or glitter effect)
These are generally meant to make life easier as well as prettier because they're dirt repellent and easy to clean. When it comes to masking, however, they can make life tricky.
We haven't found a universally applicable solution to this (yet!) but until we do, there are a few tesa products that may stop you coming unstuck: (As always, it's best to be on the safe side and do a tape test before you get to work.)
tesa

 products made with silicone adhesive compound (

tesa

® 50600 and

tesa

® 4331) can be used on substrates that contain or have been contaminated by silicone.
When it comes to silicone resin plasters, it's also possible that

tesa

® 4663 heavy duty duct tape will do the job. However, this tape should not be used for longer than three days.  

tesa

® 4363 /

tesa

4370 cloth tapes or

tesa

® 4331 masking tape can frequently provide a solution on powder-coated structural elements with special paint effects. 

It sounds obvious, but whenever you're confronted with a non-stick surface (and a texture-effect coating in particular, as adhesives can affect these the most), don't forget to investigate whether masking off the whole area is an option.