tesa

® Loxx shower towel bar, chromed metal, self-adhesive

The self-adhesive tesa® Loxx shower towel bar is conveniently applied to a wall without drilling. No damage is done to surfaces. Removal is fast and can be done at any time. The rounded holder can be relocated with a new adapter BK20-2. The glossy double bar is practical with a vivacious, aesthetical design.
Towel bar, ideal for your shower, with

tesa

® Power.Kit technology (all-in-one adhesive mounting solution)

High gloss chrome-plated metal, round style, circular wall plate, vivacious design

Reliable hold, waterproof, guaranteed stainless
All Product details
Product details
User reviews
FAQs
Product details
Product description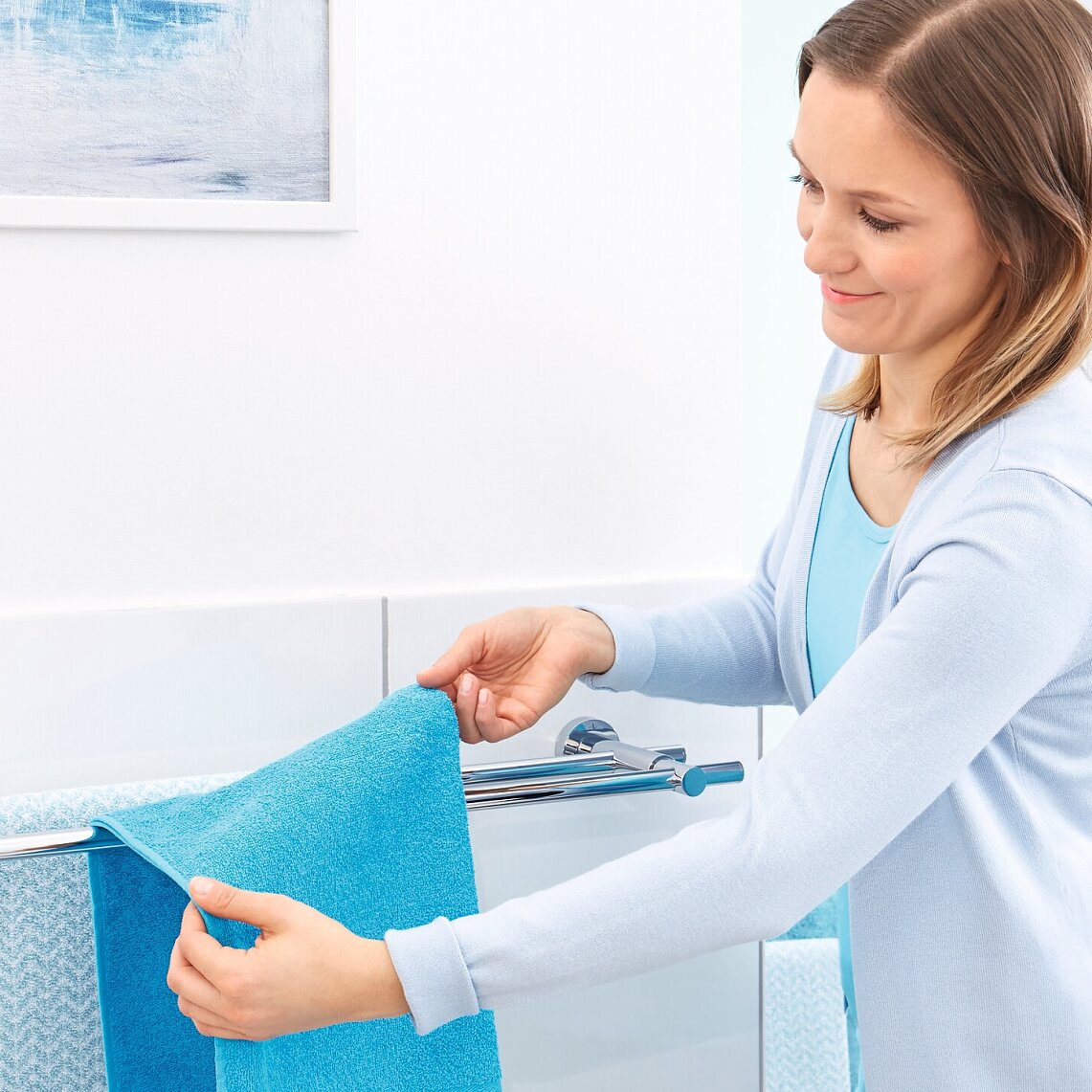 Product description
The tesa® Loxx shower towel bar has a double rod, allowing two towels of various sizes to dry, well separated from each other. With its high gloss chrome finish, the round holder also has a sprightly, appealing design that is well suited to any bathroom décor - especially next to your shower. An adhesive solution is used for mounting, taking 12 hours to dry. No drilling is involved which means that no walls or tiles are damaged. Whenever you like, you can take down the double bar quickly and without a trace. With a new adapter BK20-2, you can also reattach it in a different location. tesa.Power.Kit Glue: Warning! Hazardous respirable dust may be formed when used. Do not breathe dust.
Towel bar, ideal for your shower, with

tesa

® Power.Kit technology (all-in-one adhesive mounting solution)

High gloss chrome-plated metal, round style, circular wall plate, vivacious design

Reliable hold, waterproof, guaranteed stainless

Works on tiles, metal, natural stone, marble, concrete, wood, glass and many types of plastic

Does not work on wallpaper, stucco and other surfaces with non-stick coating
Fast removal without a trace and reuse with adapter BK20-2

Uncomplicated application without drilling

Product dimensions: 50mm x 700mm x 160mm