tesa Twinlock® Self-Adhesive Plate Mounting Sleeves
tesa Twinlock® - the reusable, self-adhesive, and compressible sleeve that provides consistency in high quality printing.
Regardless of your flexographic printing requirements we have a solution. With the addition of tesa Twinlock® to our product assortment we are extending our capabilities to cater to the preferences and individual needs of flexographic printers. The concept of tesa Twinlock® is to provide sustainable and re-usable plate mounting solutions for cost efficient and consistent high quality print jobs.
The basis for this technology begins with the selection of a base sleeve or cylinder from the customer's preferred supplier. We then add a polyurethane (PU) foam layer on to the top of the base sleeve. The PU foam is coated with a unique polymer that has the characteristics to remain permanently tacky. When proper cleaning and handling procedures are observed, there is no limit to how many times tesa Twinlock® can be used.
tesa Twinlock® technology offers four product varieties with three different hardness levels. Our soft, medium, and hard foam structures allow complete flexibility for the customer. The different thickness layers of the tesa Twinlock® coating enables us to deliver the most accurate sleeve based on your existing production needs.
Twinlock by tesa®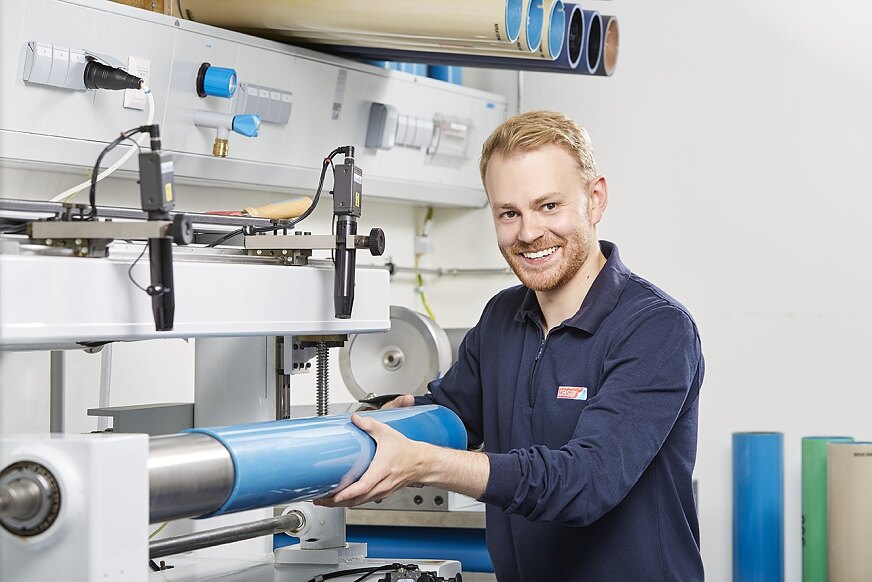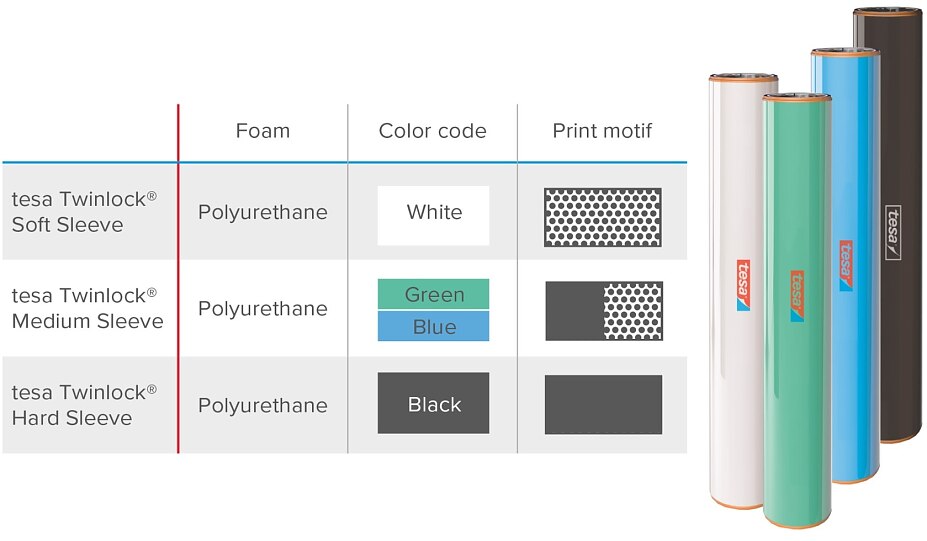 Print Quality
Our adhesive plate mounting sleeves provide exceptional print quality. Even after long press times the sleeves produce accurate and reliable results. The consistent print quality is attributed to our open cell foam structure. Through this foam structure our sleeves absorb bouncing effects to improve print quality. A second critical factor that influences print quality are our strict diameter tolerances. We use laser technology to measure our sleeves and ensure they meet your exact requirements.
With our carefully crafted tesa Twinlock® we enable:
High printing speeds
Lasting print quality without the need of adjustments
Excellent registration
Process Efficiency
The main advantage of this technology is the reusability of the self-adhesive sleeve. When best practices are observed our reusable sleeves have the potential to run endlessly. In most cases our tesa Twinlock® sleeves only need to be recoated when physical damage occurs to the base sleeve or coating. Flexo printers benefit from:
Lower running cost
Carbon footprint reduction
Fast ROI when reusing same repeats
More precise estimate of input production costs
Personal & Global Support
Every project comes with new challenges especially when considering which materials and processes fit you best. We help overcome these challenges by partnering with you to create unique and specialised products that meet your process demands. Our competencies go beyond tape to offer a more comprehensive and technical product package. 
Difference between mounting with Twinlock and tape