Our task
Delivering change
Our contribution
Our task
tesa

will make its packaging more sustainable in the future 
Good packaging that does its job well adds value to any product. Packaging needs to protect its contents, whether for storage or transport, or make them attractive on the shelf for end customers. Using air cushioning and films for protection, cardboard and adhesive tape for safe shipping, or glossy plastic films to appeal to customers – billions of items are packed and shipped all over the world every day.  
Avoiding packaging, reducing it, and making it recyclable or more sustainable is a challenge many companies are facing today.  
For tesa, as a manufacturer of a variety of adhesive solutions for consumers, trade and industry, there are several tasks that arise when it comes to packaging. 
Delivering change
Packaging safeguards the quality of
tesa

® products
Packaging is used for all of tesa's approximately 7000 products, whose quality must be maintained in the warehouse or for transport until they reach our customers. But packaging for a roll of tesafilm® or a set of adhesive hooks must also be attractively presented in the future, just as the product must be protected from dust and dirt or damage. All of this, though, needs to become more sustainable. This is why the use of plastic from non-recycled fossil sources for packaging will be significantly reduced at tesa. All packaging for tesa® products will be fully recyclable within the next three years. Sustainable materials for packaging can come from biological sources such as wood for paper and cardboard or from technical recycling cycles for plastics. For paper packaging, tesa utilizes paper from well-managed forests and other controlled sources and aims to reach 80% use of these materials by 2025. 
Our contribution
tesa

 offers a wide variety of packaging tapes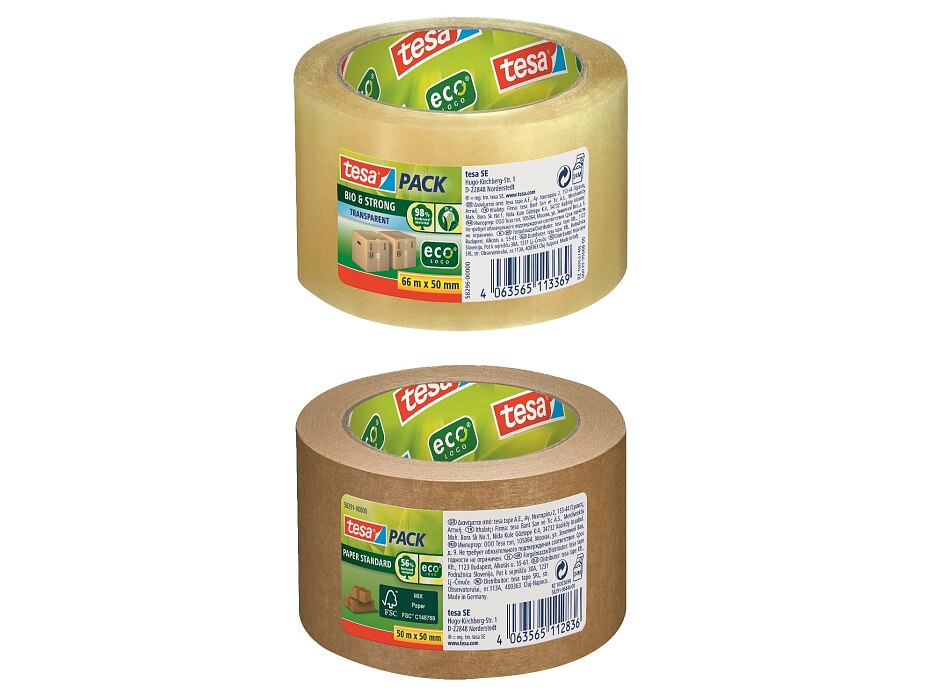 tesa produces new packaging tapes based on bio-based or recycled raw materials. The packaging tapes developed on the basis of cornstarch or paper from responsible sources, offering more sustainable alternatives to conventional adhesive tapes, are perfect examples of this new approach.
The tesapack® Bio & Strong packaging tape, for instance, is made of up to 98% bio-based material. tesapack® Paper Standard is a paper packaging tape that makes recycling easy.
More tesa® packaging tapes with improved sustainability will follow.