Trends
Painting a bright future
Anyone who envisions the future must also research it. To show appreciation and respect for the trade industry, tesa develops masterpieces for master craftsmen – with a great deal of inventive talent and high-tech. Nowadays professionals may show their true colors with confidence, for example, when painting and varnishing. With the tesa precision masking tape, coated with Japanese Washi paper, color bleeding and color gradients have no chance. The popular predecessor model, tesakrepp®, gave a "clear edge" to automotive painting 85 years ago.
Over the past few decades, tesa experts have developed a great variety of technical adhesive solutions that have become indispensable for everyday craftsmanship. Many professionals appreciate these solutions, and in almost every tool case there are a couple of tesa products. Highly specialized technical adhesive solutions made of PVC, silicone or fiberglass take over bonding in construction, help with mounting, sealing or insulating, they stick to plaster (or concrete), and they are UV-resistant or waterproof. Painters and plasterers use the special masking and protective adhesive tapes as well as solutions for almost all painting, varnishing as well as plastering jobs. For construction sites, workplaces or exhibitions, the tesa safety and insulation assortment includes a large number of adhesive tapes for marking danger zones and for insulating electronic components. Hardly any roadie can do without the legendary gaffer tape at a rock concert.
The state of technology has always set the pace for our adhesive innovations. In the past, masking tapes, for example, were physically pretreated to give them a creped surface, consequently their common name 'crepe tape'. The future began with the smooth successors made from Japanese paper, which are in great demand today. The material of the surface that needs to be processed (surface properties) but above all the location – inside or outside – are decisive for the choice of the right product. When it comes to painting, the modern, now uncreped tesa precision tapes of the 4334 series have ensured perfect results in many applications since 2005. It was a technological quantum leap for craftsmen as well as for product developers when they discovered that the extremely fine, only 80 micrometer thin Japanese Washi papers were a perfectly suitable coating material – considering that a conventional tesa masking tape measures 140 micrometers.
Tradition meets high tech
The premium tapes guarantee not only particularly sharp color edges. For example, if the painter wants to design a two-tone wall, as is currently en vogue, and not risk any color bleeding. The tape does not leave any marks, even if it is applied indoors for up to six months. Outside, the tape offers a "clear view" even if the tape has been removed after up to eight weeks. The specialist may even do without a primer when using the extremely pliable and tear-resistant adhesive tapes.
Sales of these tapes tripled in seven years. Their precious, traditional raw material – which is often incorrectly referred to as rice paper, even though it is made from bast fibers – comes straight from the Land of the Rising Sun.
From professionals for professionals
The tesa innovators are masters of their trade. Every new masterpiece for professionals must meet the highest standards. No real-life situation can be as wet, as hot, as sunny as the endurance tests simulate in the laboratory. Even if the "sun tester" sounds like beach and ocean fun: In this special process, the tapes are exposed to extreme UV radiation. The demands from everyday life often come from everyday life, the tesa sales force is always in close contact with the users – although the professional tapes are known to be exclusively sold via wholesalers. In order to support the very popular trend of spray painting, the 200 mm wide Easy Cover foils were developed as an adhesive solution to the trend, which safely covers the area around the surface to be sprayed and – of course – can be removed without a trace after use.
Sustainable pioneering work 
tesa is also a pioneer for sustainable processes in the field of environmentally friendly manufacturing methods. Even the older masking tapes were made of natural rubber. 20 years ago, NRE (Natural Rubber Extrusion) was developed at the tesa plant in Offenburg: a solvent-free process where natural rubber is made spreadable. Thanks to tesa, the trade industry can pack their goods in a more environmentally friendly way. With the new 'tesapack® Bio & Strong', the EcoLogo range offers a particularly strong adhesive tape that consists of 98% bio-based material. For the first time, polylactic acid (PLA) is used as carrier material – Its basic raw material is vegetable corn starch. Caoutchouc – a naturally renewable raw material – is used as an adhesive. The coating process is solvent-free, and the core of the adhesive roll is made of recycled paper. Another new entry: 'tesapack® Paper Standard' allows trouble-free disposal together with the cardboard box. The backing for the paper-based adhesive tape comes from FSC®-certified forests and other controlled sources (FSC® C148769). The adhesive mass is made of 100% natural rubber (caoutchouc), the core of the roll is made of 100% recycled paper, and the coating is solvent-free.
The painter's helper is still a masterpiece
Not only professional craftsmen benefit from all these good ideas. Do-it-yourselfers have also valued tesa for generations, whenever they want to beautify their own four walls. They have dedicated assortments at their disposal, some of which have a long development history, such as tesakrepp®. Originally, it was used for painting cars and airplanes since the 1930s. Later, it proved helpful for packing bicycles and furniture as well as for protecting exposed machine parts. Since the beginning of the do-it-yourself boom in the 1970s, the "painter's helper" has become a bestseller in hardware stores. Either way, a true masterpiece to this day.
From flop to bestseller
The world's first technical adhesive tape comes from the Beiersdorf creative workshop – and was intended for defective two-wheelers. In the 1890s, the company actually wanted to market a new plaster, but it stuck too strongly to the skin and irritated it. The pharmacist Troplowitz quickly modified it and used it to create the first technical adhesive tape, the "Cito Sportheftpflaster" (sports adhesive plaster) with its new purpose to repair bicycles. An innovative sensation, because back then pneumatic tires often got punctured on the streets. This attitude continues to work at 
tesa
 today. In our series "125 Years of Innovations", we use selected examples to show you our innovation spirit and will present you with quite a few surprises!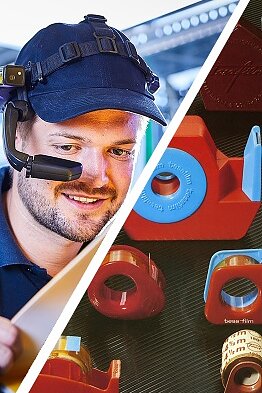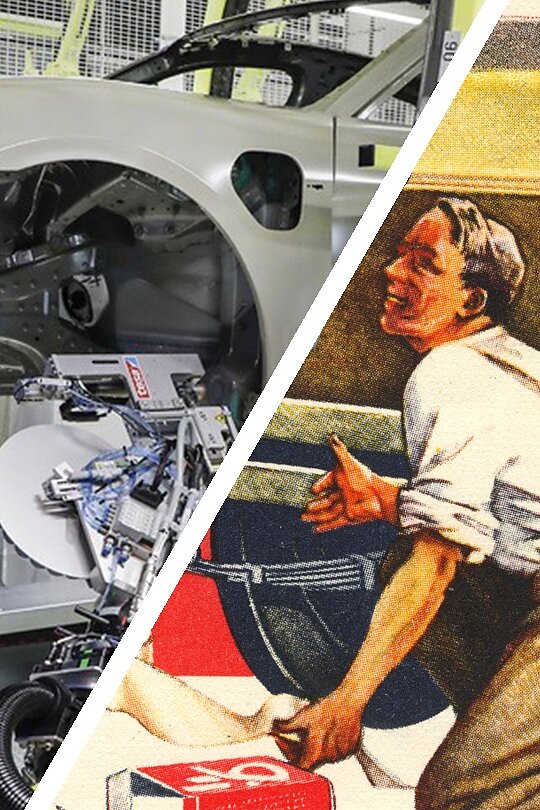 On the road to success
Read more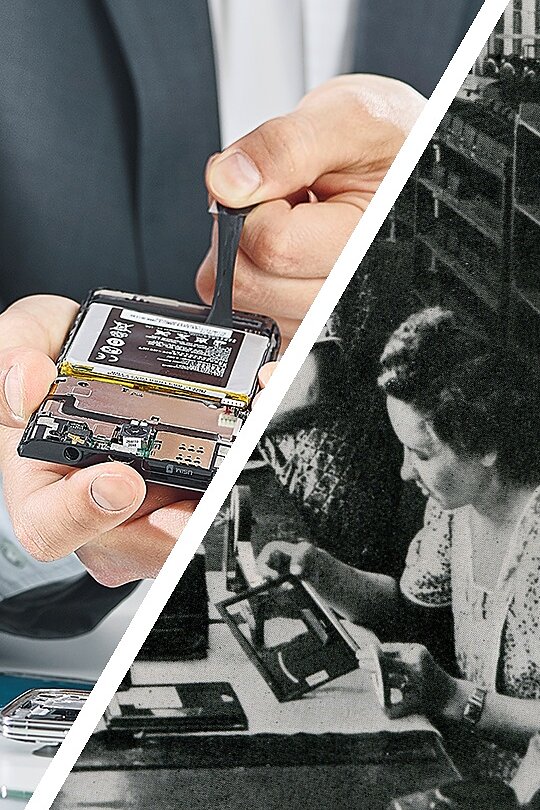 The sound of future at
tesa
Read more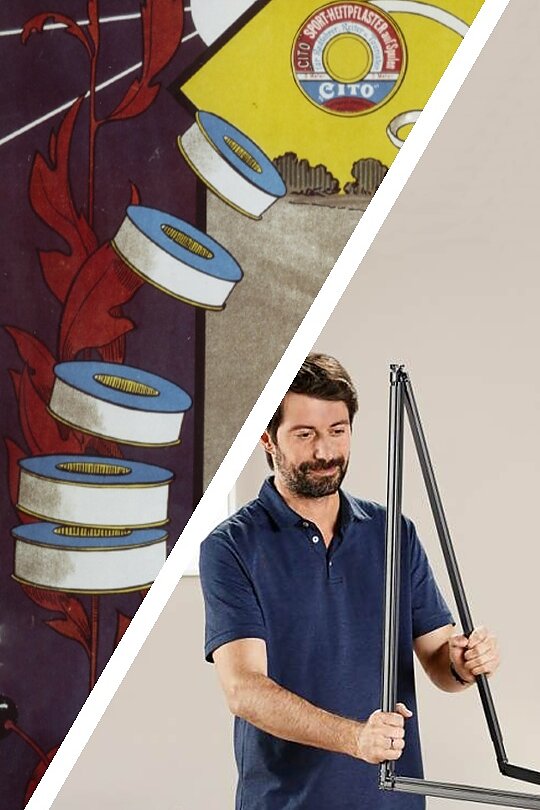 An all-rounder for all-rounders
Read more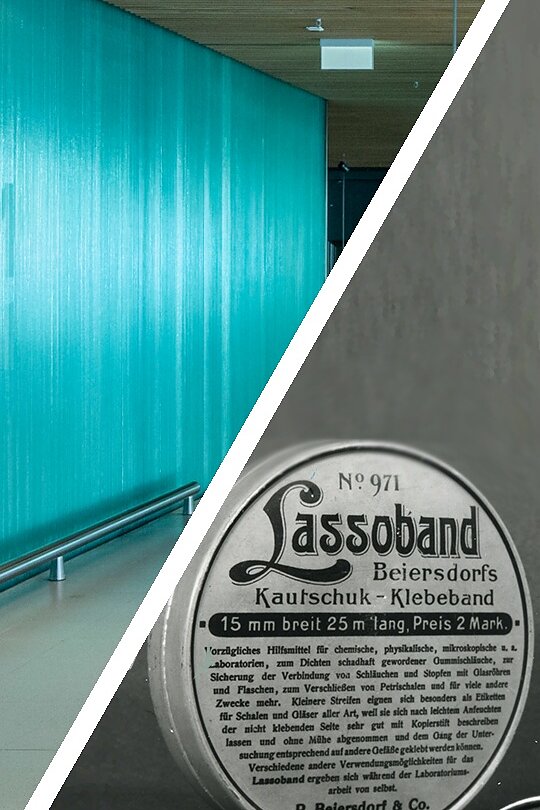 Building the future
Read more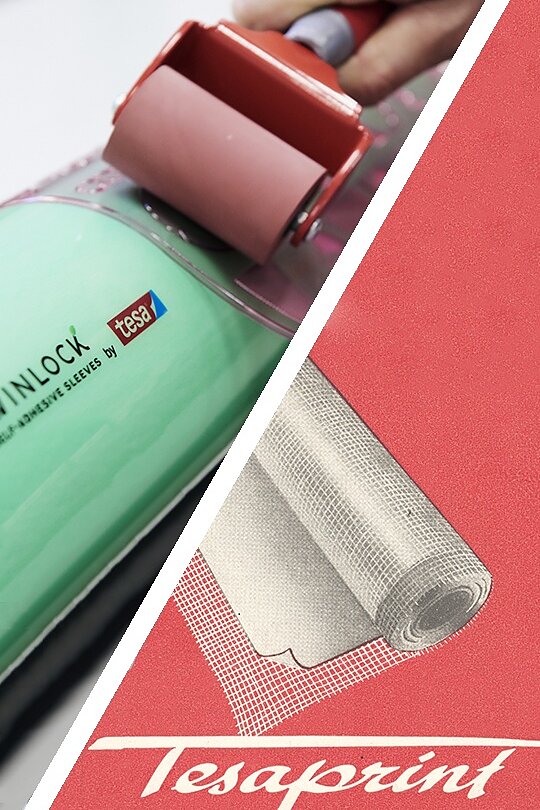 A lasting impression
Read more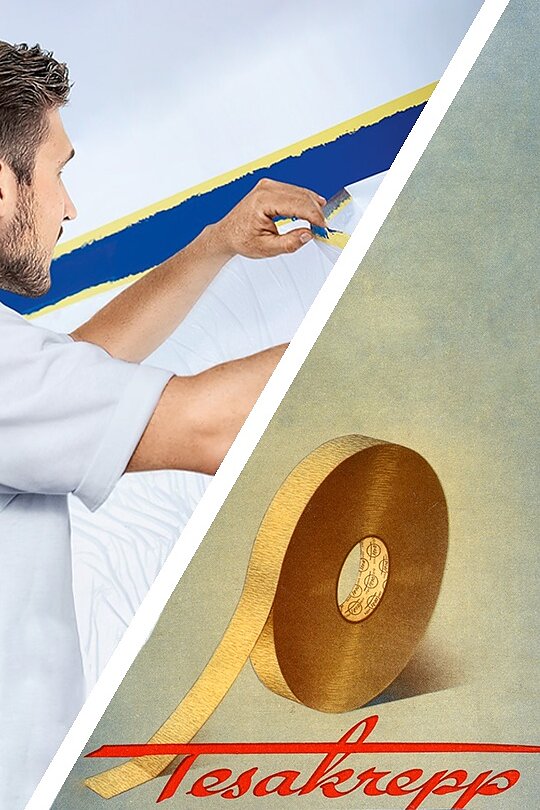 Painting a bright future
Read more