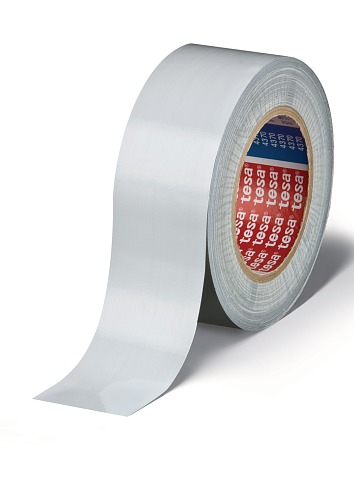 ---
---
Product description
tesa
®
 4370 is a cloth duct tape for professionals. It can be easily torn by hand both crossways and lengthways and offers impressive adhesive strength. It consists of a fabric substrate and a natural rubber adhesive mass. Thanks to its high degree of UV resistance, the waterproof cloth duct tape can be used outdoors for up to 8 weeks at a time.
tesa
®
 4370 is very easy to handle and is your reliable partner for house building and other construction projects.
Benefits:
High UV resistance (up to 8 weeks) and water-repellent
Good adhesion even to rough surfaces
Residue-free removability for masking applications
Conformable and easy to unwind
Main applications
tesa

® 4370 is recommended for the protection of areas like window frames or facades during construction works
The cloth tape is used for the protection against dirt and damage through manufacturing tools and material

tesa

® 4370 is suitable for application on concrete/ bricks, timber, glass or other outdoor applications (up to 8 weeks)
Rating properties
Suitable for sensitive surfaces
Suitable for rough surfaces
Additional Info
We recommend to conduct a test on the application surface before using the product.

tesa® products prove their impressive quality day in, day out in demanding conditions and are regularly subjected to strict controls. All technical information and data above mentioned are provided to the best of our knowledge on the basis of our practical experience. They shall be considered as average values and are not appropriate for a specification. Therefore tesa SE can make no warranties, expressed or implied, including, but not limited to any implied warranty of merchantability or fitness for a particular purpose. The user is responsible for determining whether the tesa® product is fit for a particular purpose and suitable for the user's method of application. If you are in any doubt, our technical staff will be glad to support you.