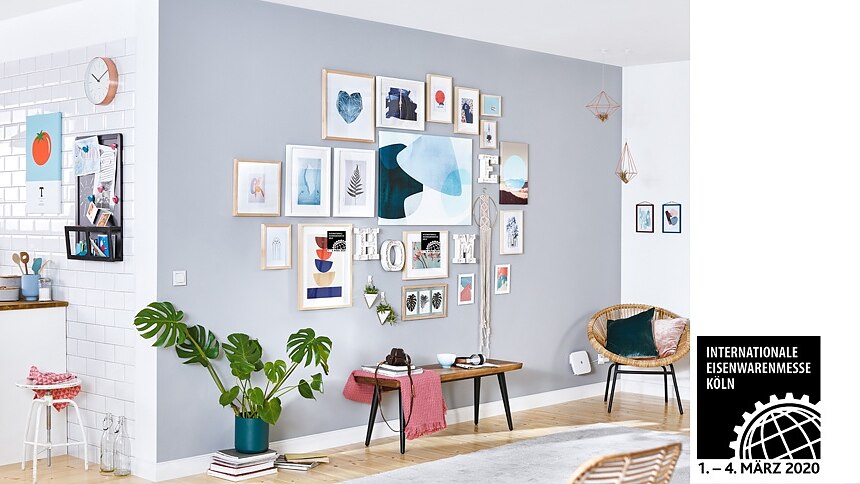 Hardwarefair Cologne 2020
Visit tesa every day from 9am to 6pm in hall 11.1 at corridor C, booth number 39 in the DIY Boulevard.
---
---
Quick, easy, and safe: The innovative insect screen by
tesa
Insect protection has never been more comfortable. The new tesa® Insect Stop Foldable aluminum frame, telescopic allows quick mounting without drilling, sawing or measuring. The pre-assembled aluminum frame opens with a unique folding mechanism and can be flexibly adapted to the size of the window. High-quality material guarantees optimal stability and excellent see-through properties of the mesh fabric.
Sales will start in March 2020
As of March 2020, the tesa® Insect Stop Foldable aluminum frame, telescopic is available in online shops and in many renowned DIY stores in the frame colors anthracite and white. The impeccable material quality is guaranteed for 5 years.
Mount without drilling – easier than ever before
With the new trendy products from the tesa® smart mounting system you can safely mount a wide range of decoration, living accessories and small devices to your walls and ceiling.
Mounting can be so easy. No mess, no noise and on top of that no holes in your walls or ceiling. The new adhesive mounting solutions from tesa take care of that for you. With their help you can make your deco dreams and living ideas come true! Do you want to finally hang that holiday picture on your wall or have flowers hanging from your ceiling? The new tesa® Smart Mounting System products, such as the innovative adhesive nail for canvasses, ensure that everyone, even unskilled workmen can mount their favorite items quickly and without further complications. And all of it without ever touching a hammer or drill! The extra strong adhesive formula, the patented tesa powerstrips® technology, ensures strong hold at all times.
Strong hold on wallpaper and plaster
The new product range facilitates the implementation of decoration ideas in an easy and varied way. Whether you want to mount on wallpaper and plaster or on a different surface in your house, the tesa® adhesive nails and screws show their full potential if you are mounting something to your wall or ceiling. Additionally, these smart little helpers have a very easy way of being mounted.   
tesa® adhesive nails exclusively for canvasses from autumn 2019 onwards
A range of tesa® adhesive nails exclusively for mounting canvasses is waiting for you. A little metal wick "digs" itself into the wood on the back of your frame to ensure optimal hold of your canvas. The nail can safely mount your canvas on sensitive surfaces such as wallpaper and plaster up to a weight of two kilograms. A third version of the tesa adhesive nail for canvasses makes it possible for you to mount your canvasses on smooth surfaces like tiles and metal. An additional benefit is that you can adjust the height of the nail. Therefore, you can realign your canvas as often as you like.
New design possibilities for walls and ceiling
Not only can you mount pictures and decoration with the tesa products, but also items that you can't imagine living without nowadays, such as a wifi router. As well as being able to adjust the nail in height, you can also adjust it sideways. This makes the mounting of items with two holes an easy thing. Nicely-shaped white adhesive tesa® wall and ceiling hooks offer further design possibilities that instantly make your home cozy.
Removable without a trace and reusable
The new tesa® adhesive nails as well as the self-adhesive wall and ceiling hooks can be removed without a trace and only a few steps. The reuse of nails and hooks is an option as well. With a new tesa powerstrip the mounting solutions gain back their strong holding power.
tesa smart mounting system
tesa always listens to what consumer's wishes. That's why the innovative tesa® smart mounting system is constantly enriched with the new products. At the moment the range includes 44 self-adhesive products, which allow you to mount a wide range of items reliably to multiple different surfaces.
Bathroom decoration without drilling
Design meets smart adhesive technologies: A combination full of advantages.
Beautiful designs for every modern bathroom and unlimited bathroom decoration ideas: the new design line of bathroom accessories by

tesa

® offers everything from classy to minimalistic styles. A great variety in bathroom designs awaits you.

tesa

® provides an innovative, all-in-one solution: Patented

tesa

® Power.Kit technology. Easily mount bathroom accessories without extra tools and save remodeling costs. The powerful adhesive solution guarantees reliable hold without drilling. Every accessory is sold with a matching mounting kit.
Clean bathroom makeovers. The time of ugly drill holes and damaged tiles is over. It only takes a few simple steps to mount accessories with smart adhesive solutions by

tesa

® - and removing them is just as easy. 
Renovation
If you're looking to redesign your living space and achieve impressive results, we are the right partner for you. In our range, you can find masking tapes for sharp color edges, smart Easy Cover® covering solutions to prevent a mess, and adhesive tapes to put down carpets with no danger of slipping. Our high-quality and proven adhesive solutions make renovation work easier, allowing you to reach your goal faster, more cleanly, and more comfortably. You can look forward to the new feeling of your living space and the amazed eyes of your guests…