With our environmentally friendly adhesives, we prove that powerful adhesive performance and sustainable production are not mutually exclusive. For our ecoLogo® products, we use recycled materials, bio-based resources, and do not use solvents or bleaching agents for the adhesive. The range of eco-friendly adhesive solutions currently encompasses products for packaging, repairing, and renovating as well as office supplies – and it's constantly being expanded. Think of the environment and choose sustainable products!!
---
---
Desk and Office
With our office supplies, for the most part made from recycled and bio-based resources, you're choosing sustainability without having to forgo the familiar tesa® quality. You protect the environment without having to compromise on adhesive performance or comfort. Whether glue stick, adhesive tape or adhesive roller… Here, you can find the most important adhesive solutions for successful office work. Learn now about all ecoLogo® office materials!
Sustainable Packaging Products
The packaging adhesive tapes from the ecoLogo® range combine environmental friendliness with the typical tesa® quality. They are manufactured from recycled resources, equipped with a water-based, solvent-free adhesive. The packaging tapes command powerful adhesive performance and can be used comfortably. If you want to package your tapes securely, cleanly and friendly to the environment in the future, you should now get to know all the advantages of our ecoLogo® adhesive tapes! 
Sustainable Renovation Products
Our ecoLogo® masking tapes and adhesive tapes not only impress with their environmentally friendly production but also with their powerful adhesive strength. We use recycled resources in manufacturing and a natural adhesive free from solvents. The "renovation helpers" can be easily handled and are suited e.g. for painting walls or putting down carpets. Here, you can find all environmentally friendly products for clean renovating!
Sustainable Repairing Products
Our repairing adhesive tapes combine the advantages of a powerfully adhesive fabric tape with sustainable production. They consist for the most part of natural fibers and bio-based resources, equipped with a solvent-free adhesive. The repairing adhesive tapes are enormously tear-proof and suited not only for repairs inside and outside but also for crafts or mounting objects. Learn more about environmentally friendly repairing adhesive tapes!
tesa

® ecoLogo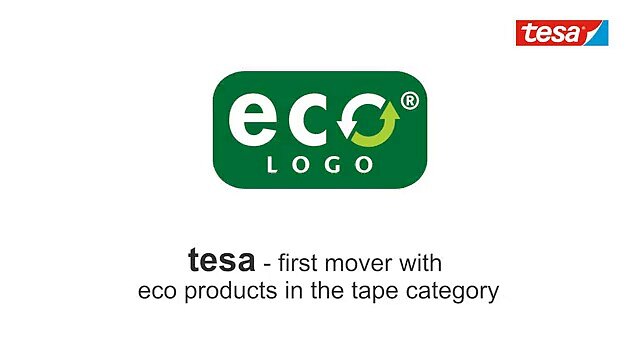 Sustainable Adhesives Protect the Environment