tesa

® Spaa shower bar, chromed metal & plastic, self-adhesive

The self-adhesive tesa® Spaa shower bar is reliably mounted. No drilling is needed, so that there's no damage to surfaces. With its chrome finish, the bar excels in its minimalistic design. It is easy to remove without a trace at any time and can also be simply put up again elsewhere with a new adapter BK151-2.
Shower bar, with

tesa

® Power.Kit technology (all-in-one adhesive mounting solution)

Chrome-plated metal & chrome-plated plastic parts which are adjustable and tiltable

Reliable hold, waterproof, guaranteed stainless
All Product details
Product details
User reviews
FAQs
Product details
Product description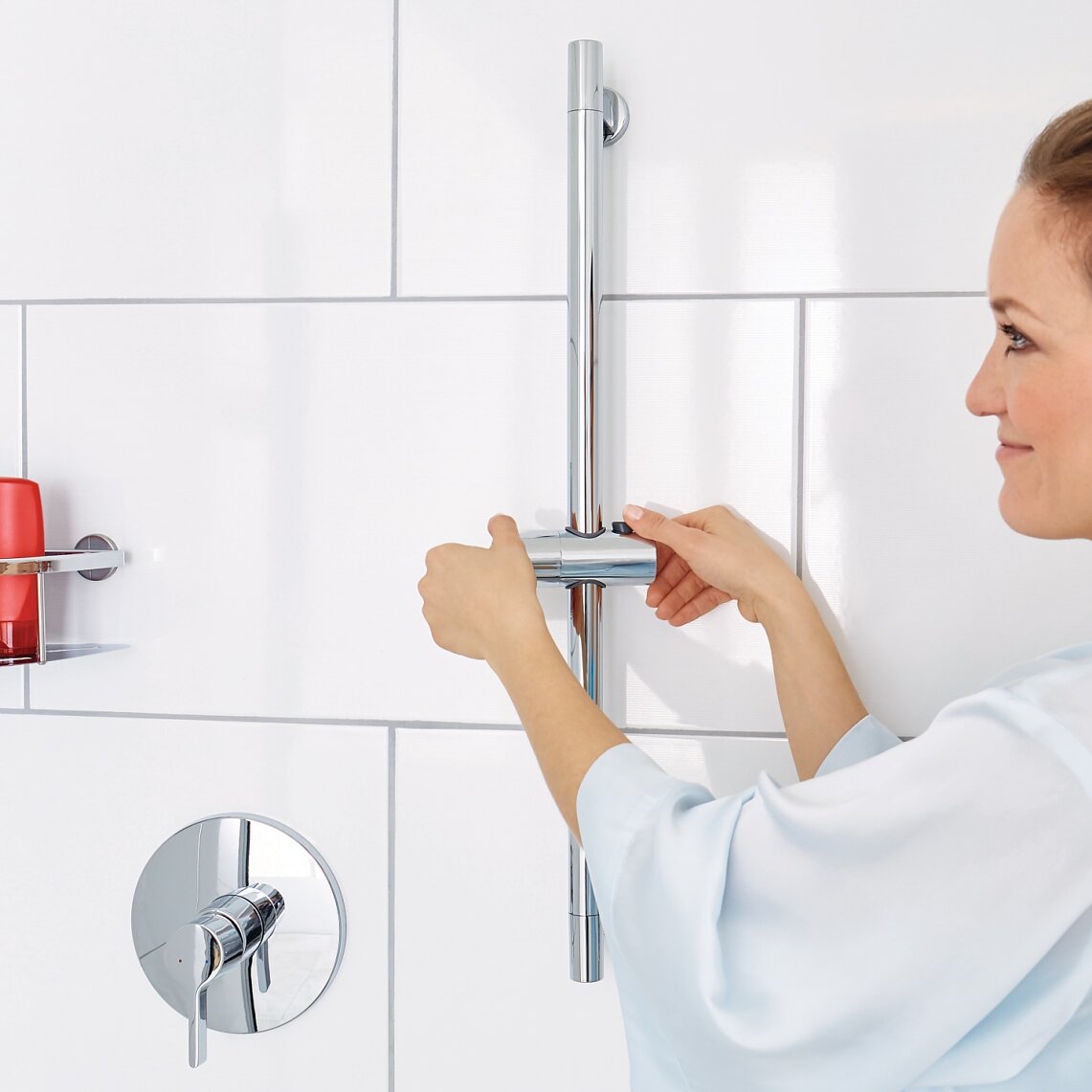 Product description
The bar can be used for a second bathroom for guests and individually supplemented with a shower head. The beautiful chrome-plated tesa® Spaa shower bar has a conical slider that is tiltable, allowing perfect adjustment to individual needs. It is mounted with adhesive rather than drilling, thus sparing walls and tiles from any damage. The adhesive needs 12 hours to set. At any time, the shower bar can be quickly removed without a trace and put up again in another location with a new adapter BK151-2. tesa.Power.Kit Glue: Warning! Hazardous respirable dust may be formed when used. Do not breathe dust.
Shower bar, with

tesa

® Power.Kit technology (all-in-one adhesive mounting solution)

Chrome-plated metal & chrome-plated plastic parts which are adjustable and tiltable

Reliable hold, waterproof, guaranteed stainless

Suitable for tiles, metal, natural stone, marble, concrete, wood, glass and many types of plastic

Does not work on wallpaper, stucco and other surfaces with non-stick coating
Easily removable without a trace, can be mounted elsewhere with adapter BK151-2

Attachment without drilling

Includes conical slider, tiltable

Product dimensions: 655mm