tesa

® Roller Permanent Gluing ecoLogo®

The tesa® Roller Permanent Gluing ecoLogo® is the convenient way to apply a precisely defined strip of glue for reliable and durable adhesion.
Strong adhesion

Improved functionality due to optimised tip

Clean, fast and permanent bonding
All Product details
Product details
Safety Instructions
User reviews
FAQs
Product details
Product description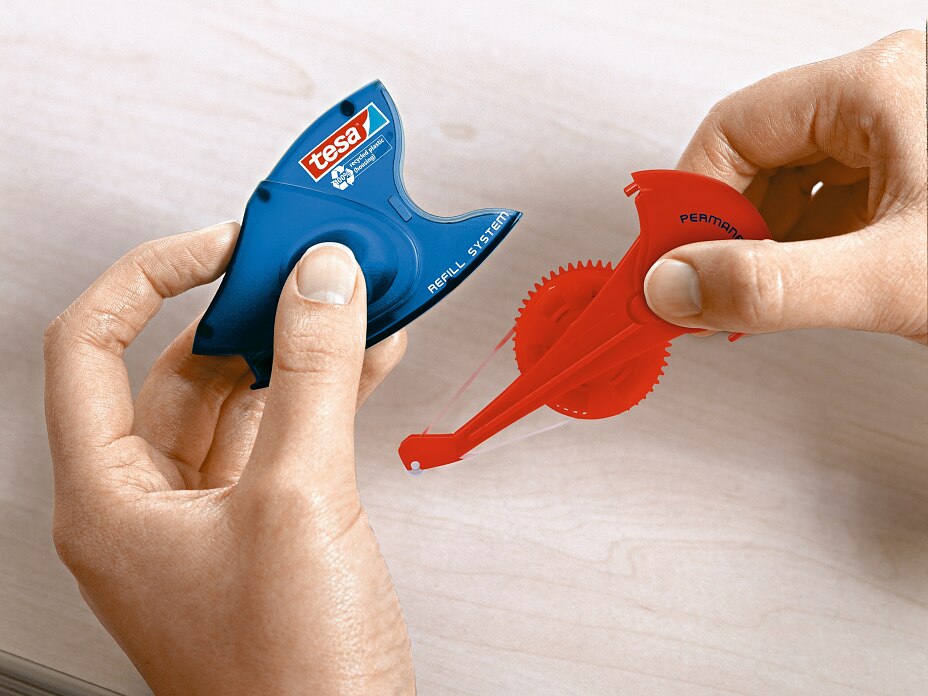 Product description
The tesa® Roller Permanent Gluing ecoLogo® is designed for clean and easy gluing of typical office materials, such as paper, cardboard or photos. It features a cartridge containing a tear-resistant PET tape with a special adhesive coating that the roller transfers to the required surface. The innovative adhesive roller is made from 100% recycled plastic and matches the tesa® glue refill system. The solvent-free glue guarantees reliable and long-lasting adhesion. Due to its slightly red tint it is clearly visible to support precise application.
Strong adhesion

Improved functionality due to optimised tip

Clean, fast and permanent bonding

Glues paper, cardboard, photos

Reddish glue shows where adhesive has been applied
Tear-resistant backing (PET)

Solvent-free

100% recycled plastic (housing), refill 61% recycled plastic (without tape)

Packaging: 80% recycled cardboard, blister without PVC