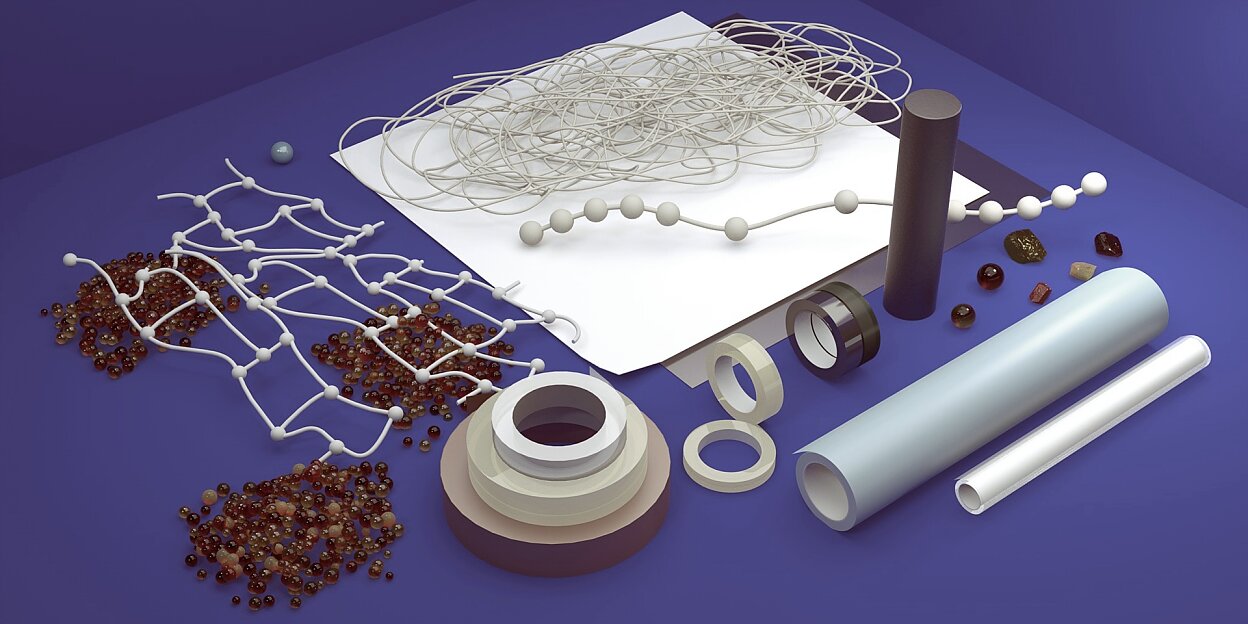 The power of adhesive tapes depends on the mix
No two cases are alike when it comes to tape and adhesive applications: the right mix of over 1,000 resins and 100 elastomers for example determines how hard, how quickly and how long something bonds.
---
---
Every kind of adhesive tape is unique. One kind should hold your daughter's top marks in maths on the fridge until the next class test; another should keep the brand emblem on the tailgate of your car for decades – through wind and rain. Adhesive tapes must do various jobs – and at tesa alone there are over 7,300 products that can be used in numerous ways.
Why do adhesives stick?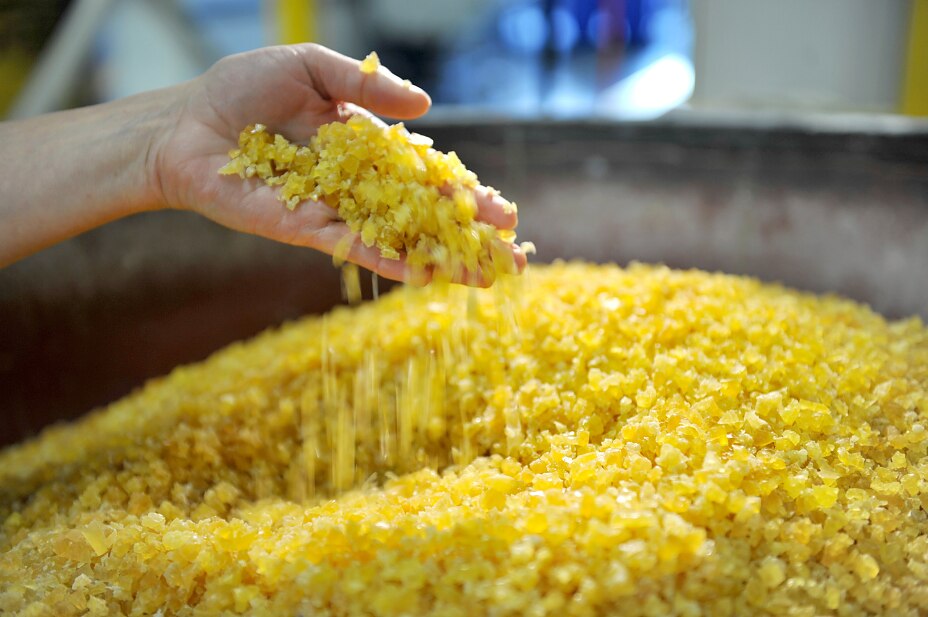 Adhesive tape needs adhesive to stick. For adhesive tapes, what is known as pressure-sensitive adhesives are used. A pressure sensitive adhesive is a permanently tacky substance that adheres to a given surface when light pressure is applied. It does not require a chemical reaction to develop adhesion forces. Adhesive is ideal for bonding materials together when it meets two requirements: on the one hand, it must guarantee that the adhesive tape and the surface remain bonded together as long and as strong as desired ("adhesion"). On the other, the inner strength of the adhesive itself must be as strong as it is necessary for the intended purpose ("cohesion").
Since these two requirements are different each time adhesive tape is used, it is necessary to mix the right combination of rubber or acrylates from over 1,000 resins and 100 elastomers to create the perfect adhesive for the intended purpose. And it may have to be optimized by using a primer that increases the holding power of the adhesive to the backing. In addition, many different backing materials give adhesive tape additional individual properties. Such backings can be paper or films (plastics, synthetics), but also cotton fabric or metallic backings.
The right and finely balanced mix of all these components – adhesives, backings, primers, etc. - is critical for creating the one adhesive tape tailored to the specific demands of an application.
Who needs 7,300 possibilities?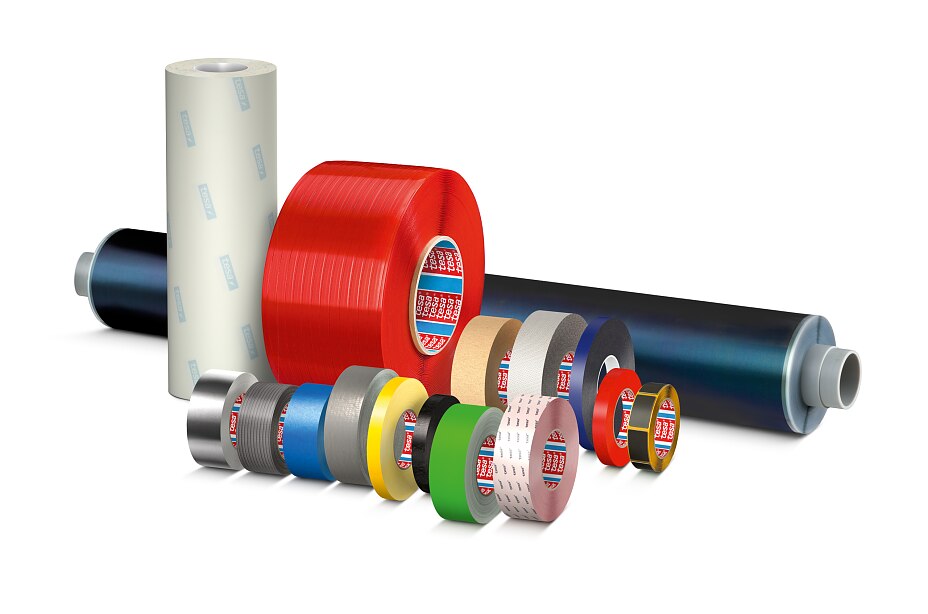 The rule is simple; what's behind it is not: good adhesive tape is tape that satisfies its intended purpose. These purposes and adhesive applications may vary widely. Sometimes, adhesive tape must combine two things in a few milliseconds; this is the case with the high-speed tambour changes at coaters, calenders and slit winders in paper production ("flying splice").
Other adhesive tapes hold the mirrors on the lavatory wall in aeroplanes or muffle noises and vibrations inside a car – and must do this for many years. Others protect the sensitive painted surface of new cars during transport or sensitive wallpaper for painting work. After removal, of course, no trace of these adhesive tapes should be seen.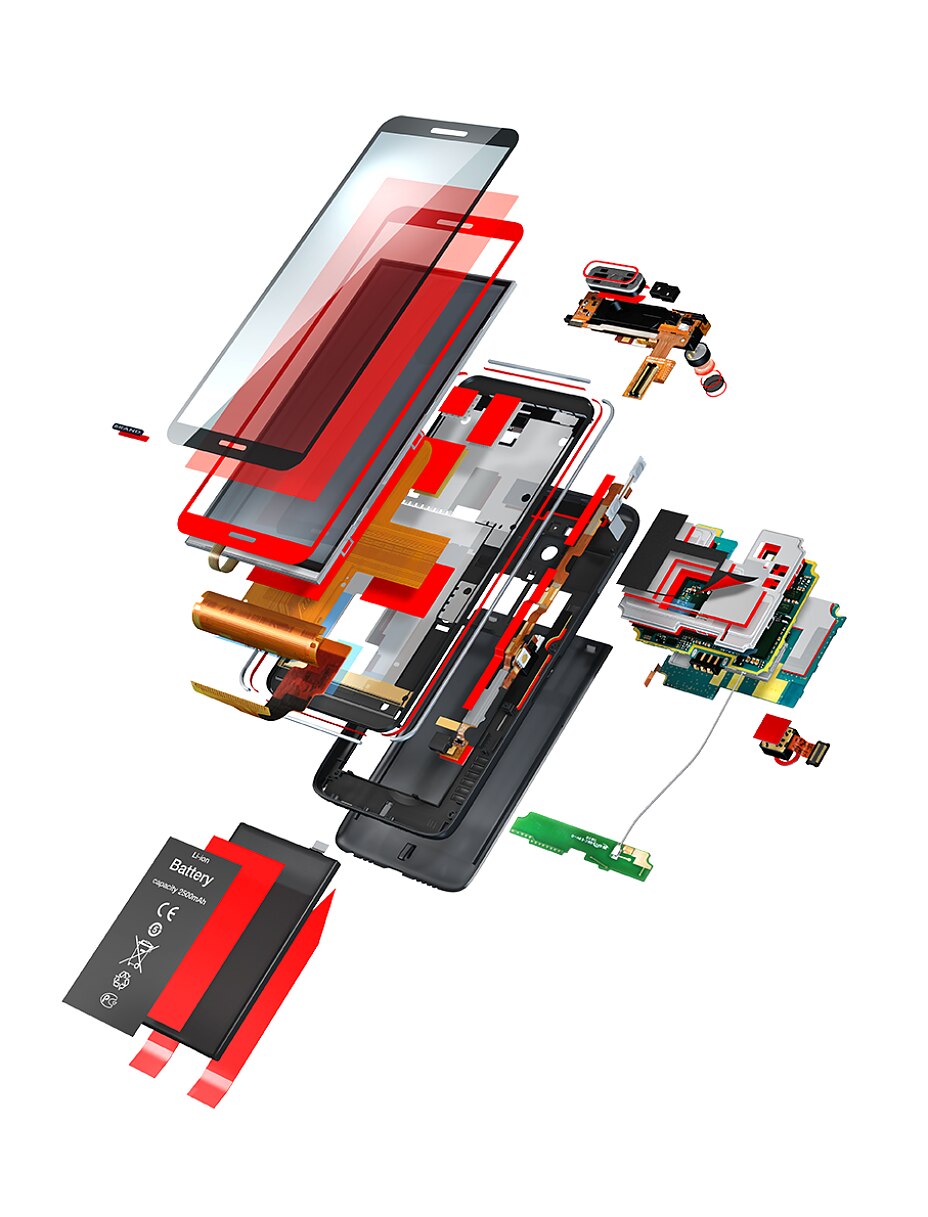 Adhesive tapes ultimately hold together the casing for your new smartphone. The layers of a touchscreen are also laminated with an adhesive tape – one that must be able to withstand fluctuations in temperature and moisture and will not cause upset if you drop your phone. There is the perfect adhesive, the right backing material and the ideal combination of both for almost every use of adhesive tape or adhesive application.
You often find adhesive tape in unexpected places as well: Adhesive tapes hold on front panels and the displays of refrigerators, protect sensitive surfaces of household devices, optimize energy efficiency in single-family homes with perfectly sealed windows, put a stop to counterfeiters in the form of sophisticated security indicators, withstand the extreme conditions in a car's engine compartment and hold together important car components, transport the sound in mobile phone speakers and ensure that the pipelines from oil drilling islands defy all the adversity of the sea.
Can Skyscrapers also be taped?

They can, sort of. Parts of skyscrapers are also held together by adhesive tape. High performing acrylic core tape (tesa® ACXplus) with extremely high adhesive strength, which is also stress dissipating as well as temperature and weather-resistant, holds together parts of the façade made of glass and aluminium. And it does this so firmly that the façade modules can withstand the strongest of vibrations, such as those from a cyclone or even the most devastating earthquake in the history of mankind, which we saw in 2010 in Chile.
All Articles on this topic
---