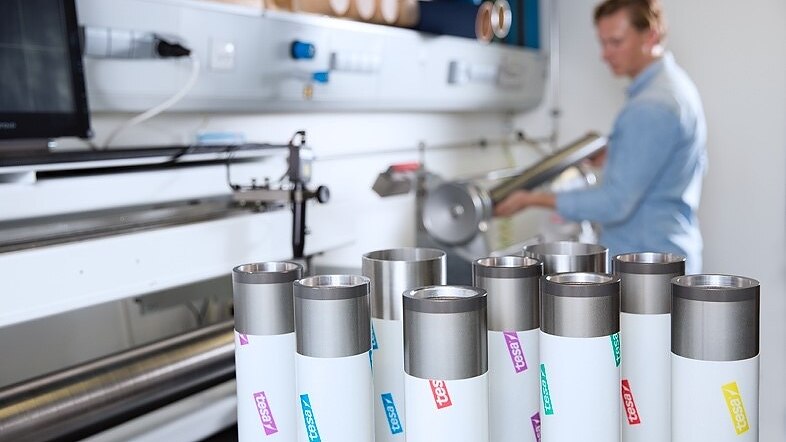 tesa

join forces with printing giant
tesa UK Ltd and Mark Andy Print Products, the supplies and consumables division of Mark Andy Inc. have announced a collaboration which sees tesa's range of 15 thou Softprint® plate mounting tapes now available from the leading manufacturer of narrow and mid-web printing and finishing equipment in Europe.
---
---

Mark Andy supply leading global brands with award-winning equipment, including Mark Andy and Presstek printing presses, Rotoflex finishing solutions, as well as a complete line of Mark Andy Print Products consumables and pressroom supplies. A recent investment in slitting equipment has enabled Mark Andy Print Products to expand its portfolio, to supply tesa Softprint® in the specific widths required by its existing customers.
Dave Telkon, Vice President, from Mark Andy Print Products acknowledged the impact that the partnership would have on the company, commenting: "We have been at the forefront of developments in the print industry for over 70 years and the association with tesa will allow us to meet and exceed customer demands moving forward. We share the same philosophy of customer support by understanding their requirements, helping them solve problems by offering solutions which enhance their own products and services. The long-standing partnership with tesa in the US has enabled us to provide US converters and printers with industry leading plate mounting tape and we are excited to do the same for our valued customers in Europe."
The tesa Softprint® range provides the ideal properties for superior print quality and simple, fast handling with the flexibility to fit requirements for each specific job through different hardness levels, with foams ranging from soft to medium, medium-hard and hard densities
Richard Eeles Key Account Manager Paper and Print, at tesa, welcomed the partnership, saying: "We are delighted to be working alongside a brand synonymous with the print industry.  With Mark Andy's reputation as a pioneer in the sector and tesa's expertise in providing tape solutions to meet market demands, it's a winning combination that provides added value for the customer through consultancy, implementation and on-going support."