The Secret Behind Every Happy Printer?
Our complete package for reliable plate mounting
25 Nov 2020
As a press operator, you're striving every day to run your press at the maximum of its capacity, with minimal downtime, while maintaining consistent and high-quality print results. Having a reliable partner that understands your specific needs, has all the right adhesive products, and can give you technical support on-site is critical.
tesa is the supplier that ticks all these boxes. We have a comprehensive product assortment for the flexographic printing process, developed by our extensive R&D and lab support team of specialists. Over 100 flexo experts are out in the field on any given day, helping you find the best solution to optimize your processes and reach your targets. To make sure your staff is trained and understands our products we have a dedicated global team of application support engineers for technical support on site when needed.
Our Unique Plate Mounting Solutions Assortment:
tesa

® Softprint and

tesa

® Twinlock
Since the print quality in flexo is improving continuously and is competing with the standards of gravure print quality, the importance of the right plate mounting solution is critical. The right solution and density are crucial in transferring the image to the substrate as accurately as possible.
Furthermore, since brand owners have many changes in their design and want to minimize the time to market, the amount of job changes is increasing. This puts a lot of pressure on the mounting department and the press operators to get the maximum efficiency out of their press with the lowest amount of downtime possible.
tesa

® Softprint: Plate Mounting Tapes With High-Quality Foam Backings for the Highest Demands in Flexographic Printing
Our tesa® Softprint assortment  is available in two thickness categories 500 μm (20 mil) and 380 μm (15 mil). Additionally the assortment provides two product designs, CLASSIC and FLEX, offering individual possibilities for more process efficiency. 
Due to its closed-cell PE foam combined with a PET reinforcement film, tesa® Softprint CLASSIC offers easy handling and is suited for a wide range of specific applications. By comparison, due to its aligned design, which incorporates PE reinforcement layers, the tesa® Softprint FLEX range is ideal for critical sleeve applications, including thin-walled sleeves and scratched sleeve surfaces.
All tesa® Softprint foams facilitate excellent print quality, supported by a smart tape production process – leaving all foam cells intact for better cushioning and resilience over time. All raw materials used in production are carefully selected by a team of dedicated chemical engineers and flexo market experts to ensure the highest quality standards.
Depending on your individual needs and conditions, the perfect combination of adhesives on both tape sides (sleeve and plate side) can be selected. Sleeve types, plate models, climate conditions, ink types, and process requirements all play a significant role in choosing the right plate mounting tape.
The assortment is available in 6 different hardness levels ranging from extra soft to extra hard and two different thickness levels for more choices to maximize print quality for halftone, process, and solids. 
The difference in adhesion levels provides the benefits that you are looking for, easy mounting and demounting, prevention of bouncing or plate lift. Our tapes can do it all!
Design Makes the Difference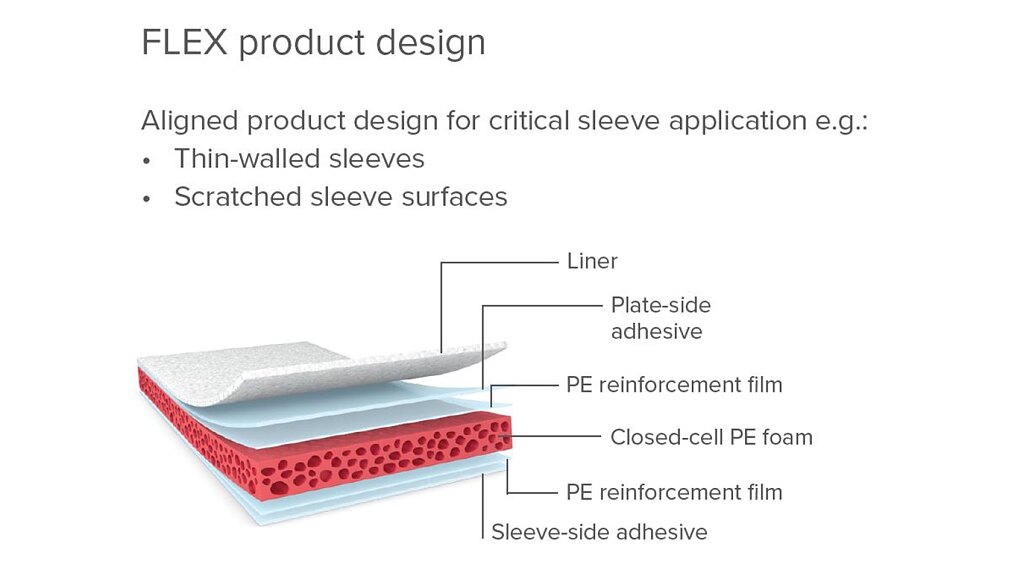 Experience Smooth and Trouble-Free Plate Mounting With Our Latest Addition to the
tesa

® Softprint Assortment: FE-X EA Series for Easy Application
Our new tesa® Softprint FE-X EA is specially developed for easy tape handling to reduce waste, save time, and further improve productivity in your print room.
Micro-channels within the adhesive ensure effortless air removability during plate mounting and printing. Our state-of-the-art FE-X adhesive reliably holds the plate edges down while making the plate-demounting process quick and painless. The improved surface makes product handling even more convenient.
Benefit from the following product features:
• Unique liner structure helps air escape during mounting
and printing
• FE-X adhesive prevents plate lifting while allowing easy plate repositioning and demounting
• Improved product surface ensures smooth manual tape-mounting process
• High-quality components deliver consistent and excellent
print results
tesa

® Softprint Product Selection Guide
Lower bonding towards sleeve side
 
Standard product
 
Higher bonding towards sleeve side
 
Product explanation
FE
 
FE-X
 
Very low tack adhesive for easy and fast plate mounting and demounting. Secure bonding with excellent resistance to edge lifting in clean and standardized conditions. 
 
SEC-X
Low tack adhesive for easy and fast plate mounting and demounting. Secure bonding with excellent resistance to edge lifting in clean and standardized conditions. 
 
SLM
 
TP
 
TP-X
 
Medium tack adhesive for reliable plate mounting under most conditions. Secure bonding with excellent resistance to edge lifting especially under warm and high humidity conditions.
 
STM
 
High tack adhesive for plate mounting in unclean and cold conditions. Secure bonding with excellent resistance to edge lifting. 
 
tesa

® Twinlock: The Reusable, Self-Adhesive, and Compressible Sleeve That Provides Consistency in High-Quality Printing
The unique concept of tesa® Twinlock is to provide sustainable and reusable plate mounting solutions for cost-efficient and consistently high-quality print jobs. The basis for this technology begins with the selection of a base sleeve or cylinder from the customer's preferred supplier. We then add a polyurethane (PU) foam layer to the top of the base sleeve. The PU foam is coated with a unique polymer that has the characteristics to remain permanently tacky. When proper cleaning and handling procedures are observed, the tesa® Twinlock sleeves can be used for a very long period.
tesa® Twinlock technology offers four product varieties with three different hardness levels. Our soft, medium, and hard foam structures allow complete flexibility for the customer. The different thickness layers of the tesa® Twinlock coating enable us to deliver the most accurate sleeve based on your existing production needs.
Benefits of tesa® Twinlock
Our adhesive plate-mounting sleeves provide exceptional print quality. Even after long press times, the sleeves produce accurate and reliable results. The consistent print quality is attributed to our open-cell foam structure. Through this foam structure, our sleeves absorb bouncing effects to improve print quality. A second critical factor that influences print quality is our strict diameter tolerances. We use laser technology to measure our sleeves and ensure they meet your exact requirements. With our carefully crafted tesa® Twinlock we enable:
High printing speeds
Lasting print quality without the need for adjustments
Excellent registration
 
The main advantage of this technology is the reusability of the self-adhesive sleeve. When best practices are observed, our reusable sleeves have the potential to be used for a very long period of time. In most cases, our tesa® Twinlock sleeves only need to be recoated when physical damage occurs to the base sleeve or coating.
Flexo printers benefit from:
Lower running cost
Carbon footprint reduction
Fast ROI when reusing the same repeats
A more precise estimate of input production costs
Film converters benefit from our decades of experience in flying splice applications with a tailor-made film splicing assortment.
With the invention of tesa® EasySplice, we revolutionized processes in paper-producing and converting industries. Film converters benefit from tesa® EasySplice with our FilmLine series, which we specially developed for the splicing of non-polar, filmic substrates. Fast preparation and secure splicing at the highest speed ensure process stability and efficiency. The secret lies in our specially formulated contact adhesive and reliable splitting strip.
We also offer a double-sided tape and functional label assortment for conventional flying splice applications.
tesa® EasySplice Benefits
Save time: As the name implies, this is the easy and therefore fast way to prepare reels for a splice. Just one straight line - no extra tape, no additional butterflies necessary. 
 
Be quick: Run even difficult-to-splice substrates at full machine speed! The secret lies in the formulation - our patented FilmLine contact adhesive meets the highest requirements.
 
Reduce waste: Higher splice performance means less waste! All

tesa

® EasySplice products come with a specially designed splitting strip, ensuring safe closure of the new reel during acceleration and precise opening of the new reel after contact - again and again.
tesa

: Your Reliable Partner in the Flexo Printing Industry
As a full system provider, we offer a market approach that considers all factors of the printing process. Based on your individual needs, we provide the best product solution for your process. In fact, this is the secret behind every happy printer.
Besides plate-mounting solutions and slicing tapes, we also have a wide range of complementary solutions based on pressure-sensitive adhesive technology speed up changeovers, prevent machine stops, and facilitate everyday tasks.
Roller wrapping, plate-edge sealing, UV measuring, plate cleaning, or failure flagging tapes facilitate efficient and reliable printing processes and are just a few examples of the well-conceived solutions tesa has to offer.
For more information, please get in contact with your local sales representative or visit us at www.tesa.com/paper-print