The Ideal High-Temperature Masking Tape
To meet the demanding requirements of industrial paint jobs with multiple high-temperature drying cycles,
tesa

has launched a specialised masking tape. Learn more about

tesa

® 4338 High-Temperature Masking Tape.

24 Jun 2019
In the transportation industry, paint jobs often require specialised masking tapes that can withstand multiple high-temperature drying cycles. As trains and yachts are regularly stored outside after masking, the tapes must also be very UV-resistant, while simultaneously able to hold heavy masks in place.
The new tesa® 4338 High Performance Masking Grade not only meets these requirements, but is also very convenient to use. The bright-green colour helps to apply the masking tape accurately and is highly visible when its time to remove it. The tape is easy to unwind and has a finger-friendly backing. It is suitable for creating good, clean edges, and even after 14 days outdoors and six 40-minute cycles in the oven at 120°C, the high-temperature tape can easily be removed without residue.
A High-Temperature Masking Tape With Unique Advantages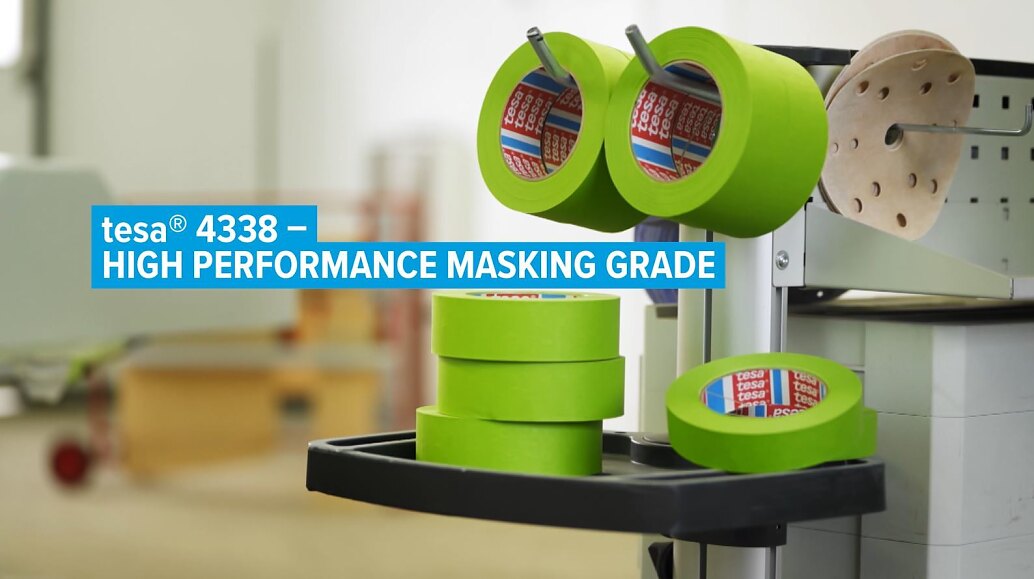 The new high-performance masking tape makes the masking process significantly easier. Even under demanding circumstances, it delivers high-quality results. No rework is caused by residues, peel-off, or tape lifting.
Due to its premium tear resistance and conformability, the tape is extremely versatile and can be used for heavy masks, curves, and virtually any other masking application. The superior peel adhesion provides secure bonding. The high-temperature tape also offers good quick-stick characteristics and excellent adherence of paints and fillers on the backing. It is suitable for any kind of vehicle, including buses, trucks, and planes.
For ideal high-temperature paintwork