tesa

® EKKRO towel hook, self-adhesive, chromed metal

Glossy clean lines make the tesa® Ekkro towel hook elegant and attractive. The self-adhesive chrome hook is reliably wall-mounted without drilling. No surfaces are damaged, and the hook can be removed without a trace. With a new adapter BK44, it can easily be attached in another position.
Towel hook, with

tesa

® Power.Kit technology (all-in-one adhesive mounting solution)

High gloss chrome-plated metal, angular style, multi-purpose

Secure wall mounting, waterproof, guaranteed stainless
All Product details
Product details
Safety Instructions
User reviews
FAQs
Product details
Product description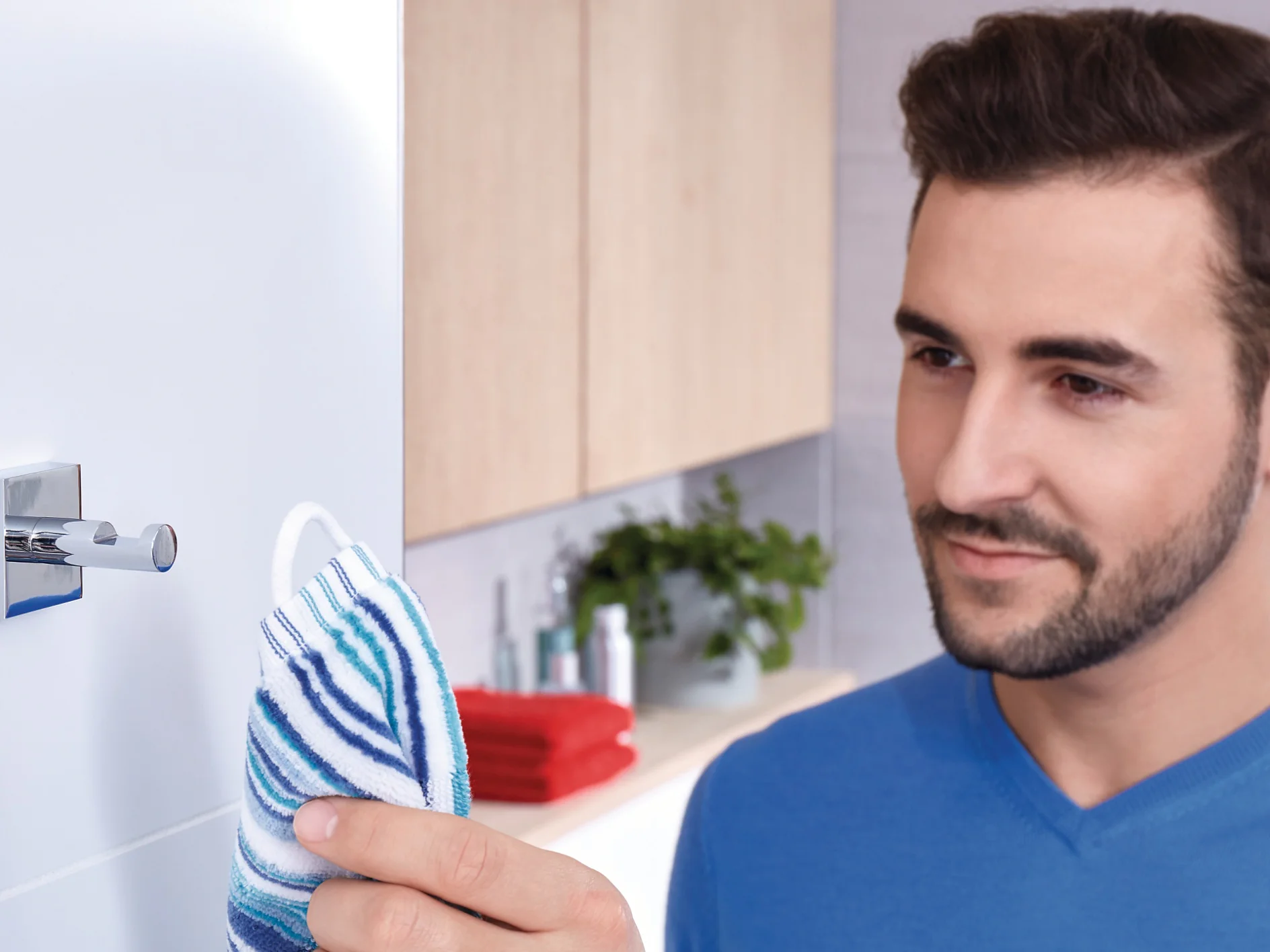 Product description
The tesa® Ekkro towel hook easily serves more purposes than just towels as it can also support bathrobes or heavy towels. Combining the angular plate with a cylindrical hook, the hook looks striking in its high gloss chrome-plating. With the tesa® Power.Kit adhesive technology, it can be mounted easily anywhere in the bathroom without worrying about the surface. No drill or other tool will damage it, and after 12 hours for the adhesive to set, the towel hook will be securely in place. But the hook can also be easily removed without residue and placed somewhere else with a new adapter BK44. tesa.Power.Kit Glue: Warning! Hazardous respirable dust may be formed when used. Do not breathe dust.
Towel hook, with

tesa

® Power.Kit technology (all-in-one adhesive mounting solution)

High gloss chrome-plated metal, angular style, multi-purpose

Secure wall mounting, waterproof, guaranteed stainless

Works on tiles, metal, natural stone, marble, concrete, wood, glass and many types of plastic

Does not work on wallpaper, stucco and other surfaces with non-stick coating
Easily removable without a trace and reusable with adapter BK44

Easy to mount, without drilling

Product dimensions: 39mm x 39mm x 52mm