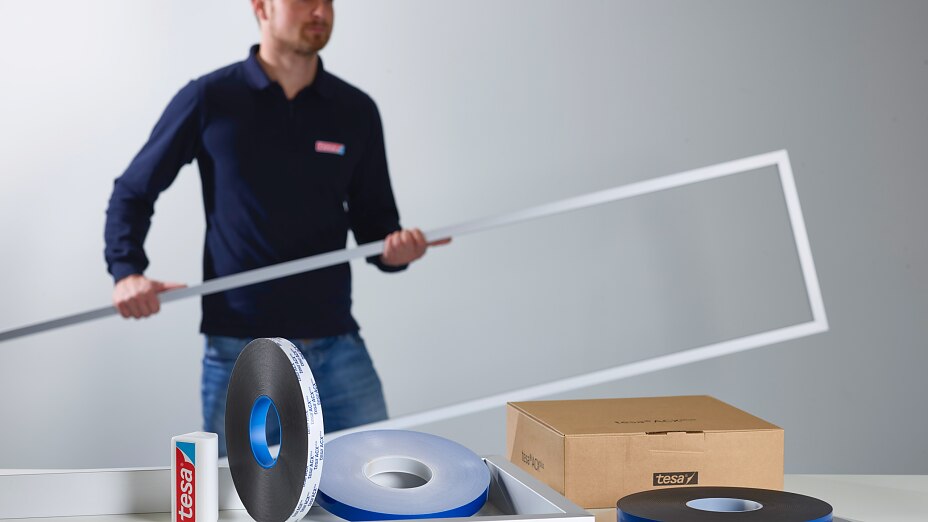 Put Our Solutions to the Test
tesa will showcase practical solutions for the construction sector at the BAU 2019 exhibition and invites you to stop by their booth and put these solutions to the test.
---
---
Design, technology, processing, and cost-effectiveness – professional adhesive tapes enable industries to achieve significant improvements in these areas.
Adhesive tape solutions are becoming increasingly important in the construction industry. The benefits: drying times are eliminated, processing is simplified, and the high degree of stability results in flawless, lasting functionality. This means high-quality aesthetics, innovative design, and high technological standards can be achieved – quickly, cleanly, and safely.

As a recognized expert when it comes to professional industrial adhesive tapes, tesa SE will be showcasing a wide array of product-specific solutions for the construction industry at the BAU 2019 fair (hall A1, booth 530). The focus will be on the double-side tesa® ACXplus adhesive tapes – a product line which has led to a mind-shift in design, technology, processing, and cost-effectiveness in many areas thanks to its outstanding technical properties.
In addition to its ease of use and strong adhesion even on powder-coated surfaces, the product line's special attributes include its noise absorption and its ability to protect against dust, dirt, and moisture. The various tesa® ACXplus products can also offset stresses caused by static and dynamic forces. This can often be a critical criteria especially in windows, doors, and façade applications.
This is illustrated by the window concept jointly developed by tesa SE and the HOMAG Group. The innovative wood and aluminum system is based on tesa SE's adhesive tape technology. The insulating glass is firmly bonded with the wood. What's special is that the tesa® ACXplus is applied to the raw wood prior to it being coated. The result is an optimized manufacturing process, greater production flexibility, and more sleek designs.
The appearance of light and clear transparency are also in demand in the area of modern partitioning systems. tesa SE therefore developed a complete system for the (invisible) bonding of such elements. This allows for the bubble-free application of glass to glass and of glass to aluminum. Alongside high stability and effective shock absorption, the benefits include attributes like noise, moisture, and dirt blocking.