tesa

® LOXX toilet bowl brush, self-adhesive, chromed metal

The self-adhesive tesa® Loxx toilet bowl brush is a breeze to apply to a wall. Drilling is not involved, so walls stay undamaged. Whenever you like it, you can take down the toilet scrubber without a trace. Reuse is convenient with a new adapter BK20. The rounded design with its playful asymmetry enhances any bathroom.
Toilet bowl brush, with

tesa

® Power.Kit technology (all-in-one adhesive mounting solution)

High gloss chrome-plated metal, round style, circular wall plate, satined glass, playful design

Reliable hold, waterproof, guaranteed stainless
All Product details
Product details
Safety Instructions
User reviews
FAQs
Product details
Product description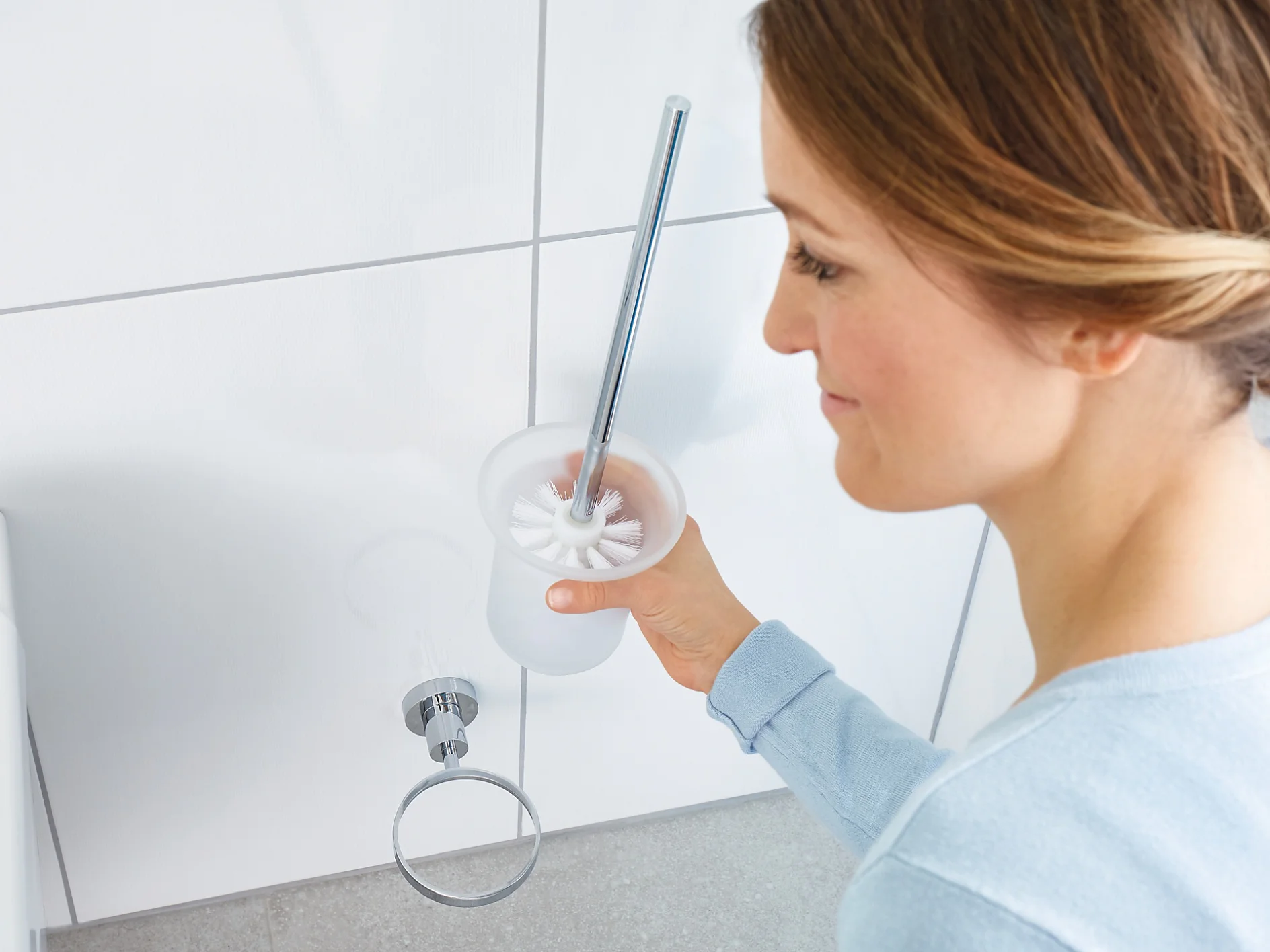 Product description
The rounded tesa® Loxx toilet bowl brush is made of a combination of chrome-plated metal and satined glass. Together, they produce a classy playful design, sure to enhance your bathroom décor. No walls or tiles are damaged, since the toilet bowl brush is mounted with an adhesive solution that takes 12 hours to dry. Drilling is not involved. It's a quick job to take down the holder without a trace, and reuse in another location is just as simple with a new adapter BK20. The glass cup can be removed for easy cleaning, the brush head can be unscrewed. tesa.Power.Kit Glue: Warning! Hazardous respirable dust may be formed when used. Do not breathe dust.
Toilet bowl brush, with

tesa

® Power.Kit technology (all-in-one adhesive mounting solution)

High gloss chrome-plated metal, round style, circular wall plate, satined glass, playful design

Reliable hold, waterproof, guaranteed stainless

Works on tiles, metal, natural stone, marble, concrete, wood, glass and many types of plastic

Does not work on wallpaper, stucco and other surfaces with non-stick coating
Fast to take down without a trace, can be relocated with adapter BK20

Effortless attachment, no drilling needed

Product dimensions: 390mm x 117mm x 165mm