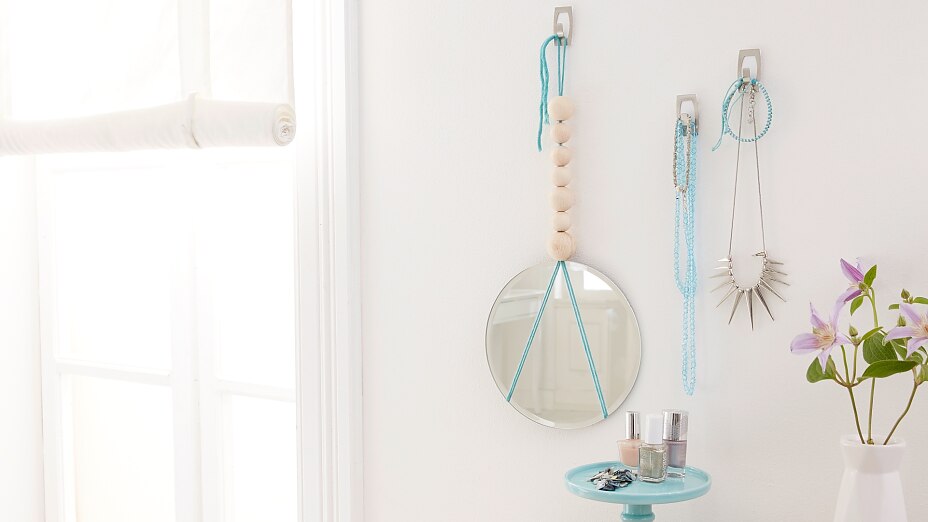 This interior decoration is original and easy - With the elegant coat hooks tesa® Powerstrips Hooks Small Metal-style Convex, the hanging mirror is a perfect addition to your bedroom ideas!
---
---
Level of difficulty : Original & quick
No make-up station without a mirror. This interior decoration is particularly original and very easy to make - more than a simple home decor. The highlight: Using the elegant tesa® Powerstrips Hooks Small Metal-style Convex, it can be fixed wherever it is needed - and disappear just as quickly without leaving a trace. The perfect solution for all your bedroom ideas!
We need:
Small round mirror (for home interior design)
wooden beads in different sizes
thick wool
scissors
sturdy needle
02
Cut a long piece of wool, make a double string and tie it in a noose around the mirror.
03
Thread the open ends with the needle and slide on the wooden beads.
04
Tie the wool in the desired hanging length.
05
Pull apart the sling at the bottom of the mirror and fix it at the back of the mirror using tesafilm®.
06
Before applying the Powerstrip®, clean and dust the surface thoroughly.
07
Remove one protective film from the Powerstrip®. Firmly press the Powerstrip® at least five seconds on the desired spot on the wall. Please make sure that the red line is on the downside. Do not remove the protective film on the latch. Then, remove the second protective film.
08
Flip open the tesa® Powerstrips Hooks Small Metal-style Convex...
09
…and place it on the backside of the Powerstrip®, right above the red line. Firmly press for at least five seconds. Do not press on the latch. Close the hook and snap.
10
Hang the mirror on the hook.