tesa

® NOOBLESSE Toilet Brush, Self-Adhesive, Stainless-Steel

Superbly crafted from top materials, the admirable tesa® Nooblesse toilet brush provides a beautiful eyecatcher in your bathroom. Attached with adhesive rather than drilling, surfaces remain intact. The brush can be dismounted whenever you like and put up again elsewhere with a new adapter BK20.
Sturdy toilet brush, including the

tesa

® Power.Kit technology (the all-in-one adhesive mounting solution)

Noble design, round style, stainless-steel look, circular wall plate

Secure hold, waterproof, guaranteed stainless
All Product details
Product details
Safety Instructions
User reviews
FAQs
Product details
Product description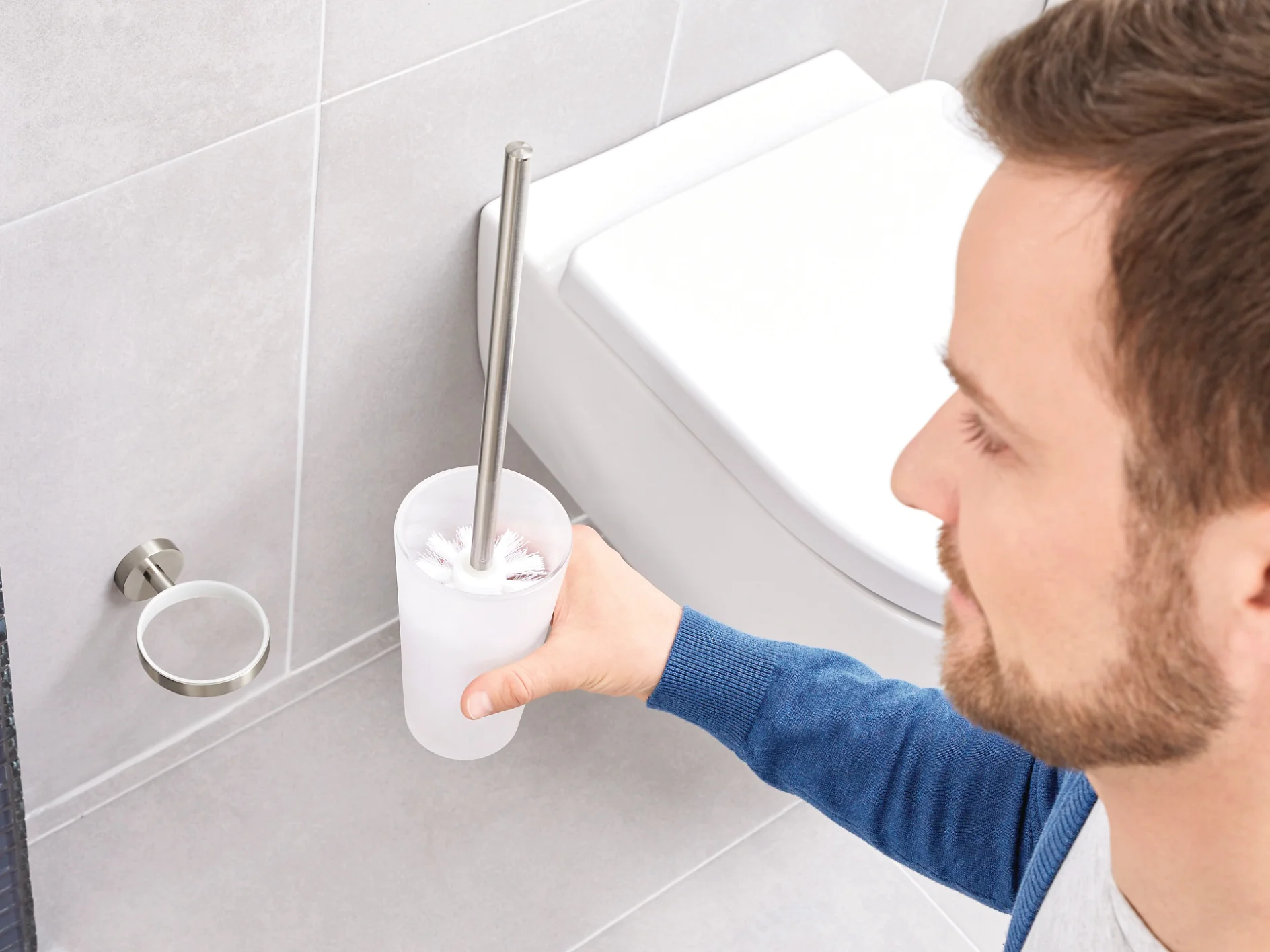 Product description
With its noble design using frosted glass for the mug and a stainless-steel look for rod and bracket, the fashionable tesa® Nooblesse toilet brush is suited for any kind of environment. High-grade materials ensure that it will last for many years. The mug can be removed for cleaning while the black brush head can be unscrewed. The toilet scrubber is attached with a formidable adhesive solution. No drilling is needed. Thus, there is no damage to walls or tiles. At any time, the holder can be removed cleanly and reused in a different position with a new adapter BK20. tesa.Power.Kit Glue: Warning! Hazardous respirable dust may be formed when used. Do not breathe dust.
Sturdy toilet brush, including the

tesa

® Power.Kit technology (the all-in-one adhesive mounting solution)

Noble design, round style, stainless-steel look, circular wall plate

Secure hold, waterproof, guaranteed stainless

Works on tiles, metal, natural stone, marble, concrete, wood, glass and many types of plastic

Does not work on wallpaper, stucco and other surfaces with non-stick coating
Can be removed without a trace or surface damage and reused with adapter BK20

Clean, effortless application without drilling

Cone-shaped frosted glass mug

Mug can be removed for easy cleaning; black brush head can be unscrewed to be washed or replaced

Product dimensions: 445mm x 94mm x 136mm