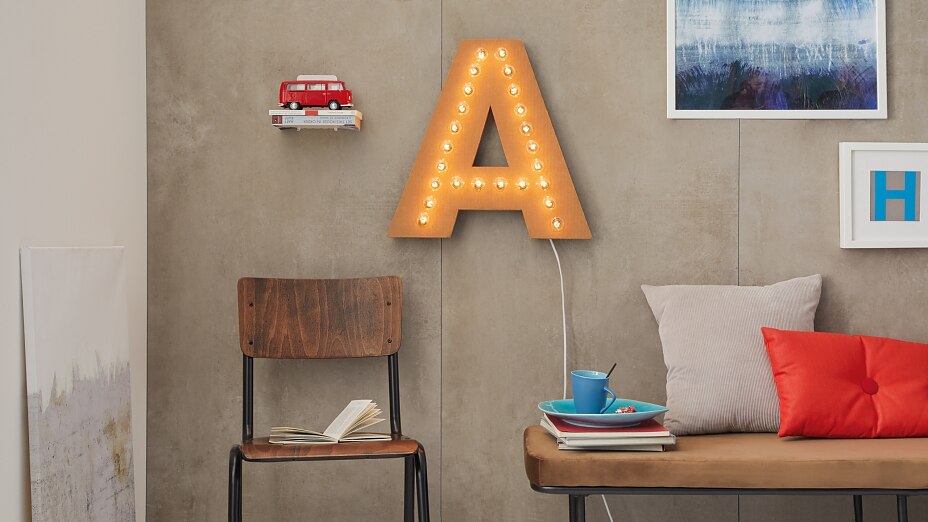 The light up letters made of corrugated cardboard are a shining example of unusual DIY ideas and simply look great. This home decor is easily mounted with adhesive screws – and without using a drill.
---
---
We need:
Sturdy decorative letter made of corrugated cardboard, about 50 cm high, 4 cm thick
1 x fairy lights with 25 bulbs (make sure that the bulbs can be unscrewed!)
Cutter
Steel ruler
Pencil
Long darning needle or knitting needle
Drill
Forstner bit Ø 20 mm
Time: approx. 1½ hours
01
Collect all items and let's start!
02
Using the steel ruler and the pencil, mark a surface of 3.5 cm width on the back of the letter: Allow about 5 cm distance to the long outer borders and 3 cm at the base and the top of the letter.
03
Outline the markings for the bulb sockets: 10 bulbs per long side and 5 bulbs in the horizontal area of the letter.
04
Cut the surface with the cutter and remove three layers of corrugated cardboard in this area. 
Please note: Make sure to pierce the drill marks through all cardboard layers with a long darning needle or knitting needle. This way all markings remain visible.
05
Equip the drill with the Forstner bit and carefully drill the marked holes for the bulb sockets.
06
Unscrew the fairy light bulbs and insert the sockets into the drill holes. The cut-outs serve to place the cables.
07
Cleanly cover the surface with the cables using the paper tape.
08
Screw the bulbs into the sockets on the front side of the letter.
09
Mount the adhesive screws according to the instructions on the package and allow the glue to dry (see instructions). 
Then hang the letter on the screws.