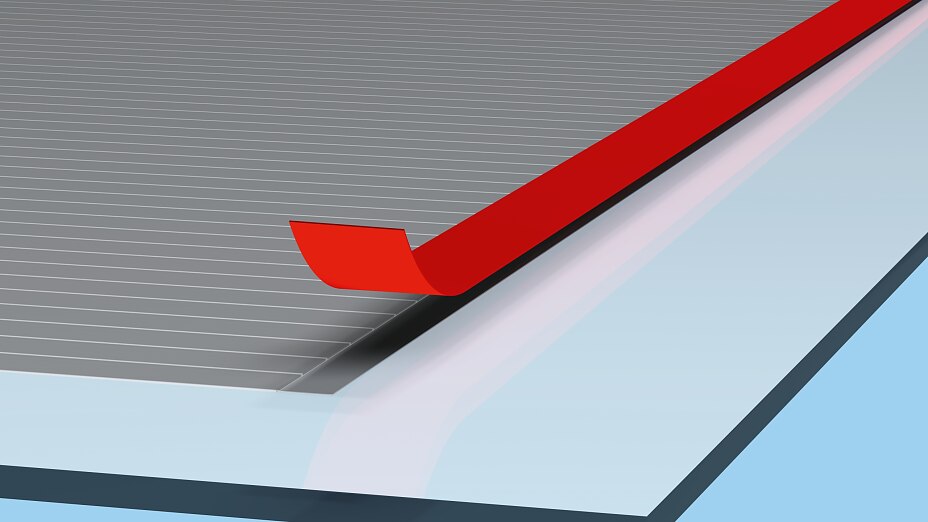 Electrically Conductive Charge Collection
Our highly durable electrically conductive adhesive (ECA) tape allows for a lean manufacturing process for thin film solar modules.
---
---
More efficient manufacturing processes, improved module appearance, or roll-to-roll production are only some of the challenges in the thin film solar market.
Our tesa® self-adhesive charge collector tape has been developed to electrically interconnect thin film solar modules. It features a solar ribbon, coated with a reliable, electrically conductive adhesive (ECA) that firstly bonds the ribbon securely to the cell and secondly provides excellent, long time conductivity. The product's adhesive is covered by an especially tear-resistant liner and the final product is wound on a standard roll core with side discs at high length. The bus bar that runs into the junction box can of course be soldered onto the charge collector tape. Manufacturer of thin film modules can interconnect their cells in one step with no need for liquid adhesive or welding. No matter if the module is rigid or flexible or if the cell technology is based on CIGS, CdTd or organic material (OPV). 
Key features of our tesa® 60860 solar charge collector tape:
Immediate ribbon bonding to the cell without curing
Highly electrically conductive adhesive
Reliable electrical performance also after ageing
No need for consumables like liquid conductive adhesive or fixation tape
Less process steps in manufacturing needed