tesa

® Draad bath handle, chromed brass, self-adhesive

Attaching the self-adhesive tesa® Draad bath handle to a wall is simple and reliable. Drilling is not needed, so walls and tiles stay undamaged. The rounded bar is a beautiful accessory. Removing it is effortless and can be done at any time. It can also be remounted in another location with a new adapter BK164-2.
Bath grab bar with

tesa

® Power.Kit fastening technology

Stainless steel, chromed, guaranteed rustproof, round wall plates

Secure hold and very high strength – withstands a load of up to 130 kg (tested to ISO17966:2016)
All Product details
Product details
User reviews
FAQs
Product details
Product description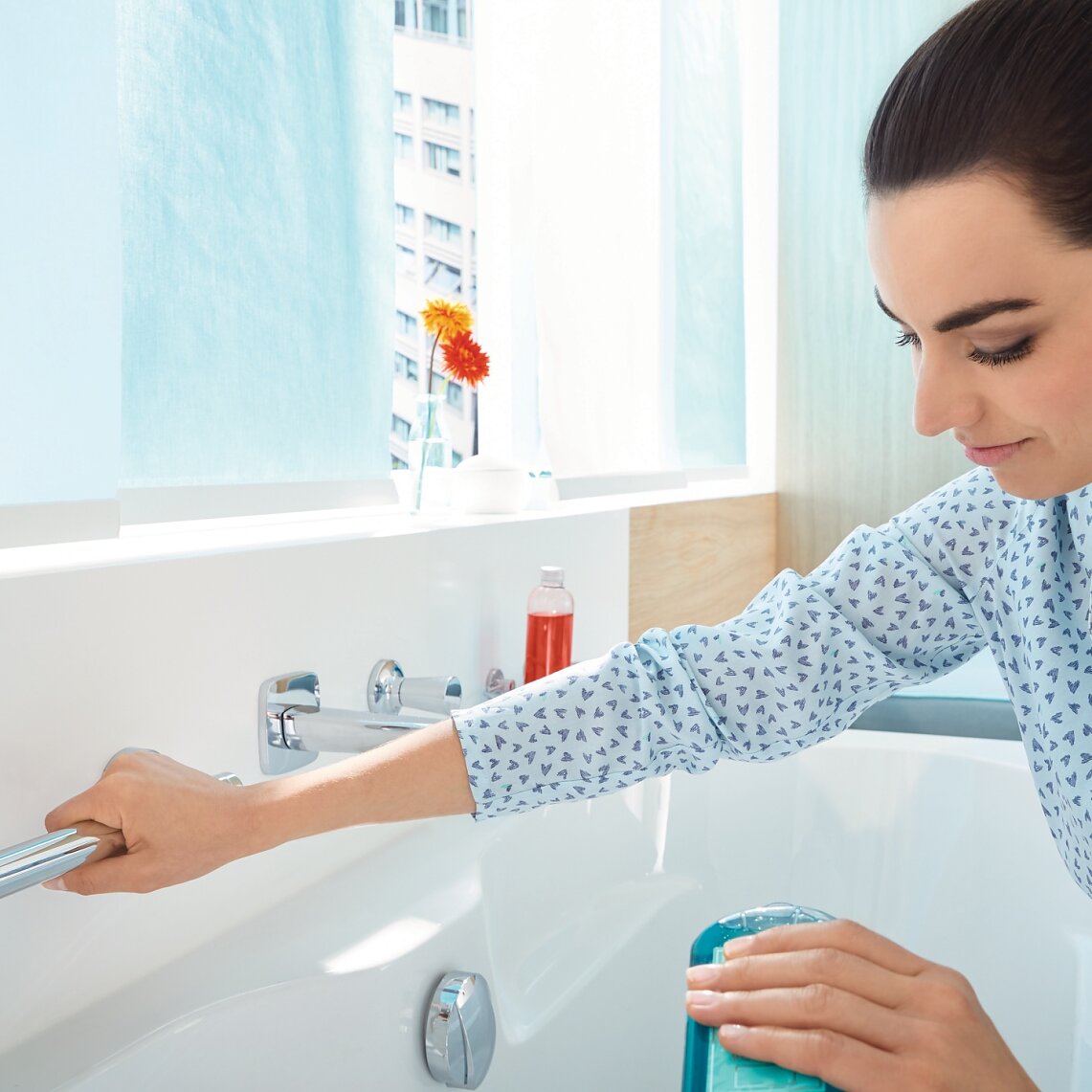 Product description
Having a grip near the bathtub is worth its weight in gold. Even though it is mounted with an adhesive solution, the rounded tesa® Draad handle provides absolutely reliable support. Moreover, it is an attractive accessory that enhances the tub area. Drilling is not required, so walls and tiles stay undamaged. The adhesive needs 24 hours to dry. The bar can be quickly taken off at any time, without a trace remaining. Reuse is easily possible with a new adapter BK164-2. Instruction & Information: The mounting surface must be dust-,grease-, lime-free, and dry. After thorough cleaning, clean the surface with rubbing alcohol. Cleaning agents containing silicone are not suitable for cleaning. The product must not be exposed to water on a regular basis (no direct water jet or water running down a wall). Suitable for dry areas with occasional splashing water only. The grab bar can be loaded with a maximum of 130kg. It is not suitable for use as a climbing assistance for getting up.
tesa.Power.Kit Glue: Warning! Hazardous respirable dust may be formed when used. Do not breathe dust.
Bath grab bar with

tesa

® Power.Kit fastening technology

Stainless steel, chromed, guaranteed rustproof, round wall plates

Secure hold and very high strength – withstands a load of up to 130 kg (tested to ISO17966:2016)

Removable, no damage to the surface, reusable with the fastening adapter BK 164-2

Easy and clean fitting without drilling
Suitable for even, glazed tiles with only occasional splash water – splash-proof according to IPX4

Not suitable for fitting under water and surfaces other than glazed tiles

Dimensions: 60 mm x 317 mm x 75 mm

The product life span is 5 years when used properly