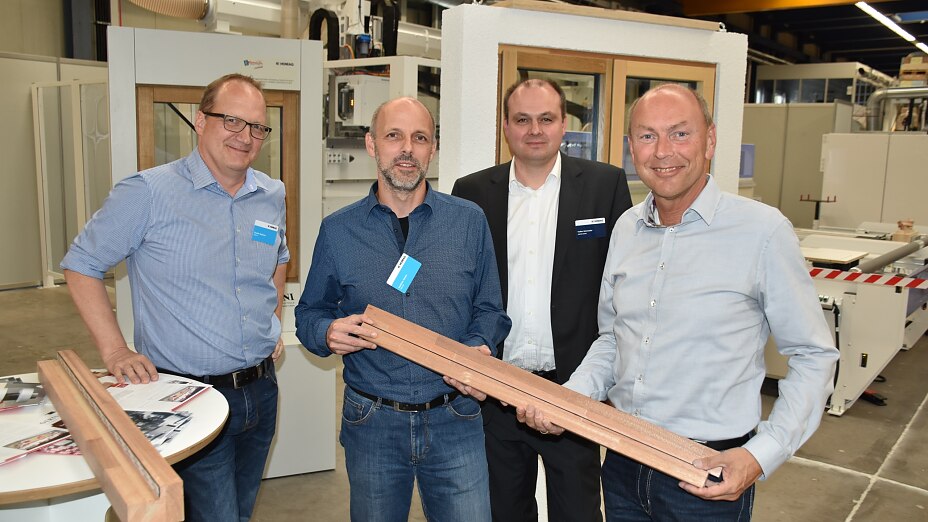 A sneak peak into the BAU 2019
New innovative designs often create new challenges. Visit us in hall A1, booth 530 to learn how we partner with industry leaders to face these challenges head on.
---
---
Innovative Window Designs
In recent years, the requirements for and from window manufacturers have risen significantly. Clients are asking for light-filled rooms, modern, low maintenance designs, improved burglary protection, high thermal insulation and easy production. To achieve this, the right bonding technique is critical, as it ensures a secure connection between the window and the frame.
Considering these demands, the company HOMAG, together with Gutmann – a specialist in aluminum products – and tesa, developed an innovative wood-aluminum window system. tesa supplied the mounting system, which creates a substance-to-substance bond between the insulating glass and the wood. The special feature of this method is tesa® ACXplus 7078, which is applied to the raw wood with tesa® 60153 Adhesion Promoter Fast Cure prior to painting. This optimizes the production process and increases flexibility for the manufacture, window sash designer and the window constructer.
Window Day Hosted by HOMAG
The newly developed integral window was presented by HOMAG during a Window Day in Schopfloch at the end of September. During this international event we explained the theory behind the mounting system and presented the application in a live demonstration. HOMAG also highlighted the advantages of the tesa solution over conventional systems and tested the strength and security of the bond using the demonstration tools they had brought along.
A Sneak Peak into BAU 2019

The market launch of the innovative wood-aluminum window system is planned for the beginning of next year. At the Bau 2019, we will present the system in a joint booth with HOMAG.  Semjon Schluger, Market Manager tesa Industry Germany, is very optimistic: "With the HOMAG Group, we have a strong partner in the field of woodworking at our side, who supports the launch with the special production lines for the wood industry." To learn more about this innovative window technology visit us at the BAU hall A1, booth 530.
Want to get in contact with a tesa expert prior to the show? Email us at bau2019@tesa.com
Information about the HOMAG Group