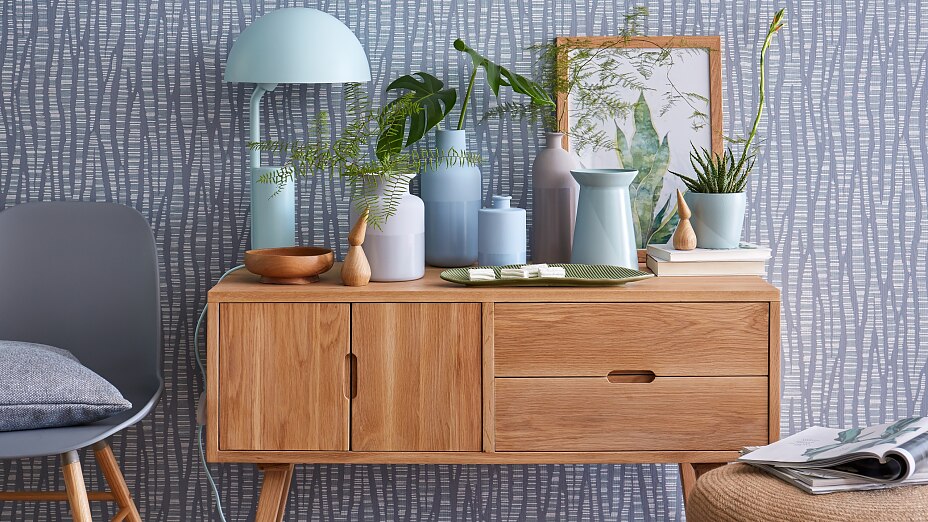 Are you tired of boring glass vases for your flower arrangements? Great! You can turn them into a unique flower decoration. Their attractive secret: The smart interplay of matt and high-gloss surfaces. By the way: With their delicate pastel tones, the florist vases look great in the slate-blue environment!
---
---
We need:
Simple vases made of glass
ceramic or porcelain
brush
chalk color for glass (here: Chalky Finish for Glass by Rayher)
transparent gloss varnish

tesa

® Masking Tape for Wallpaper, 25 m x 25 mm
Time frame: 15 minutes per vase + drying time approx. 1 hour and 4 days before baking
01
Collect al items and let's start!
02
Prime the well-cleaned vases with the chalk color. Repeat the procedure in several thin layers until the color fully covers the glass. Allow the color to dry for four days and then bake the vases in a non-preheated oven at 160 degrees for 30 minutes. Let them cool down inside the oven. Now the vases are dishwasher-safe.
03
Use tesa® Masking Tape for Wallpaper to mask off one part of the Vase.
04
Paint the masked-off part with the transparent gloss varnish.
05
Allow the paint to dry and remove the masking tape.