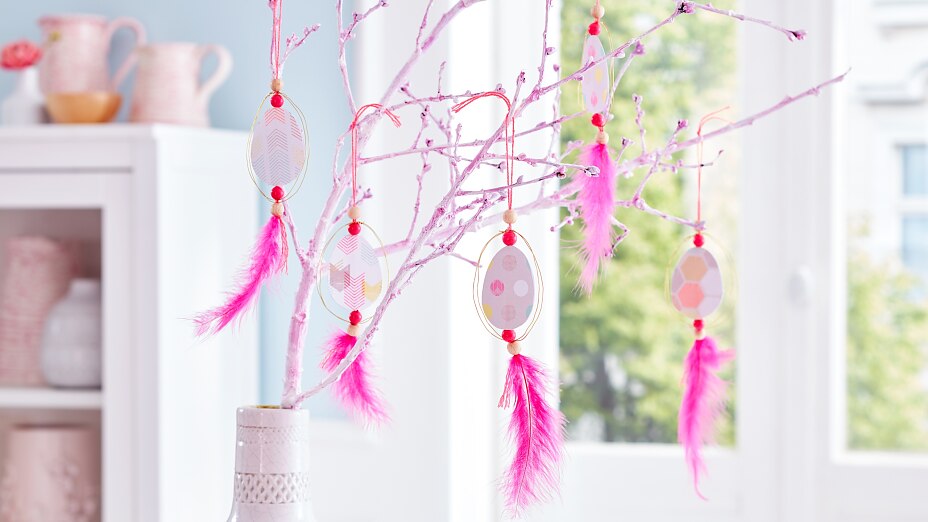 Easter Bouquet with Feather Eggs
These Easter egg hangers remind us of dream catchers and look great on a simple twig - like in our Easter tree decoration -, as well as on a birch branch with soft green.
---
---
We need:
Easter home decor template "egg"
scissors
pencil
thin string in neon pink (per egg about 64 cm)
gold wire
wooden beads ø 1 cm (nature and neon pink)
patterned cardboard, feathers, thick needle
01
Collect all items and let's start!
02
For these lovely Easter decorations, cut out a smaller egg template; using a pencil trace two eggs per hanger on the cardboard and cut them out.
03
Apply a strip of double-sided adhesive tape on one egg and remove the protective film.
04
Place 2 pieces of string (each 32 cm) in the center of the egg and glue it onto the second egg.
05
Using the larger template, shape the wire into an egg: Put the wire two times around the shape, starting at the top, cut off the wire and twist the ends together.
06
Thread a pink bead on the upper ends of the strings. Separate the strings and wrap them around the top of the wire egg. Draw both strings through another bead and make a knot.
07
Repeat on the bottom, knot the strings right under the wooden bead. Cut off the strings (4 cm) and pull them apart until they are fringed. Now, insert a feather into the hole of the lower wooden bead.
DIY Easter Bouquet with Feather Eggs