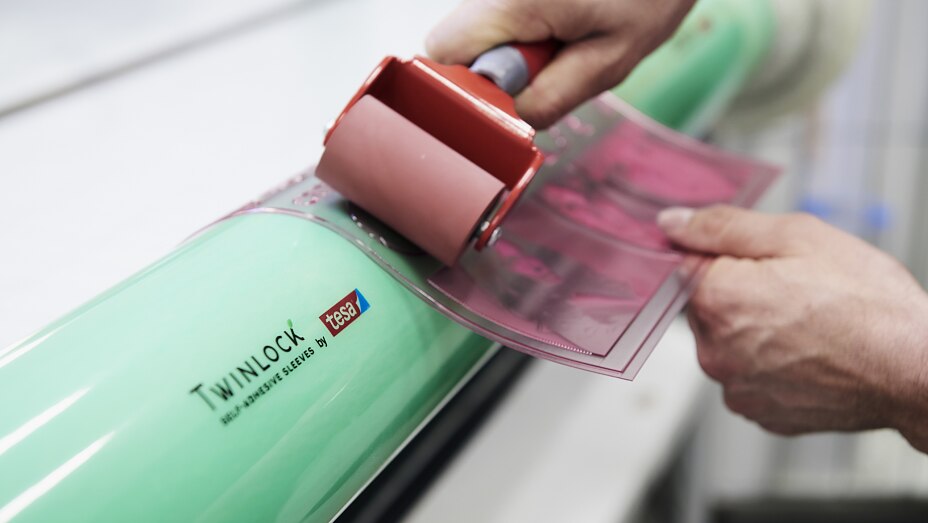 Increase your productivity and save costs
Our plate mounting solutions for flexographic printing helps you increase your productivity and save costs in your production processes.
---
---
How to save costs?
tesa® Softprint plate mounting tape is easy to apply and remove, you will have less downtime in your production and experience an increased lifespan of plates.
The sustainable and reusable tesa® Twinlock plate mounting sleeves save costs, as you don't have to purchase and dispose of mounting tape.
Our tesa® EasySplice tape is easy and quick to apply, and it allows you to accelerate your production to the highest speed ensuring higher effieciency, higher splice performance and process stability and thereby less waste. 
Contact us to learn how we can support your individual production processes
tesa

Softprint®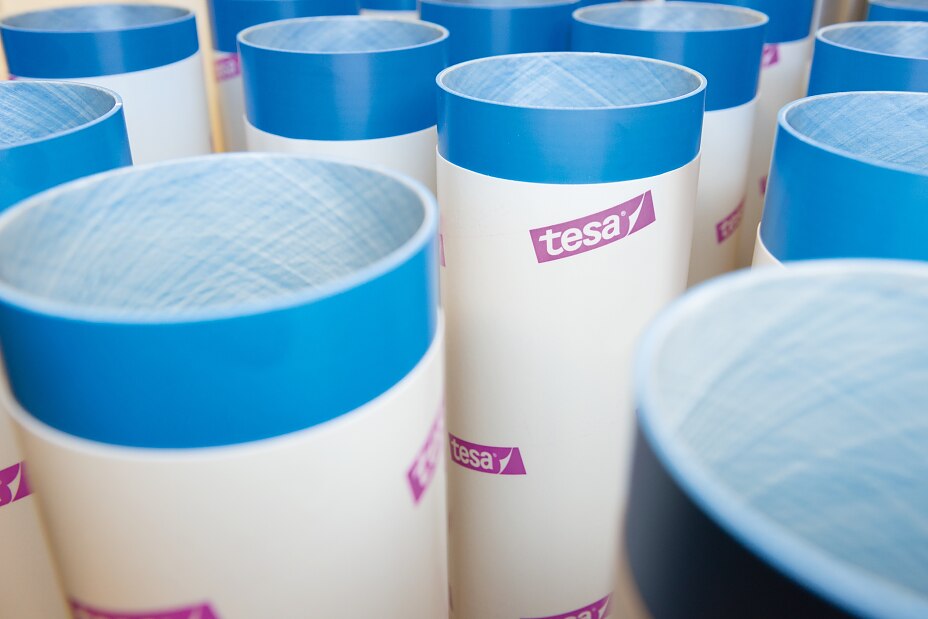 Plate Mounting Tapes for Your Individual Requirements
Plate mounting tapes have a critical influence on your process efficiency and print quality. Our tesa Softprint® assortment is supported by our smart tape production process – leaving all foam cells within the tape backing intact for better cushioning and resilience over time. Selecting the correct foam hardness from our assortment will produce exceptional print quality by increasing your printing speed and overcoming print defects like banding, increased dot gain, and "pin holing".
Read more about our tesa Softprint® assortment
Design makes the difference
Increasing print quality demands, combined with high levels of process efficiency call for tailor-made plate mounting tape design. Our tesa Softprint® assortment provides two product designs, CLASSIC and FLEX, offering individual possibilities for more process efficiency.
Our two Softprint® product lines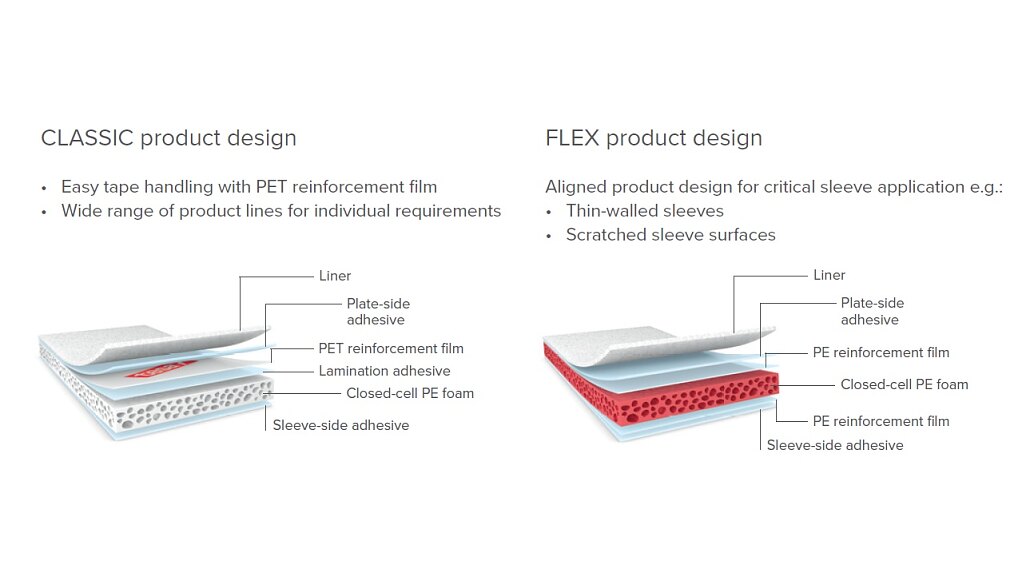 tesa

® Twinlock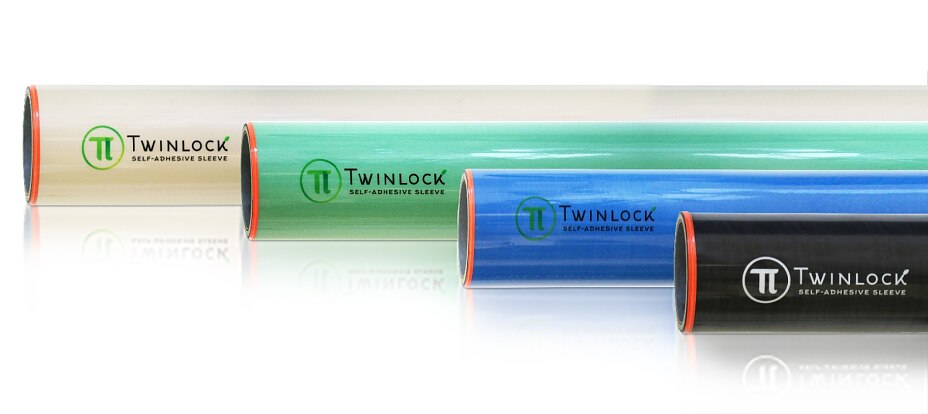 Create Sustainable Flexo Plate Mounting Solutions with tesa® Twinlock!
The unique concept of tesa® Twinlock is to provide sustainable and re-usable plate mounting solutions for cost efficient and consistent high quality print jobs.
The basis for this technology begins with the selection of a base sleeve or cylinder from the customer's preferred supplier. We then add a polyurethane (PU) foam layer on to the top of the base sleeve. The PU foam is coated with a unique polymer that has the characteristics to remain permanently tacky. When proper cleaning and handling procedures are observed, there is no limit to how many times tesa® Twinlock can be used.
Benefits
Cost savings and time savings in the mounting department
Consistent print results due to open cell structure of the

tesa

Twinlock® PU Foam.
The adhesion of

tesa

Twinlock® is permanent, meaning that you can mount plates over and over again without end
The sustainable & reusable plate mounting solution that significantly improves your Carbon footprint
Quick ROI.
tesa

EasySplice®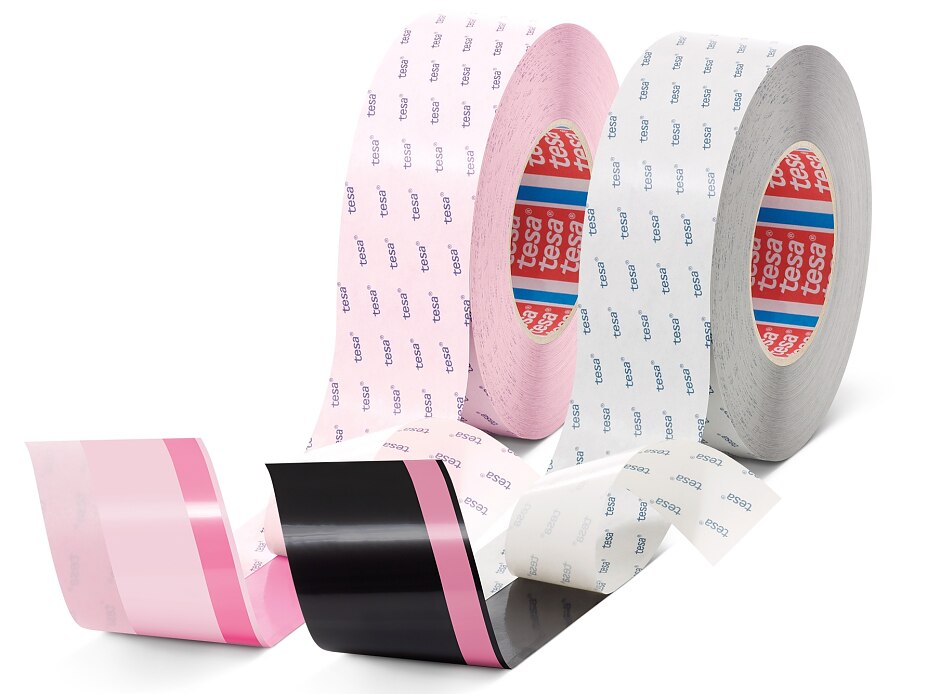 With the invention of tesa® EasySplice, we revolutionized paper production and converting industry processes. Reliable splicing at the highest speeds combined with easy and fast job preparation was made possible, resulting in maximized process efficiency. 
The combination of tailored contact adhesives, reliable splitting strip solutions, and distinct product backings provides outstanding splice performance even on critical non-polar film materials. 
Benefits
Save time
Be quick / Accelerate production
Reduce waste