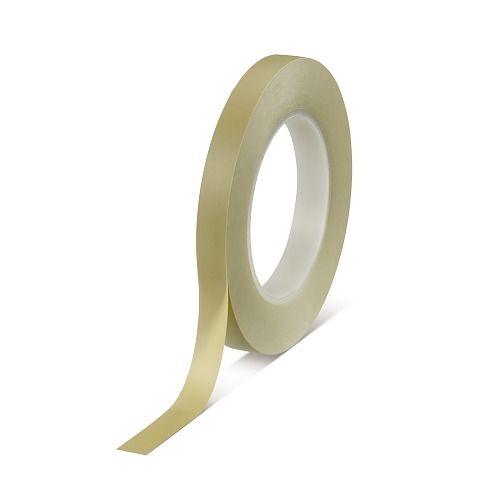 ---
---
Product description
tesa
®
4174 is a flexible, temperature resistant PVC fineline masking tape with a rubber adhesive for a wide range of automotive design painting requirements. The 110 µm/4.33 mils thickness helps to implement good and sharp paint edges and still offers good conformability.
With a temperature resistance of 150°C/302°F per 1h,
tesa
®
4174 withstands most masking applications in the automotive paint shop.
Standardized and customized applicators for
tesa
®
4174 are available to ensure efficient tape application and yet reproducible masking design.
Main features:
Excellent masking performance on painted and non-painted substrates
No ghosting or residue until 150°C/302°F per 1h
Good conformability with multidimensional surfaces
Edge does not lift off and residue-free removal
Main applications
tesa
®
4174 is suitable for various types of masking applications.
Example applications are:
Masking of painted and non-painted substrates (e.g. automotive plastic parts) that require sharp and flat paint edges
Two-tone car body masking
To ensure the highest performance possible, our aim is to fully understand your application (including the substrates involved) in order to provide the right product recommendation.
Technical properties
Temperature resistance (paint)
Temperature resistance (PP-EPDM)
Additional Info
tesa
®
4174 in small width (<10mm): adhesion to steel = 2,4N/cm 21.9 oz/in
tesa
®
4174 is also available for converting and die-cutting with a paper liner 4174 PV4: adhesion to steel = 4,4N/cm, peel off force from liner = 14 cN/cm 1.3 oz/in
Also available as customized die cuts upon request as
tesa
®
54174
tesa® products prove their impressive quality day in, day out in demanding conditions and are regularly subjected to strict controls. All technical information and data above mentioned are provided to the best of our knowledge on the basis of our practical experience. They shall be considered as average values and are not appropriate for a specification. Therefore tesa SE can make no warranties, expressed or implied, including, but not limited to any implied warranty of merchantability or fitness for a particular purpose. The user is responsible for determining whether the tesa® product is fit for a particular purpose and suitable for the user's method of application. If you are in any doubt, our technical staff will be glad to support you.