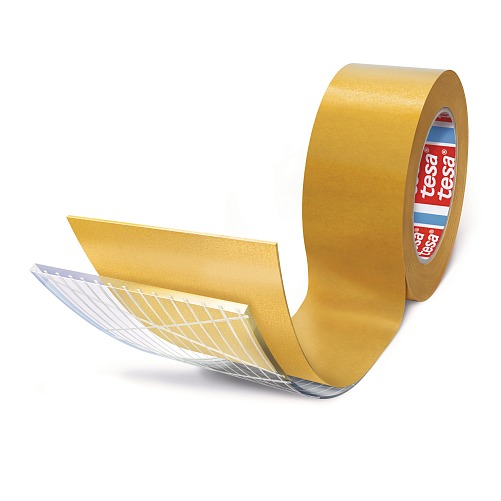 ---
---
Product description
tesa
®
66022 is a conformable, water-based acrylic adhesive tape with a thickness of 220 µm/8,7 mils, reinforced by a PET scrim. This tape has especially been developed for all kinds of demanding lamination and mounting applications. Due to its low VOC property it is particularly designed to meet automotive interior requirements.
tesa
®
66022 is suitable for laminating all kinds of foam, fleece, and felt substrates and mounting light interior components.
This product is also available in 75 µm/2.95 mils (
tesa
®
66007)and 130 µm/5.12 mils (
tesa
®
66013).
Main features
Highly conformable to follow difficult 3-D shapes
Low VOC (acc. GB 27630) – no critical substances detectable
Reinforcement supports converting efficiency
Very low total VOC values
High initial tack and peel adhesion
Excellent initial adhesion to a wide variety of interior substrates
Secure mounting even to nonpolar plastics (PP) and composites (recycled materials)
Main applications
tesa
®
66022 is suitable for various types of mounting and lamination applications.
Example applications are:
Mounting of light interior trims (plastics, LSE surfaces)
FPC (flexible printed circuits) mounting
Lamination of insulation materials
Laminates for NVH (noise, vibration, and harshness) and BSR (buzz, squeak, and rattle) prevention
Lamination of decorative fabrics
Lamination of foam for HVAC (heating, ventilation, and air conditioning) seals
Mounting of flooring systems
To ensure the highest performance possible, our aim is to fully understand your application (including the substrates involved) in order to provide the right product recommendation.
Technical properties
Temperature resistance up to
Temperature resistance from
Adhesion properties
Adhesion to Steel (initial)
Adhesion to ABS (after 3 days)
Adhesion to PP (after 3 days)
Adhesion to ABS (initial)
Adhesion to PET fleece Headliner A (after 3 days)
Adhesion to PVC (initial)
Adhesion to PET fleece Headliner A (initial)
Adhesion to Steel (after 3 days)
Adhesion to PET (initial)
Adhesion to PET (after 3 days)
Adhesion to PS (after 3 days)
Adhesion to PVC (after 3 days)
Adhesion to PE (after 3 days)
Adhesion to PC (after 3 days)
Rating properties
Storage conditions
23°C, 50% RH, stored in original box
Suitable for rough surfaces
Additional Info
According to VDA278 analysis, our 66022-tapes does not contain any single substances restricted by the drafted GB regulations (China) as well as the indoor concentration guideline by Health, Labour and Welfare Ministry (Japan).
Ultra low total VOC concentration according to VDA 278 analysis
Adhesion values to:
PVC
PP
ABS
PC
PET
PS
PE
Are not part of the product specification
PV20 brown glassine liner / blue
tesa
logo
other liner version possible - on request
tesa® products prove their impressive quality day in, day out in demanding conditions and are regularly subjected to strict controls. All technical information and data above mentioned are provided to the best of our knowledge on the basis of our practical experience. They shall be considered as average values and are not appropriate for a specification. Therefore tesa SE can make no warranties, expressed or implied, including, but not limited to any implied warranty of merchantability or fitness for a particular purpose. The user is responsible for determining whether the tesa® product is fit for a particular purpose and suitable for the user's method of application. If you are in any doubt, our technical staff will be glad to support you.