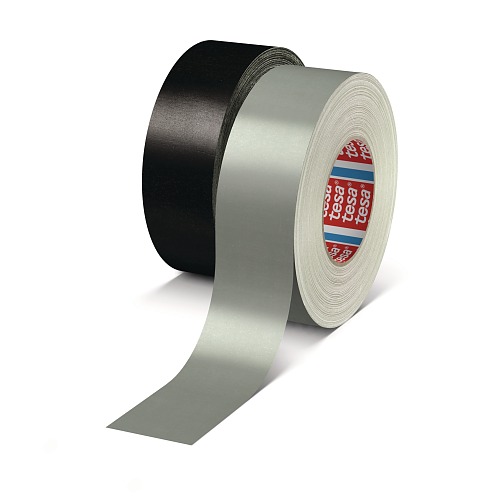 ---
---
Product description
tesa
®
4657 is a high-grade acrylic coated cloth tape. It is based on a 145 mesh woven cotton fabric and a thermosetting natural rubber adhesive. The acrylic cloth tape is conformable and features a high resistance to paints, solvents, abrasion, and is waterproof. The tape's high tensile strength, the puncture resistance and the adhesiveness to all kinds of substrates perform well even under elevated temperature. The acrylic coating is highly age-stable, making it very suitable for permanent applications.
tesa
®
4657 is a very resilient cloth tape used for temporary and permanent hole covering in automobile production lines and masking during industrial painting processes. Handling and application is easy due to hand-tearability. The tape can be torn in straight edges along the high mesh woven fabric. Residue-free removal is possible, even after high-temperature exposure. The tape is suitable for die-cuts; it is also available in a low unwinding version (PV1) and on paper liner (PV9).
Main applications
Various kinds of heat-resistant masking during the production of vehicles and machines, e.g. window flange, hole covering and powder coating, even repeated oven drying possible
Partial masking during treatment with impregnating agents
Covering of screw tap holes and drainage boreholes
Permanent interior and exterior hole covering
Covering of screw tap holes and drainage boreholes
Fastening of flat cables - e.g. on roof linings, door panels, mirrors
Splicing in reel-to-reel production
Technical properties
Type of adhesive
thermosetting natural rubber
Temperature resistance (30 min)
Mesh
145 count per square inch
Additional Info
Complies with LV 312-1 Dialectric strength.
tesa® products prove their impressive quality day in, day out in demanding conditions and are regularly subjected to strict controls. All technical information and data above mentioned are provided to the best of our knowledge on the basis of our practical experience. They shall be considered as average values and are not appropriate for a specification. Therefore tesa SE can make no warranties, expressed or implied, including, but not limited to any implied warranty of merchantability or fitness for a particular purpose. The user is responsible for determining whether the tesa® product is fit for a particular purpose and suitable for the user's method of application. If you are in any doubt, our technical staff will be glad to support you.