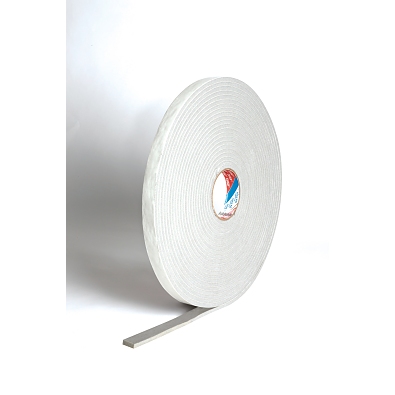 ---
---
Product description
tesa
®
60203 is a 3.2mm medium/hard grade closed cell PVC foam tape with an acrylic adhesive on one side. The closed cell foam creates a waterproof barrier when compressed, while still being flexible enough to seal uneven surfaces. The high-density foam has a greater resistance to water penetration than
tesa
600 and 601 series foam tapes, making it an ideal choice for sealing applications in the glazing industry.
tesa
®
60203 foam tape is resistant to UV, ozone, oxidation and fungi and is therefore perfect for tough environments. The product is silicone compatible and available in customised die cuts. The tape is also available in the following thicknesses: 1.6mm (
tesa
®
60202), 4mm (
tesa
®
60204), 6.4mm (
tesa
®
60206), 9.5mm (
tesa
®
60209) and 12.7mm (
tesa
®
60212).
Main applications
tesa

® 60203 foam tape is ideal for use in concreting, marine and transportation applications, including bus, truck and caravan manufacturing
Sealing between panels in trucks and buses
Sealing panels and uneven surfaces in portable buildings
Dam wall sealing in concreting
Sealing light fittings
Sealing externally mounted air-conditioning fan units on walls or roofs
Sealing electrical access panels on industrial machinery
Sealing electrical housings, enclosures and cabinet doors
Sealing under glass stove-tops
REACH and RoHS compliant
Technical properties
Temperature resistance up to
Temperature resistance from
Additional Info
REACH and RoHS compliant
tesa® products prove their impressive quality day in, day out in demanding conditions and are regularly subjected to strict controls. All technical information and data above mentioned are provided to the best of our knowledge on the basis of our practical experience. They shall be considered as average values and are not appropriate for a specification. Therefore tesa SE can make no warranties, expressed or implied, including, but not limited to any implied warranty of merchantability or fitness for a particular purpose. The user is responsible for determining whether the tesa® product is fit for a particular purpose and suitable for the user's method of application. If you are in any doubt, our technical staff will be glad to support you.