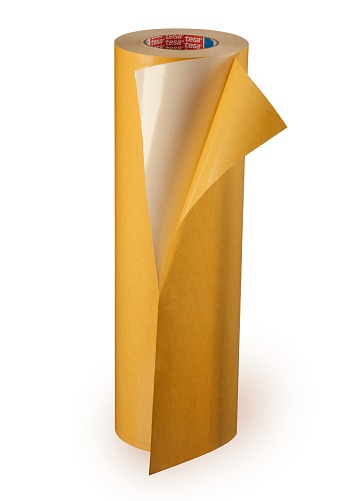 ---
---
Product description
tesa
®
52664 consists of a tear resistant flexible fabric backing, with a rubber adhesive system. The adhesive has a high coating weight making it well suited to mounting plates in flexographic printing applications, especially in corrugated board postprint. High adhesion and backing strength also ensure secure vertical storage of mounted plates.
tesa
®
52664 can be removed easily without leaving adhesive residues.
Adhesive
• High adhesion values for reliable application, even when the composite is stored vertically for longer periods
• High adhesion and shear also ensure that there is no edge lifting, even on longer print runs and at higher speeds
Backing
• Cloth backing for excellent, reliable bond, even when stored vertically.
Main applications
tesa
®
52664 is especially well suited to plate mounting in corrugated board postprint, due to its ideal adhesive characteristics and optimal backing properties.
tesa® products prove their impressive quality day in, day out in demanding conditions and are regularly subjected to strict controls. All technical information and data above mentioned are provided to the best of our knowledge on the basis of our practical experience. They shall be considered as average values and are not appropriate for a specification. Therefore tesa SE can make no warranties, expressed or implied, including, but not limited to any implied warranty of merchantability or fitness for a particular purpose. The user is responsible for determining whether the tesa® product is fit for a particular purpose and suitable for the user's method of application. If you are in any doubt, our technical staff will be glad to support you.