The Sustainable and Reusable Plate Mounting Solution
---
---
Introducing
tesa

® Twinlock

tesa® Twinlock is a self-adhesive, reusable and compressible sleeve. Comprised of a base sleeve, polyurethane foam, stabilization film, and adhesive polymer,  it's the newest plate mounting adhesive. No more stickyback. No more costly, time-consuming mounting processes. No cylinders + tape + plates.

Just tesa® Twinlock. One plate. One print run. It's as simple as that. tesa® Twinlock can help you meet customer deadlines and demands, turning jobs more efficiently – saving time and money. 

And with three different hardness levels — soft, medium, and hard foam structures — tesa® Twinlock technology allows complete flexibility for printing customers. The different thickness layers of the tesa® Twinlock coating enable us to deliver the most accurate sleeve based on your existing print production needs.

 
tesa

® Twinlock | An Innovative Solution for Packaging Printers
Features:
Endless adhesion – Dependent on following proper SOP's,

tesa

® Twinlock adhesive coating is a specially-treated polymer that holds lasting tackiness, and it won't decrease over time.
Extensive life span – Thanks to its enduring tackiness, there is virtually no limit to how many times a

tesa

® Twinlock sleeve can be used (with good care, etc.).
Consistent print quality – The

tesa

® Twinlock open cell structure creates reliable, long-term print quality that's consistent over time. Because the structure helps it absorb bounce, the need for on-press adjustments all but disappears.
Sustainability – The reusability of

tesa

® Twinlock makes it one of the most sustainable solutions on the market and an alternative to the traditional sleeve/cylinder + tape + plate approach that sends tons of plate mounting tape (and packing boxes) to the landfill every year.

tesa

® Twinlock enables packaging printers to add downstream value and help their consumer packaged goods customers meet their sustainability goals.
Time and Cost Savings
Plate mounting tape is a one-and-done adhesive solution, but tesa® Twinlock is reusable and saves press operators from the busywork of replacing the used tape with each new printing run. The result is significant time and cost savings. Print numerous jobs with the same repeat and potentially save hundreds of thousands of dollars in the first few years.
Improved Efficiency
Without the need to replace plate mounting tape during print runs, press operators can work more efficiently by saving time.
Consistency
The consistency of tesa®Twinlock PU foam creates exceptionally high-quality printing, guaranteeing the ability to satisfy print customers time and time again.
Quicker Return on Investment (ROI)
A reusable mounting sleeve has the potential to maximize ROI, helping customers achieve their return in just the first few months. ROI depends on conditions of use and care for the sleeves.
Reduction in Carbon Footprint
The sustainable qualities of tesa® Twinlock — including the extensive reusability — means it has the potential to significantly reduce waste headed to landfills and help shrink the printing industry's carbon footprint.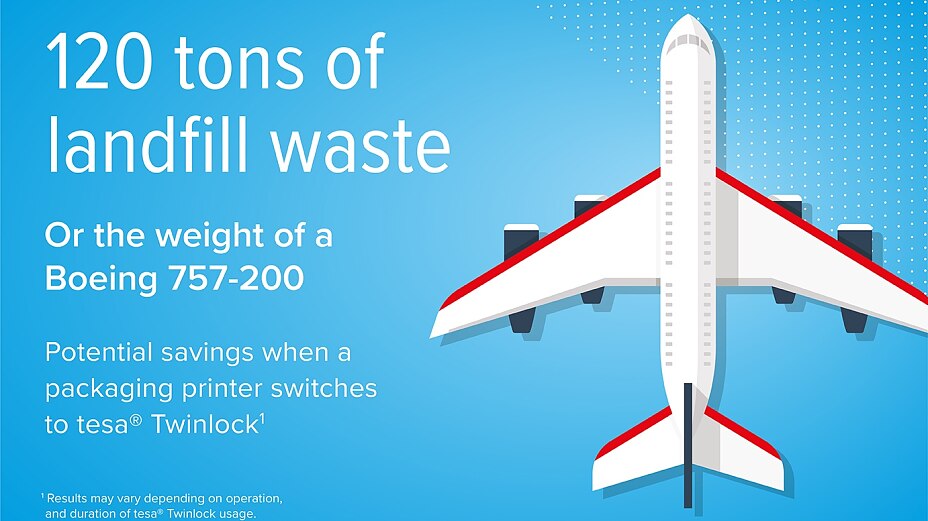 Schedule a Consultation |
tesa

® Twinlock
tesa

® Twinlock Printers Brochure
See our full range of plate mounting solutions for printers!
As your hybrid solution provider, tesa offers a broad range of options for the flexographic printing industry. Learn about our other solutions.
Learn More