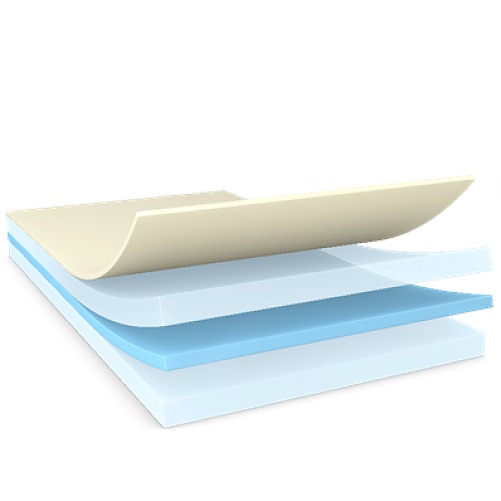 ---
---
Product description
tesa
®
 58372 is a translucent, double-sided PET tape equipped with flame retardant tackified acrylic adhesive.
The flame retardant acrylic adhesive gives this product unique anti-flaming property, and also a good bonding performance even after long-term storage conditions. Its ultra thinner PET backing offers excellent converting performance for purpose of lamination. The white/red logo glassine liner ensures it can be easily released without adhesive residue.
Key features of
tesa
®
 58372:
Thickness: 50µm
Flame retardant per UL 94 VTM-0 level
Good bonding performance
High long-term reliability and aging resistance
Good handling performance in converting process
Conforming to RoHS, REACH
Halogen-free
Main applications
tesa
®
58372 can be introduced for EV battery pack sealing when it laminated with foam to meet the flame retardant target for E-mobility market. It is also used for general mounting applications especially in the EV battery system and the other environment in automotive industry when it comes with anti-flaming requirement.
Adhesion properties
Adhesion to Steel (initial)
Adhesion to ABS (after 3 days)
Adhesion to ABS (initial)
Adhesion to ASTM (initial)
Adhesion to Aluminium (after 3 days)
Adhesion to Steel (after 3 days)
Adhesion to Aluminium (initial)
Adhesion to PI (after 3 days)
Adhesion to PC (after 3 days)
Rating properties
Static shear resistance at 23°C
Temperature resistance long term
tesa® products prove their impressive quality day in, day out in demanding conditions and are regularly subjected to strict controls. All technical information and data above mentioned are provided to the best of our knowledge on the basis of our practical experience. They shall be considered as average values and are not appropriate for a specification. Therefore tesa SE can make no warranties, expressed or implied, including, but not limited to any implied warranty of merchantability or fitness for a particular purpose. The user is responsible for determining whether the tesa® product is fit for a particular purpose and suitable for the user's method of application. If you are in any doubt, our technical staff will be glad to support you.