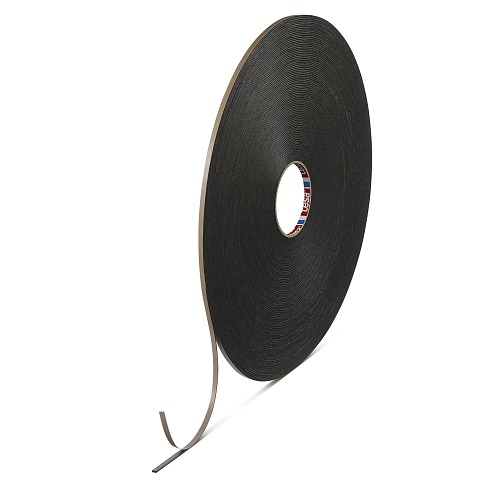 ---
---
Product description
tesa
60402 is a 1.6mm hard grade closed cell PVC foam tape with an acrylic adhesive on both sides. The closed cell foam can create a waterproof barrier when compressed, while still being flexible enough to seal uneven surfaces. The higher density foam has a greater resistance to water penetration than
tesa
602 Series foam tapes, making it the ideal choice for sealing applications in the glazing market. The product is silicone compatible, and available in customised die cuts.
tesa
604 Series is resistant to fungi, oxidation, UV and ozone. It also complies with A.A.M.A.**810-85 type 1 and AS 2047 standards.
Note: 604 Series is a glazing tape and is not suitable for bonding or mounting applications.
Main applications
tesa
604 Series foam tape is an approved primary glazing seal for domestic and commercial glazing systems.
Application ideas:
Primary seal between the glass and metal frame in commercial and domestic windows and window walls
Dampening vibrations between the metal frame and cladding in the transport industry
Die-cut corner seal in domestic and commercial windows.
Rating properties
Temperature resistance long term
tesa® products prove their impressive quality day in, day out in demanding conditions and are regularly subjected to strict controls. All technical information and data above mentioned are provided to the best of our knowledge on the basis of our practical experience. They shall be considered as average values and are not appropriate for a specification. Therefore tesa SE can make no warranties, expressed or implied, including, but not limited to any implied warranty of merchantability or fitness for a particular purpose. The user is responsible for determining whether the tesa® product is fit for a particular purpose and suitable for the user's method of application. If you are in any doubt, our technical staff will be glad to support you.