Plate Damage Hurts in Many Ways
We can save you the pain: How to easily avoid damaged plates in flexo printing
28 Jan 2020
How to Easily Avoid Damaged Plates in Flexo Printing
Have you ever encountered damage to a flexo photopolymer printing plate due to the excessive force needed to remove it during the demounting process? It makes everyone unhappy. Operators deal with exhausting and time-consuming plate removals. Management faces extra costs. And a plate going to waste and having to be replaced burdens the environment.
Everyone can agree that plate damage should be avoided whenever possible – and that is exactly our mission. But how can a plate mounting tape support?
It must be clear that not every plate mounting tape fits to every printer. Individual requirements, operating procedures, and printing consumables can affect the performance of a tape's adhesive. Using the wrong combination can lead to hard plate demounting after printing and can even lead to plate damage, resulting in high material costs and hold-ups during production. 
Ideally, a mounting tape's adhesive holds the plate firmly in place during printing, yet allows for easy and clean removal after the job is printed. The key lies in choosing a tape that specifically fits the individual circumstances at your production site. This includes printing consumables such as plates or type of inks, but is also highly dependent on existing plate cleaning processes and plate cleaners.
It is the residues of solvent-based inks on the backside of the printing plate which can lead to very hard plate demounting in combination with many plate mounting tapes. Why? Because chemical binders within the inks manipulate the bond between plate and tape, it becomes too aggressive, and the plate cannot be easily removed any longer. So these residues either need to be avoided altogether through thorough cleaning, or a different plate mounting tape needs to be chosen.
When it comes to plate cleaning, automatic plate cleaning machines can unfortunately help ink residues to find their way on plate backsides. Even the thinnest layer of ink residues can cause serious damage. Laboratory tests even show that the thinner the layer, the harder it gets to demount plates. Meaning that even plates which look perfectly clean can feature the residues of chemical binders, but they will not be noticed until an increase in the demounting force results in plate damage.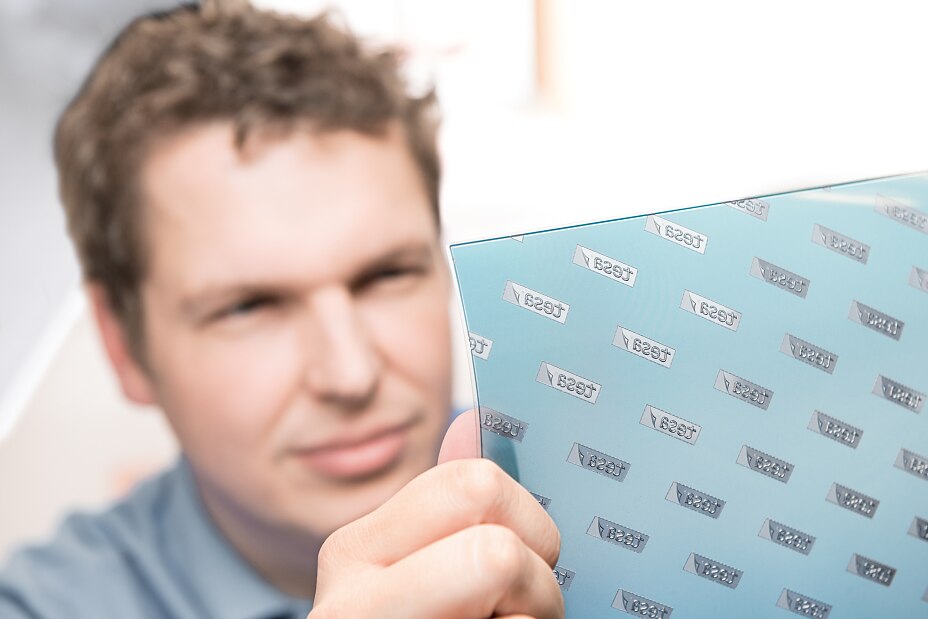 Even if a plate looks perfectly clean, invisible nitrocellulose residues can cause hard demounting and plate damage. The right adhesive tape and cleaning method play a crucial role.
Steffen Koslowski
Product Developer at tesa
To avoid the negative effects, an additional manual cleaning step after the automatic plate cleaning process is recommended: the plate needs to be wiped down with a clean cloth and suitable solvent. However, this additional step is not a feasible solution for most printers.
A more practical solution is to use a tape with an ink-resistant plate side adhesive to help prevent the risk of plate damage during the demounting process.
Regardless of your plate cleaning process (manual or automatic), we can offer you a fitting solution. Our tesa® Softprint assortment provides high-quality plate mounting tapes to fulfill any flexo printer's requirements.
For example, tesa® Softprint TP is an ideal product to support the automatic plate cleaning process. Its special ink-resistant adhesive prevents hard plate demounting caused by automatic plate washers and the resulting ink residues. This also means that with tesa® Softprint TP, additional manual cleaning steps are not necessary. The benefits are clear: less time spent on plate cleaning, less downtime in production, and increased lifespan of plates, all leading to overall cost reductions.
tesa

® Softprint: Plate Demounting Made Easy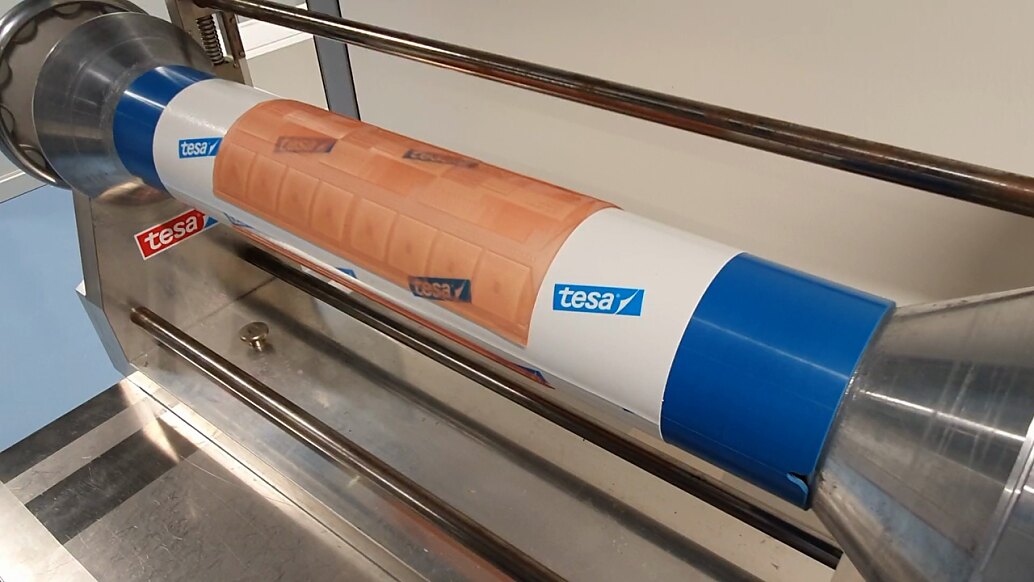 Please use our "Foam Advisor" tool to find the tesa® Softprint plate mounting tape perfectly fitting to your requirements or contact our team of dedicated Flexo experts using the contact form below.