92% bio-based carbon content in one tape - 
tesa

® 60408 
In a world in which global retail e-commerce sales are expected to reach $7.4 trillion by 2025 (Source: Insider Intelligence), the need for reliable packaging and sealing solutions is becoming obvious as well as the question how to take a step forward to contribute to sustainability. 
20 Sep 2022
To offer our customers an additional choice, we have now launched a new product, the tesa® 60408 Bio-based paper packaging tape. Thanks to the smart choice of raw materials, the total bio-based carbon content of this product was measured to be 92% according to DIN CERTCO, making this product the most sustainable paper packaging tape in our assortment.
The paper we use comes from well-managed forests and other controlled sources and we also tested our tape according to INGEDE method 12, making it a recycling-friendly solution. After use, the product can be disposed in the paper waste along with the cardboard without compromising the recycling process.
With technical innovations such as the tesa® 60408 Bio-based paper packaging tape, we enable our customers to achieve their sustainability goals. At the same time, the launch of the new tape is in line with our own strategy of enlarging our product offer for more sustainable packaging tapes. We aim to make sustainability a priority at tesa and get to work with this crucial transformation of our business significantly faster and more urgently than previously envisaged. Our challenge is to rapidly reduce emissions, to improve the sustainability of our products and packaging and to ensure responsible procurement.
Characteristics of
tesa

® 60408 Bio-based paper packaging tape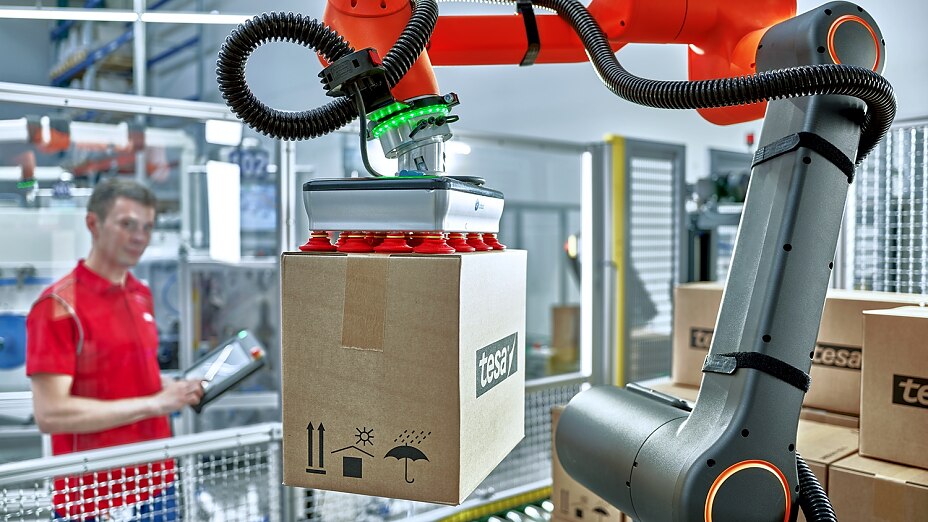 The new tesa® 60408 Bio-based paper packaging tape is an innovative product with an original product design. Our goal was to increase the amount of bio-based materials used for the production of the tape. The result is a unique tape awarded by DIN CERTCO with the highest bio-carbon content rating possible (>85%). It comes with a chlorine-free backing and a solvent-free rubber adhesive that offers excellent tack and adhesion to a wide variety of carton types including recycled materials. It is a reliable solution in the demanding environment of logistics for sealing light- and medium-weight boxes weighing up to 20 kg.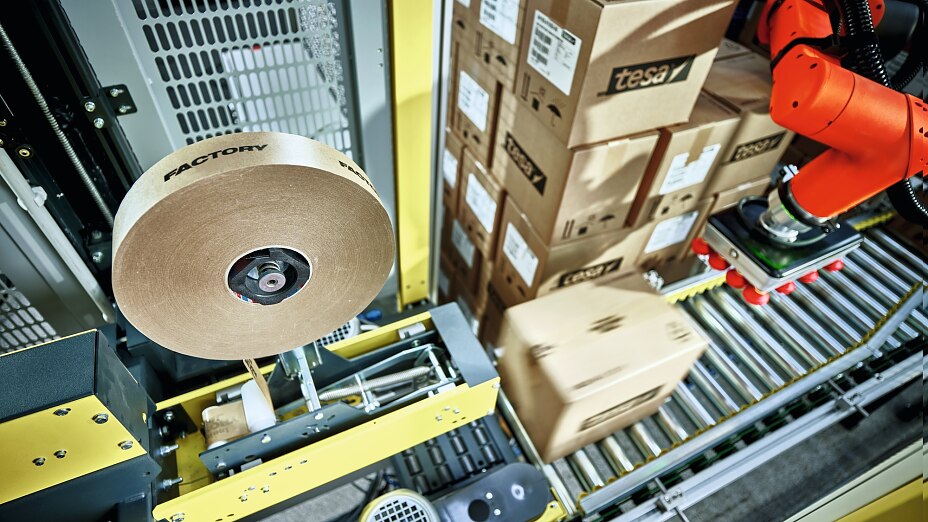 Furthermore, it can be used in various ways. Due to its high tensile strength for a packaging tape, it can be used with standard manual and automatic dispensers. In addition, the paper backing of tesa® 60408 Bio-based paper packaging tape is printable, giving retailers the opportunity to customize the tape according to their clients' needs.
Any questions? Interested in testing the product?
If you are interested in our new tesa® 60408 Bio-based paper packaging tape, please get in touch with us by filling out the form at the bottom of the page: just click the GET IN TOUCH link.
See all our products for more sustainable packaging