Flush Design for Interior Fit-Out
We make a modern flush design (glass-to-frame) with a convenient, aesthetic bonding method using double sided tapes.
24 Aug 2017
How to use bonding tapes to build a flush design element?
With our tesa® ACXplus 704x, 707x and 709x series of double sided bonding tapes we offer a bonding solution using a single high performance tape to cover two demanding aspects of flush designs of interior fit-out: 1) safe bonding performance and 2) aesthetic appearance without leaving imprinted edges on the glass. No visible edges. No bubbles on the glass. Aesthetic results.
With these advantages we promise clean designs with an excellent bonding method, as seen on glass partition walls and in clean rooms. Our products come in a variety of colours, which accentuate the aesthetic aspect, with no other tape coverage needed.
There is immediate and strong bonding on glass, as well as on coated materials such as anodized or powder coated aluminium.
The use of the tesa adhesive tape technology eliminates inconvenient cure times, the process is simple, and at the same time the structure is stable enough to keep the glass panel in place. The work process is significantly faster than that of liquid adhesives, and there is no need for subsequent work such as the tedious, time-consuming removal of adhesive residues.
Application Video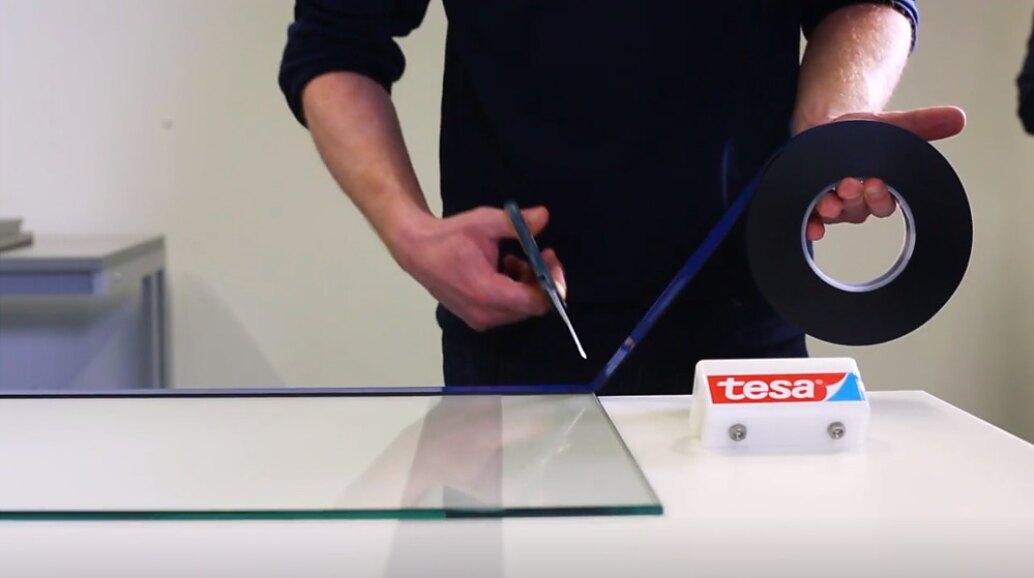 Application Guide – Using Bonding Tapes for Flush Design
Product list
A double sided bonding tape
Aluminium frames and glass panel

tesa

® 60040 Industry Cleaner
Lint-free cloth

tesa

® 60150 Adhesion promoter for aluminium

tesa

® 60151 Adhesion promoter for glass

tesa

® 6025 Edge taper
Pressurization tool, e.g.

tesa

® 6058 pressure roller
Protective gloves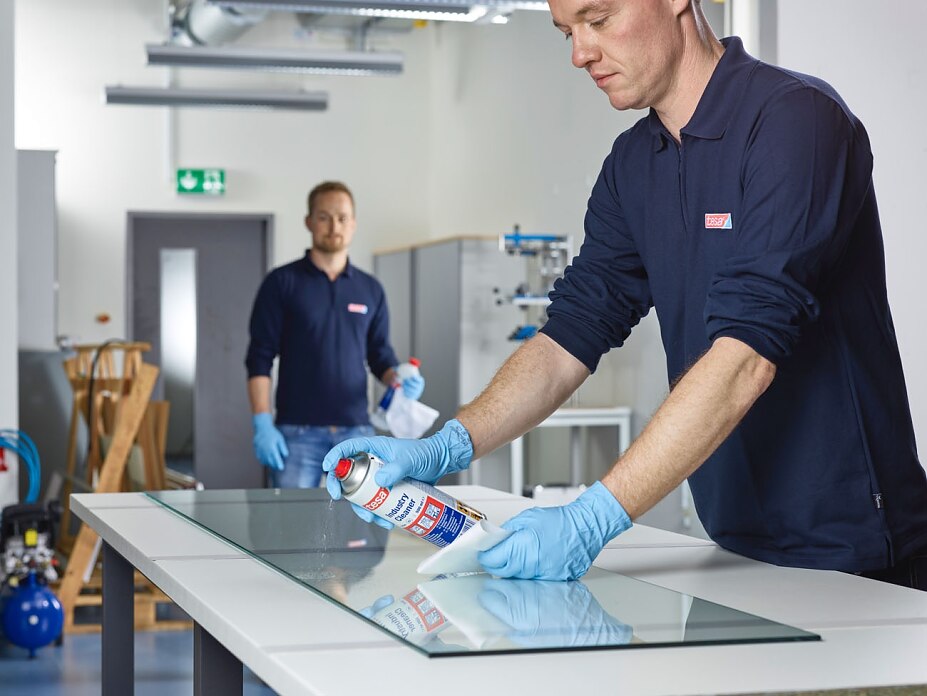 Clean the bonding area of glass panel and aluminium frame by using tesa® 60040 Industry Cleaner or isopropanol and a lint-free cloth.
2. Priming of aluminium frames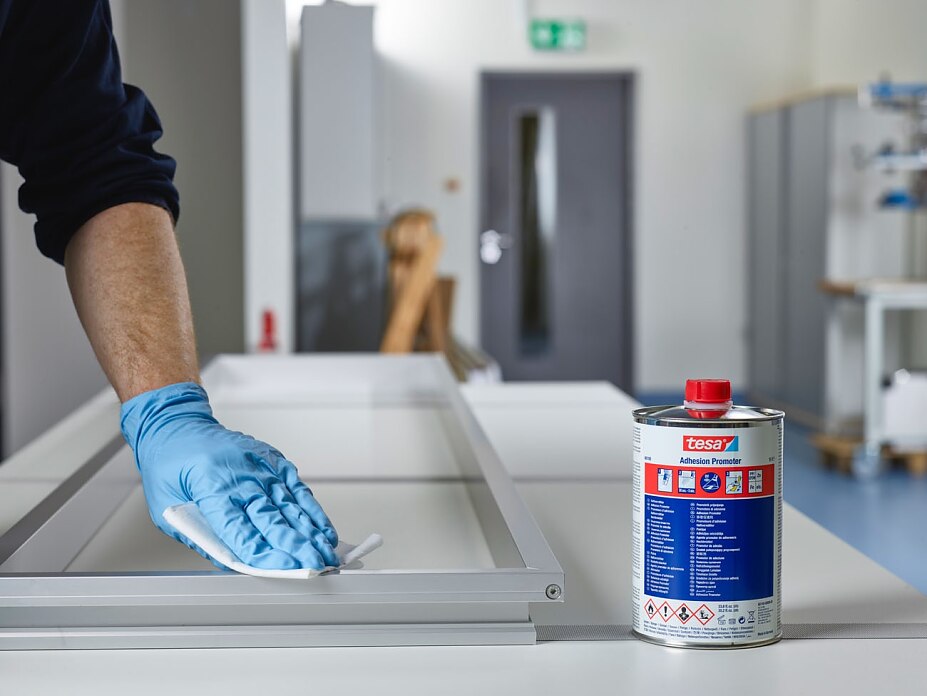 - Prime bonding area of aluminium frame with tesa® 60150 Adhesion Promoter by using a lint-free cloth.
- Evaporation time of solvents is 30s to 5 min.
3. Priming of the glass panel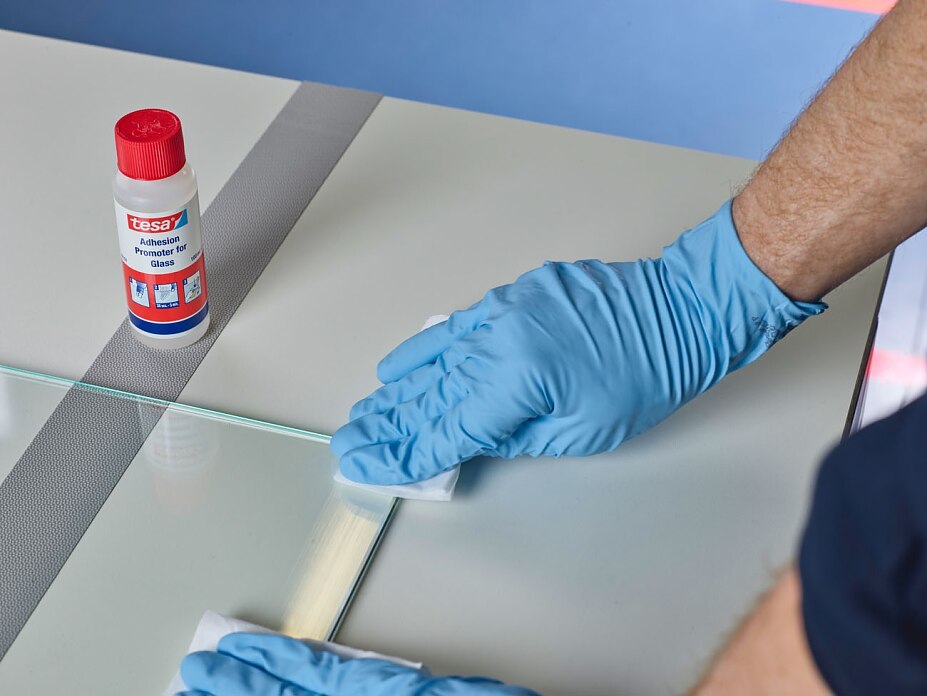 - Prime bonding area of uncoated glass panel with tesa® 60151 Adhesion Promoter by using a lint-free cloth.
- Immediately wipe dry with a clean cloth.
4. Application of bonding tape to glass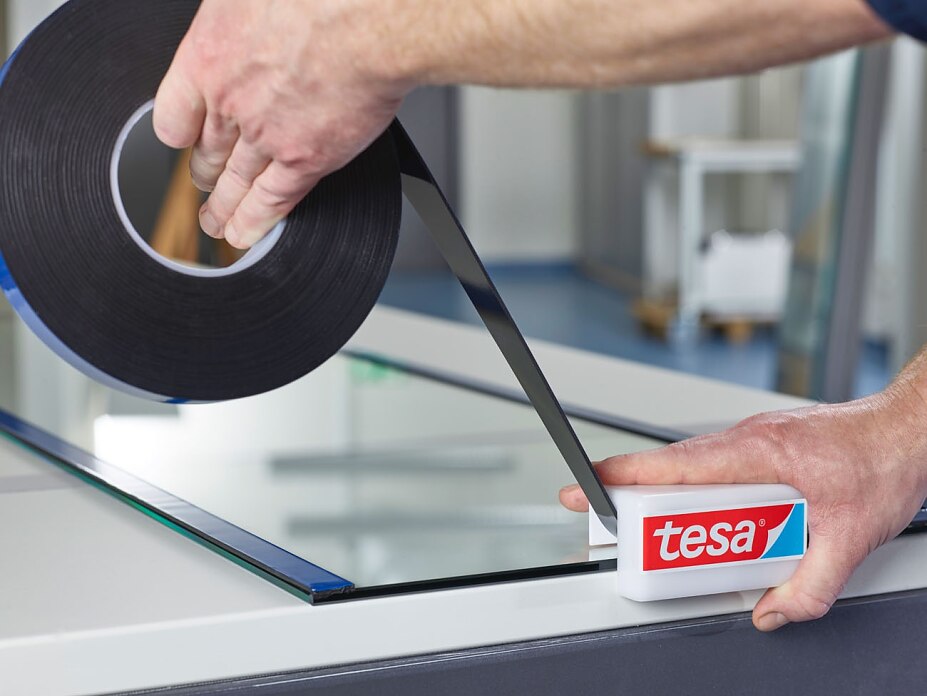 - Apply double sided bonding tape using our tesa® 6025 Edge Taper.
- Only sight pressure is required during application.
- Apply tape to all sides of the panel with an overlap in the corners.
- Precisely cut tape in corners to achieve optimum water seal.
5. Positioning of glazing blocks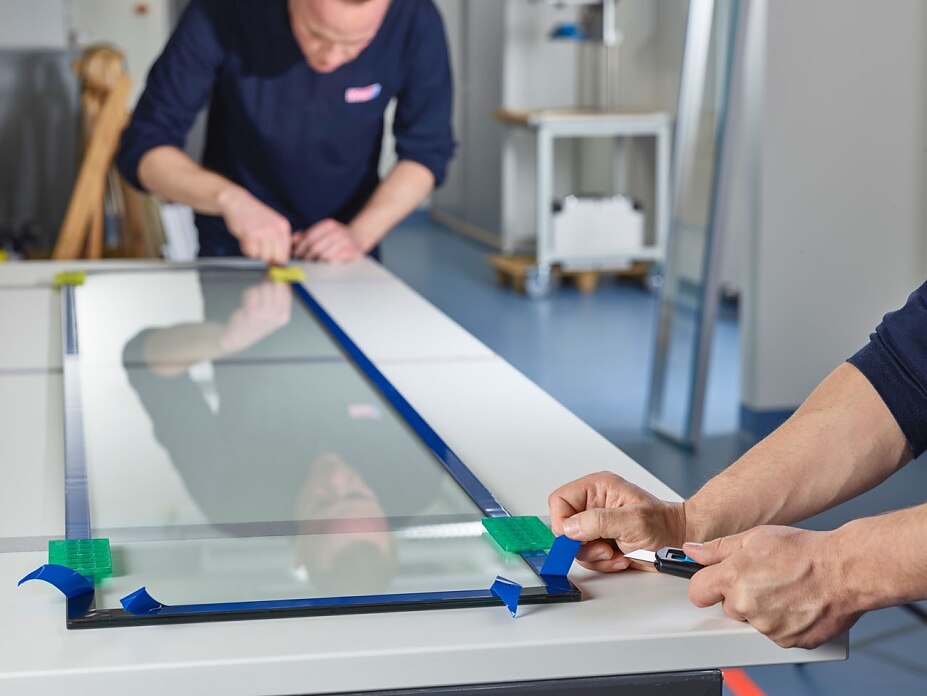 - Lift and fold the ends of (the) liner in the corners of the panel (~5 cm).
- Position glazing block (3 mm thickness) in each corner.
- Place aluminium frame onto glass panel.
- Precisely align frame with panel.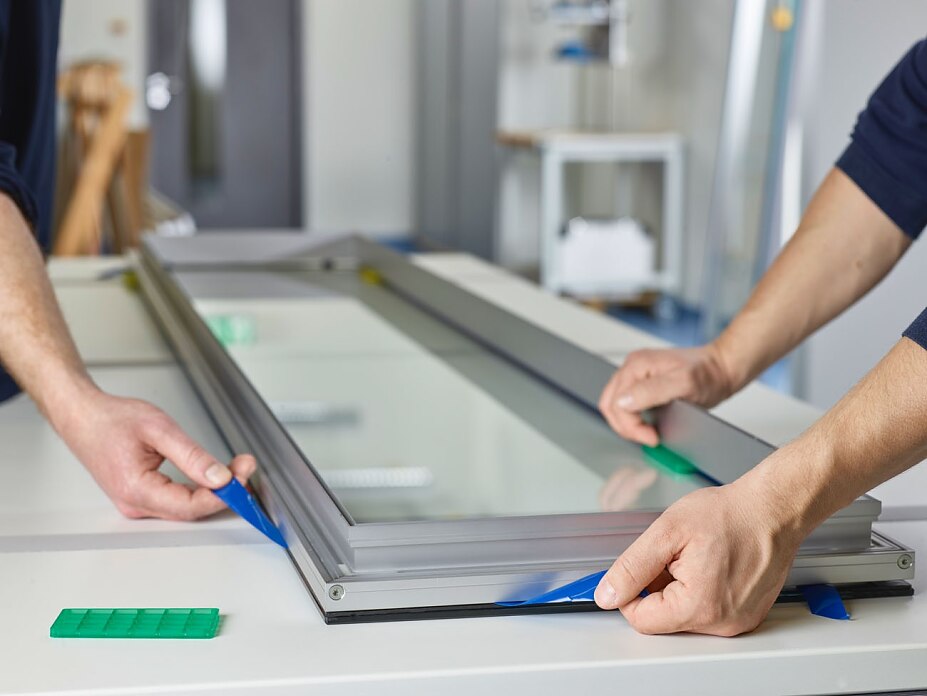 - Carefully remove glazing blocks.
- Remove liner using continuous speed and low force.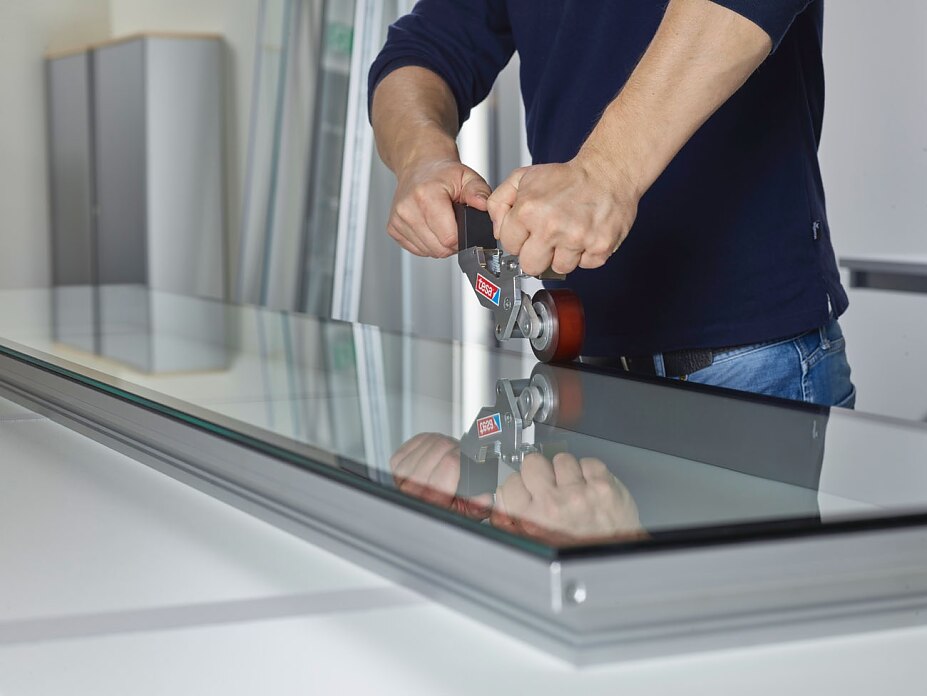 - Apply pressure onto glass side with appropriate pressurization tools, e.g. tesa® 6058 pressure roller.
- Ensure a minimum pressure of 10 N/cm².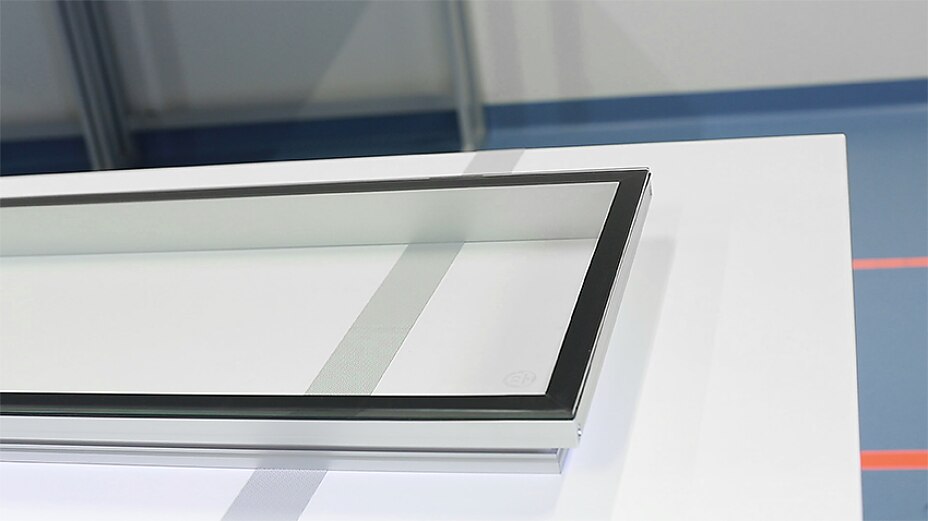 Final product can immediately be handled and shipped.
Contact our local team of experts in Singapore using the form below to learn how we can help you with flush design applications for interior fit out.