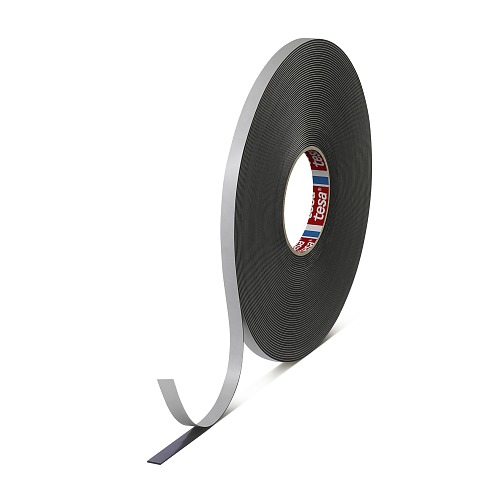 ---
---
Product description
tesa
61101 is a 1.6mm thick closed cell EPDM foam tape with an acrylic adhesive on one side. The EPDM foam is non-staining, non-corrosive and electrically non-conductive. The foam offers high temperature resistance (-40°C to 105°C) as well as excellent resistance to UV, ozone and weathering, making it ideal for outdoor use.
tesa
6110 Series is FDA approved to Section 177.26 (non-poisonous, non carcinogenic) and will not contaminate drinking water. It complies with auto industry standards and is plastic compatible. The EPDM foam is also non-toxic and flame retardant to FMVSS 302
1
1
Federal Motor Vehicle Safety Standard.
Main applications
tesa
6110 Series foam tape is an ideal sealing solution for a wide range of sealing applications across automotive, marine, food and beverage, enclosures and window glazing type markets.
Application ideas:
Sealing electrical enclosures and switch cabinets
Sealing exterior and interior lighting
Sealing industrial access doors and hatches
Sealing hatches on boats
Sealing domestic and commercial glazing systems
Sealing externally mounted air conditioning equipment
Technical properties
Temperature resistance up to
Temperature resistance from
tesa® products prove their impressive quality day in, day out in demanding conditions and are regularly subjected to strict controls. All technical information and data above mentioned are provided to the best of our knowledge on the basis of our practical experience. They shall be considered as average values and are not appropriate for a specification. Therefore tesa SE can make no warranties, expressed or implied, including, but not limited to any implied warranty of merchantability or fitness for a particular purpose. The user is responsible for determining whether the tesa® product is fit for a particular purpose and suitable for the user's method of application. If you are in any doubt, our technical staff will be glad to support you.