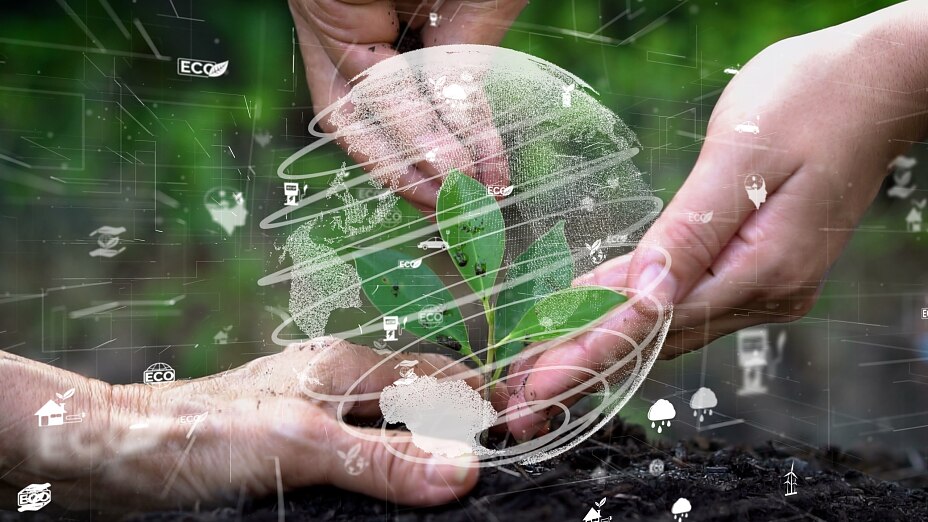 Driving Sustainability Is a Team Effort
During virtual.drupa 2021, learn how to achieve sustainability targets with tesa® Twinlock
---
---

drupa is back, count us in!
The Driver for Sustainability Is All of Us!

Across the world a change in consumer behavior is visible. The expectations towards corporate responsibility increase, and transparency of a product's entire value chain becomes more important.
Embracing the topic of sustainability in everyday business creates long-term value and consumer trust. 
Get excited to watch our "tesa Expert talk" at virtual.drupa 2021, including interviews with brand owner Beiersdorf and the packaging printers Mondi and Oerlemans.
Beiersdorf as a market-leading consumer product company and brand owner of trusted skin-care brands Nivea, Eucerin, and La Prairie, adds requirements for flexible packaging printers as part of their corporate strategies for sustainability and the company's purpose statement "CARE BEYOND SKIN".
Well-known packaging printers Mondi and Oerlemans have also defined clear sustainability targets and fully support the idea of creating solutions cooperatively across the value chain.
How to Fulfill Brand Owners' Requirements and Become a More Sustainable Flexographic Printer

Sustainability targets can only be achieved when not only printers and brand owners, but also printers and their suppliers team up and work closely together.
We at tesa greatly value the topic of sustainability and want to contribute to your efforts in this journey of becoming a more sustainable flexographic printer.
Simply put, sustainability can be achieved by prevention.
The key driver is to re-think the print production process and to implement solutions that help to prevent waste in order to improve carbon footprint. With the concept of tesa® Twinlock we provide a re-usable plate mounting solution, thus eliminating waste caused by the alternative use of self-adhesive plate mounting tapes.
tesa® Twinlock features a base sleeve equipped with a self-adhesive layer which remains tacky and maintains its adhesion properties when handled with care - allowing for repeated usage for years to come.
The Impact of
tesa

® Twinlock on Sustainability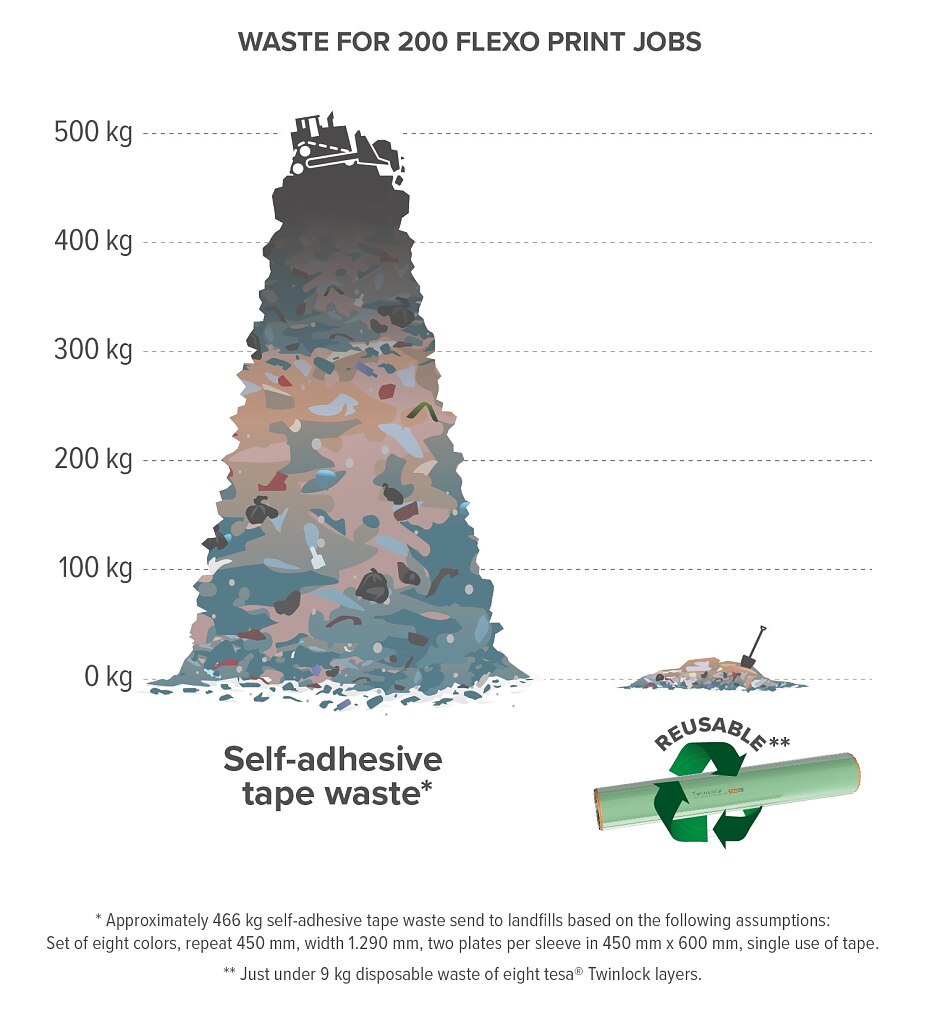 For a standard plate mounting process, you will use a sleeve, a plate mounting tape, and a printing plate.
When using tesa® Twinlock, the plate mounting tape can be removed from this equation. This obviously reduces cost, it saves time during the mounting process, and most importantly it eliminates an important source of waste.
A simplified calculation shows that for 200 print jobs an average of 500 kilograms of waste is caused by self-adhesive tape. And if this is true for only 200 print jobs, can you imagine how much non-recyclable waste is produced in the entire flexo printing industry?
With our re-usable tesa® Twinlock sleeve we can dramatically decrease waste generation and contribute a great deal to your sustainability target!
But in addition to waste reduction there is also a second factor, namely the influence of reduced transportation. Nowadays, transportation accounts for more than 20 % of global carbon dioxide emissionshttps://ourworldindata.org/co2-emissions-from-transport.
Just-in-time supply became standard and weekly tape deliveries to printers are common around the world. When using tesa® Twinlock, you could be looking at one annual delivery instead of approximately 50 separate tape deliveries per year. And less transportation leads to fewer trucks emitting carbon dioxide, improving the carbon footprint of your product's value chain.
More Information about
tesa

® Twinlock @ virtual.drupa 2021

To discuss your individual requirements and your specific potential for waste reduction, simply make an appointment with our tesa experts via the matchmaking tool in our virtual.drupa showroom or contact your local tesa sales representative.
Don't forget to tune in to our "tesa Expert talk" and register for our live Q&A sessions, we are very much looking forward to meeting you!
---
We thought you might also be interested in: