tesa

® 8864x Series - your go-to-solution in bonding
Based on our experience, the new
tesa

® 8864x Series Double Coated Tissue Tape was designed to create a new standard for lightweight mounting and laminating application.

21 Feb 2022
For the majority of mounting applications, industrial producers are looking for a double coated tissue tape with a good all-around performance and a competitive pricing. The new tesa® 8864x Series Double Coated Tissue Tape was developed to deliver just that:
The series has different adhesives matched to the respective thickness and is suitable for a very wide range of applications. At the same time, it offers an excellent price-performance ratio. We therefore recommend tesa® 8864x series as the new go-to product, especially for both trade and converter partners.

The general advantages of double coated tissue tapes for mounting applications are widely recognized. tesa® 8864x can be used on most of the common substrates and is easy to handle. In just one step, a reliable bond is created – without leaving residues or damaging surfaces and without the curing times required by liquid adhesives.
Talking about the products
The new tesa® 8864x Series Double Coated Tissue Tape has well-balanced characteristics, from tack and adhesion on various substrates to shear resistance. The tapes are conformable and come with an easily removable liner. They are also optimized for converting purposes and offer a good die cutting performance.
tesa® 8864x is available in 100 µm, 120 µm, 140 µm and 160 µm thickness. The tape is translucent with a tackified acrylic on a PE coated paper liner. Log rolls are 1240 x 50 mm.
Suitable applications for
tesa

® 8864x series
Among the most common applications of the tesa® 8864x Series Double Coated Tissue Tape are:
Foam and felt lamination
Name plate mounting
Membrane switch mounting
tesa

® 8864x Series Double Coated Tissue Tape at a glance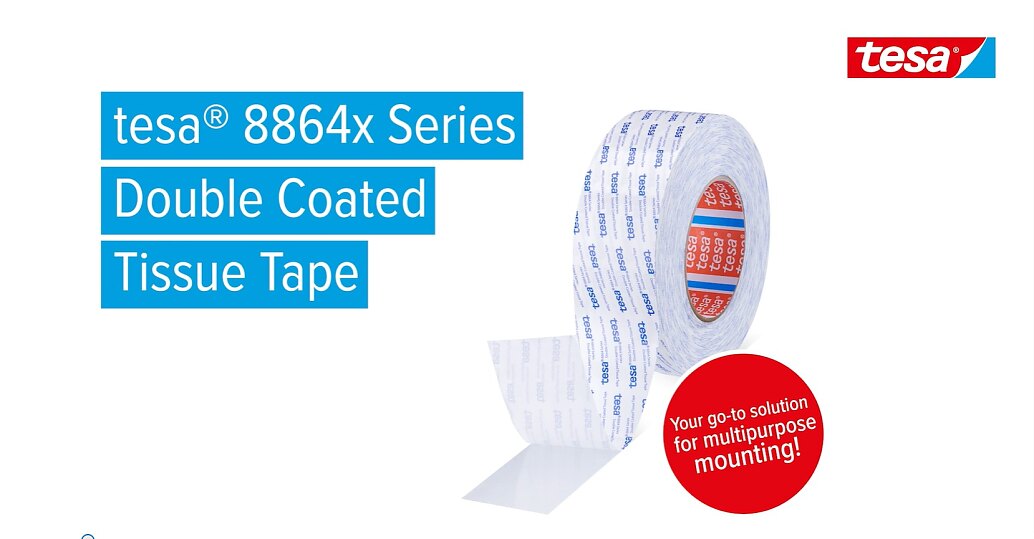 Any question? Interested in testing the products?
If you have any questions regarding the tesa® 8864x series or if you would like to request a sample, please don't hesitate to contact by filling out the form at the bottom of the page: just click the GET IN TOUCH link!